A Haunting in Venice was filmed in Venice on the Grand Canal, Piazza San Marco, San Giorgio Maggiore, Torre dell'Orologico, Campo San Boldo, Campo San Samuele Palazzo Pisani a Santo Stefano and Pinewood Studios in Buckinghamshire.
Sir Kenneth Branagh's 2023 Hercule Poirot movie follows the star's Murder on the Orient Express and Death on the Nile. Both borrow heavily from the famous murder mysteries – but A Haunting in Venice transforms Agatha Christie's 1969 novel Hallowe'en Party by taking the action from the Home Counties to Venice. The action is set in 1947, throwing the story into the context of post-WWII Italy.
Crime novelist (and partial projection of Agatha Christie herself) Ariadne Oliver (Tina Fey), visits her old friend Hercule Poirot (Kenneth Branagh) in Venice. He's settled into semi-retirement with the help of bodyguard Vitale Portfoglio (Riccardo Scamarcio), who fends off potential cases.
Ariadne convinces Poirot to attend a Halloween party for local children, to be held in a supposedly haunted palazzo. The host is Rowena Drake (Kelly Reilly), an opera singer who plans to contact her deceased daughter at a séance led by psychic Joyce Reynolds (Michelle Yeoh) once the children have left. But events take a darker turn just as a storm makes Venice's canals impassable, cutting the séance attendees and housekeeper Olga Seminoff (Camille Cottin) off from the outside world.
Where Was A Haunting in Venice Filmed?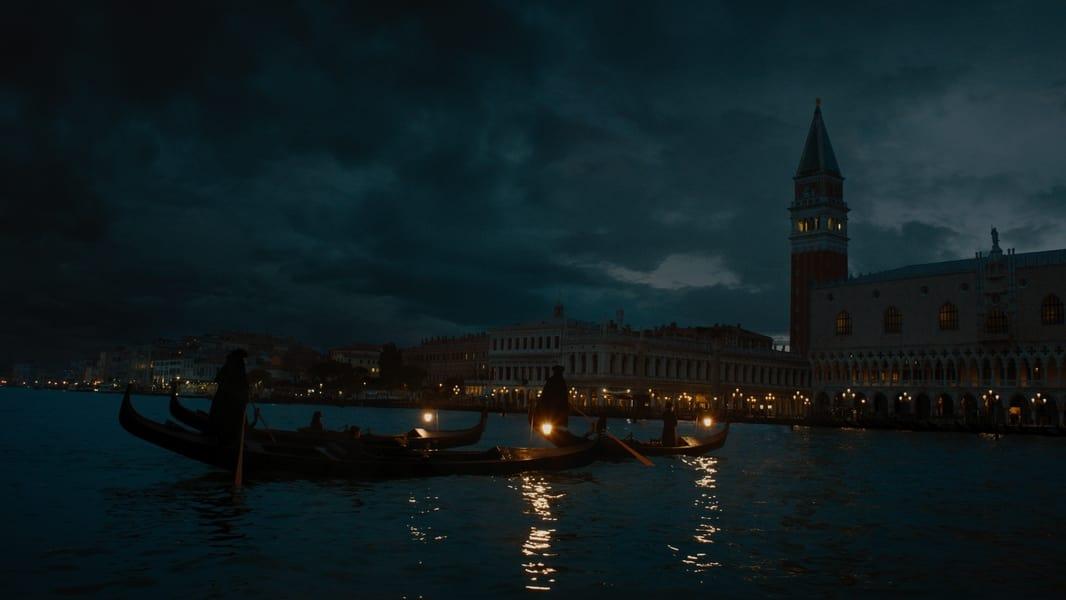 A Haunting in Venice was filmed at Pinewood's D Stage and Q Stage, and Venice's Grand Canal, St Mark's Square and the Clock Tower, Campo San Samuele the island of San Giorgio Maggiore, Conservatorio di Musica Benedetto Marcello and many more squares, bridges and canals around the city. For the actors, the location instantly set the tone for this supernatural murder mystery.
"I think Venice itself conjures up images of darkness. You think of those old Gothic buildings and the history of the place."
– Jamie Dornan, Dr Leslie Ferrier
And you can't get away from spooky old buildings in the third of Kenneth Branagh's Agatha Christie adaptations. With a reputedly haunted house as the setting, the palazzo itself falls under suspicion as Branagh's Belgian detective investigates a murder.
A Haunting in Venice Filming Locations
Rowena Drake's Palazzo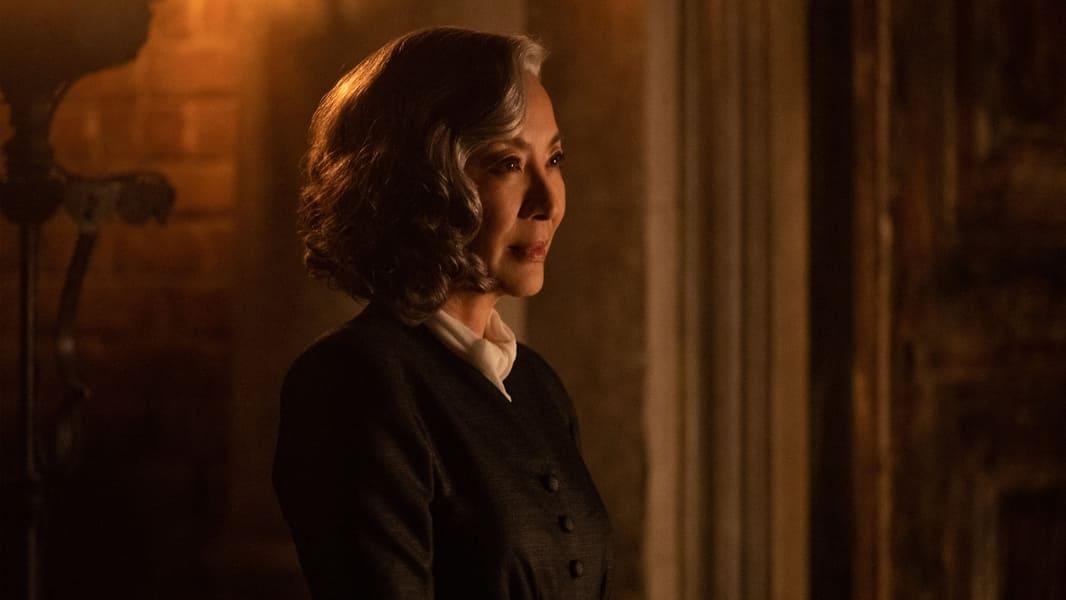 The palazzo in A Haunting in Venice was built on set at Pinewood, in the UK. The city's reputation for hauntings sealed the decision to build the movie's main palazzo from scratch, from canal entrance to third floor balcony. When director and star Kenneth Branagh asked local crew members about filming in authentic palazzos, he was met with horror.
"'No you can't… No one can. And I would say, 'Why?' And they would say, 'Because it's haunted. No, but really – it's haunted and the last 12 owners of this palazzo have died, all of suicide.' That's enough in that city to make you a little nervous when somebody then invites you to a seance."
Kenneth Branagh, Hercule Poirot & Director
Venice's centuries-old buildings have certainly earned a reputation – successive owners of the supposedly cursed Palazzo Dario have met sticky ends. To create a true haunted house feeling, the palazzo from A Haunting in Venice was built with interconnecting rooms. And the architecture borrowed heavily from the Italian city's real features.
In an interview with Screen Rant, Production Designer John Paul Kelly highlighted the challenge of keeping the palazzo interesting to the audience. Like any good country house mystery (which this essentially is, despite the shift in setting), the characters are confined to the house for most of the movie. So Kelly brought "scary basements with dripping walls and rats" together with grand halls filled with murals, classical statues and crystal chandeliers.
But there was another side to it as well.
"I think what was really appealing from the very first read of the script was the palazzo was a character..."
John Paul Kelly, Production Designer
Thanks to a long-held belief that the building is cursed by a hoard of ghosts, the séance party are quick to believe that there's something supernatural causing death and misfortune in the house. This time, there's every chance that the house is one of the suspects. Not that the Belgian detective could believe it for a second…
The Canals
Rio di Palazzo. Dimitris Kamaras from Athens, Greece, CC BY 2.0 , via Wikimedia Commons
A Haunting in Venice was filmed on Venice's Grand Canal and smaller canals on the network including the Rio della Canonica/Rio del Palazzo area. 1940s-style moorings and signage went up at the canal-side Haunting in Venice filming locations during the shoot.
Kenneth Branagh's 2023 Agatha Christie movie was filmed in Venice during the autumn and winter, lending a naturally eerie ambience.
"We were there in the autumn/winter, so we were able to get Venetian mists, and we were able to bring that idea of how quickly that amazing, ornate city is masked by a mist or a fog that can make things very eerie. There's room for so many things, and that's the glory of Venice."
Kenneth Branagh, Hercule Poirot & Director
The cast of A Haunting in Venice filmed gondola scenes in January 2023. Most of these shots appear at the start of the film, before the séance party become trapped inside the palazzo with an unknown murderer.
Gondola Entrance
Campo S Boldo. Nino Barbieri, CC BY-SA 2.5 , via Wikimedia Commons
There are two palazzo entrance locations in A Haunting in Venice. The scene where guests arrive for the Halloween party was filmed in the Campo San Boldo area of Venice. Unusually, the palazzos in this area have their own gondola entrances rather than canal-side steps and doorways.
But the rest of the gondola entrance and exit shots were filmed at Pinewood Studios. The set was constructed to replicate A Haunting in Venice's real palazzo location.
Poirot's Neighbourhood in Venice
Other A Haunting in Venice filming locations include Campo San Giacomo dell'Orio, which appears early in the movie before Poirot is drawn into the new case. Santa Maria dei Miracoli and Scala Contarini del Bolovo appear briefly too, along with Campo San Samuele.
Poirot's Palazzo
Campo San Samuele. Marc Ryckaert, CC BY-SA 4.0 , via Wikimedia Commons
A Haunting in Venice's filming location for Poirot's house is in Campo San Samuele. Kenneth Branagh, Tina Fey and Riccardo Scamarcio were photographed in 1940s costume in the area earlier in 2023. Look out for the square and surrounding streets when Hercule Poirot dodges the queue of potential clients.
Poirot's Garden
Palazzo Malipiero Garden. Lothar John, CC BY-SA 3.0 , via Wikimedia Commons
Poirot's A Haunting in Venice garden location is the Palazzo Malipiero garden in Venice's Campo San Samuele. Kenneth Branagh was spotted filming in the area in January 2023, and the mansion's exterior can be seen onscreen.
It's not generally open to the public, but you can sometimes book tours. This old Venetian address has long been connected to the city's high society, and boasts links to Casanova, so many trips to the palazzo take in this part of its history. Here's a glimpse of Poirot's wrought iron gates and garden in real life.
Poirot's Roof Terrace
Poirot's palazzo terrace in A Haunting in Venice is the rooftop terrace of the Conservatorio di Musica Benedetto Marcello. It's part of the grand Palazzo Pisani a Santo Stefano building, and those panoramic views are real.
The Haunting in Venice roof terrace really does sit above the city's palazzos and canals. You can visit by guided tour – either along with the rest of the 19th Century music conservatory, or on its own for the Venetian views.
The Market
San Giorgio Maggiore. TeKappa, CC BY-SA 4.0 , via Wikimedia Commons
A Haunting in Venice's market scene was filmed on the island of San Giorgio Maggiore, opposite Piazza San Marco.
Kenneth Branagh was spotted filming beside the church in January 2023. In the film, Hercule Poirot is seen visiting a market on the island before he's brought out of retirement by Ariadne's invitation.
Piazza San Marco
A Haunting in Venice was filmed in Piazza San Marco, or St Mark's Square. The Palazzo Ducale or Doge's Palace also makes an appearance in early shots of Poirot in Venice. No murder mystery action takes place here, but several angles of the square can be seen as the Belgian detective tries to avoid taking on another case.
Clock Tower
The clock in A Haunting in Venice is St Mark's Clocktower. Poirot is seen looking out over the city from the Clock Tower Terrace in scenes shot in January 2023.
And the figures and bell that sit on top of the tower are also shown throughout Branagh's third Agatha Christie movie. The bronzes at the top of the Torre dell'Orologio have chimed the bell since 1497.