These are the Barbie filming locations you can't miss – Venice Beach, Venice Boardwalk, Venice City Hall and Police Station in Los Angeles, and Long Beach, California, and Leavesden, Watford. We'll share the locations for the rollerblading scene, the police station... and where to find the official Barbie Dreamhouse in Malibu!
Stereotypical Barbie (Margot Robbie) lives a perfectly pink life in Barbie Land, stepping out of her Dreamhouse to join her friends Barbie (Nicola Coughlan), Barbie (Emma Mackey), Barbie (Alexandra Shipp), Barbie (Dua Lipa) and more picture-perfect dolls like Midge (Emerald Fennell). They're joined by beach-ready Ken (Ryan Gosling), Ken (Simu Liu), Ken (Kingsley Ben-Adir), Ken (Ncuti Gatwa)… and Allan (Michael Cera).
When things start to go wrong for Barbie, Weird Barbie (Kate McKinnon) sends her on a quest that leads her to Gloria (America Ferrera). But will the Mattel CEO (Will Ferrell) and his executives help or hinder her journey into the real world? And what will Ken make of life outside Barbie Land?
Where was Barbie Filmed?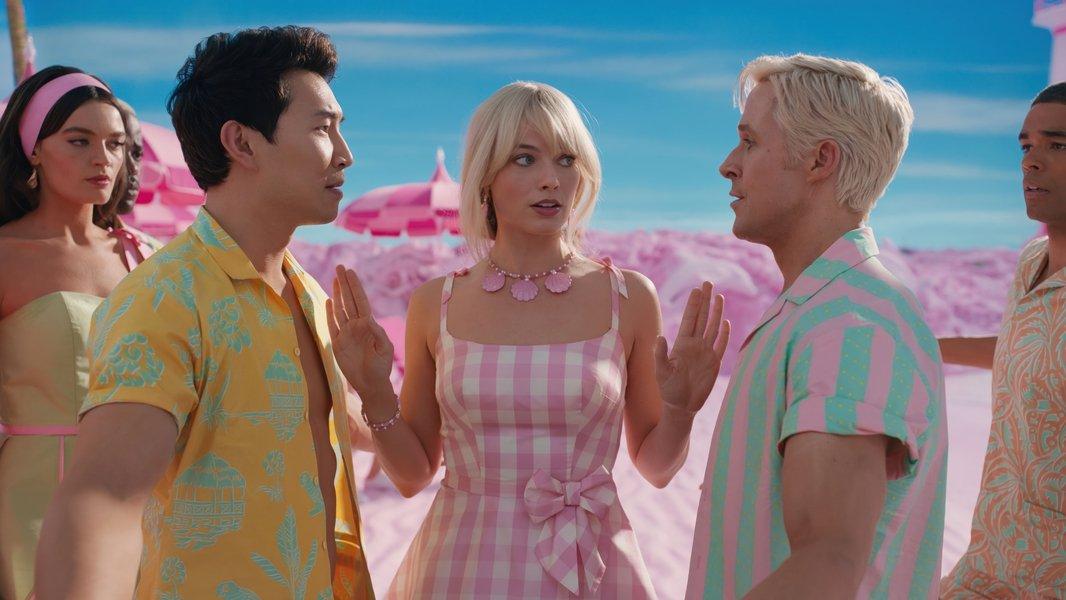 The 2023 Barbie movie was filmed in Leavesden near London, Venice Beach and Century City in Los Angeles and Long Beach, California. The first images from the 2023 Barbie movie came from the set at Leavesden in Watford, near London. Shortly afterwards, Margot Robbie and Ryan Gosling were spotted rollerblading around Venice, Los Angeles, in vintage Barbie attire.
Barbie Filming Locations
Venice Boardwalk
Venice Beach Boardwalk. Steven Lek, CC BY-SA 4.0 , via Wikimedia Commons
One of Barbie's Venice Beach filming locations is Venice Beach Boardwalk. Situated along Ocean Front Walk on Venice Beach, it appears several times throughout the 2023 Barbie film. Look out for the Venice Beach Boardwalk's multitude of stores – it's renowned for the eclectic selection of stalls.
Venice Beach Recreation Center
Look out for Barbie and Ken around
Venice Beach Recreation Center
and Windward Plaza appearing in the Barbie movie. Venice Beach Recreation Center is home to Muscle Beach, the skate park, volleyball courts and basketball courts. You can catch a glimpse of some of the local attractions as Barbie and Ken discover life in the human world.
Margot Robbie and Ryan Gosling were spotted filming in rollerblades in 2022. Though as their characters soon discover, their Barbie Land skating clothes don't blend in, even alongside LA's famous skating destination.
The Beach
The Barbie movie's beach location is Venice Beach. You can see the lifeguard tower in the distance when Ken talks to the lifeguard. Venice Beach has appeared onscreen many times before – including acting as a location for lifeguard series Baywatch.
Venice Police Station
Barbie's Venice Police Station filming location is the old Venice City Hall and LAPD Venice Division Police Station building in Venice. In the movie, Barbie and Ken emerge from the police station after taking the famous mugshots released as publicity shots.
The Art Deco Venice Police Station building is no longer used by the Los Angeles Police Department. Instead, it's used as an arts venue (and occasional filming location).
Mattel HQ
Bank of America Building. Selvingarcia, CC BY-SA 3.0 , via Wikimedia Commons
The 2023 Barbie movie's Mattel Headquarters location is on Bank of America Plaza in Downtown Los Angeles.
The view from the curving windows is a fictionalised version of Downtown LA with the Hollywood sign perched in the hills beyond. Since the Mattel Headquarters scenes represent a fictional version of the real toy manufacturer, it's probably for the best…
Car Chase
The Barbie movie car chase was filmed south of LA around Long Beach. Gloria (America Ferrera) is seen driving on and around Ocean Boulevard. Ocean Blvd runs along the coastline and through the city. In the sequence, Gloria helps Barbie to outrun the Mattel CEO and executives after making a getaway from Mattel Head Office.
Californian Alley
Gloria parks her car in another Long Beach filming location. She, her daughter and Barbie jump out and run before running along an alleyway to escape the Mattel CEO (Will Ferrell). We think they're in Long Beach's East Village, also known as the Arts District.
You can see a few local landmarks in the scene – and it's just around the corner from Ocean Blvd, where the chase sequence takes place.
Barbie Land
The Barbie movie's Barbie Land scenes were filmed at the Warner Bros Studios in Leavesden. Barbie's Dreamhouse, the streets of Barbie Land and the Barbie Land beach where the Kens (and Allan!) hang out were all built at the UK studios.
You can't miss the distinctive Barbiecore colour palette, and in fact, coating every surface in vibrant pink came with its own challenges. The production called for so much pink paint that they caused an international shortage of Barbie's trademark shade.
Unfortunately, you can't visit the real Barbie Land. But you can follow director Greta Gerwig, Barbie herself Margot Robbie, production designer Sarah Greenwood and set decorator Katie Spencer on a tour of the set. The team took Architectural Digest on a tour of their fantastical world, sharing their influences from dolls' houses to Palm Springs architecture.
Greta Gerwig is said to have drawn inspiration from the Kaufmann House in particular. The iconic Palm Springs property is surrounded by desert and palm trees, and features open plan (and open air) spaces. To complete the Barbie connection, the Kaufmann House open onto a vast swimming pool.
And last but not least, real Barbie playsets inspired the houses seen in Barbie Land. We think the treehouse resembles the Club Chelsea Treehouse (the movie version even replicates the toy's clip fastening). It's one of the newest Barbie sets to earn a cameo appearance in the movie.
Barbie's Dreamhouse
Barbie's Dreamhouse in the Barbie movie may have been built on the outskirts of London, but the filmmakers recreated it in Malibu. While it isn't quite as seen onscreen, the official Barbie house is in Malibu – and was even listed on AirBnB.
Barbie's Malibu Dreamhouse was restyled specially for the release of the Barbie movie in 2023, with a whole new Kenergy. The Barbie's Malibu Dreamhouse – Ken's Way listing reveals new features as seen in the Barbie movie. And for fans of the animated Life in the Dreamhouse series, we think there are echoes of the short-lived Ken Den too.