Disenchanted filming locations include New York's The Paterno and George Washington Bridge, Hambleden in England, and Enniskerry, Greystones, Dundalk, Trinity College Dublin, Powerscourt and RDS Dublin in Ireland.
Disenchanted picks up fifteen years after Disney's Enchanted left off. Giselle (Amy Adams) lives with Robert Philip (Patrick Dempsey) and his daughter Morgan (Gabriella Baldacchino) in New York. His former fiancée Nancy Tremaine (Idina Menzel) is still in Andalasia, where she followed Prince Edward (James Marsden).
But things aren't going perfectly for the princes, princesses and lawyers. Giselle, Morgan and Philip are moving out of New York and finding life in the small town of Monroeville comes with its own complications. One of them comes in the form of local queen bee, Malvina Monroe (Maya Rudolph).
Look out for appearances from Yvette Nicole Brown, Oscar Nunez and Jayma Mays – and listen out for Alan Tudyk. Known for voicing Disney characters from Frozen to Rogue One and the upcoming Peter Pan and Wendy in 2023, he's the voice of the scroll in Disenchanted.
Where Was Disenchanted Filmed?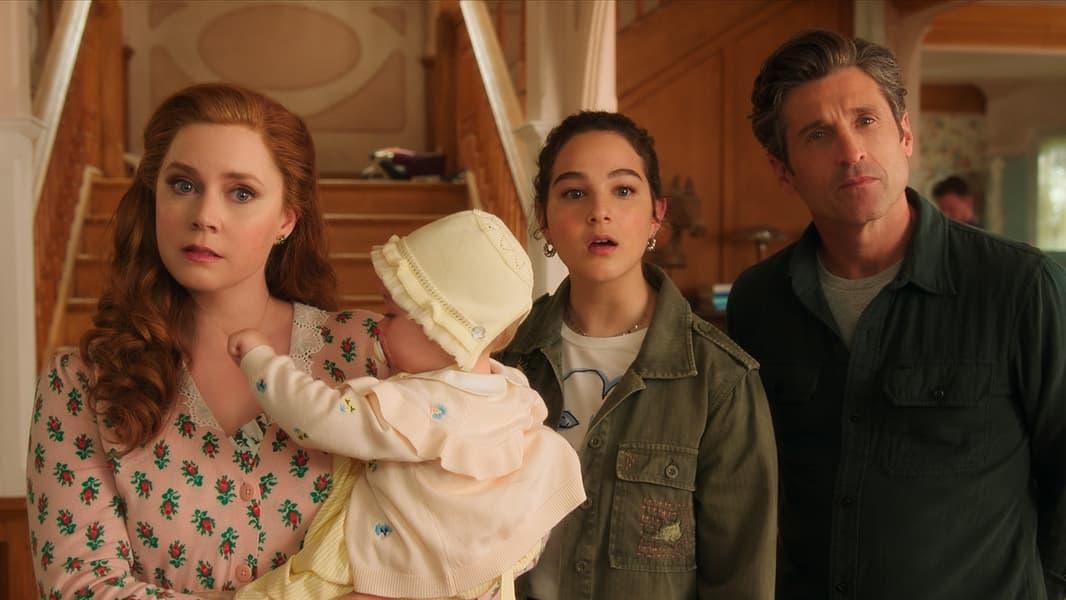 Disenchanted was filmed in around Enniskerry Village Square, The Burnaby, Dundalk Train Station, RDS Dublin, Trinity College Dublin and the Powerscourt Estate, Hambleden in Buckinghamshire, and 440 Riverside Drive and the George Washington Bridge in New York.
The movie is directed by Adam Shankman (taking over from Enchanted's director, Kevin Lima). As in the first Amy Adams movie, the songs come courtesy of Alan Menken and Stephen Schwarz. And the screenplay was written by Once Upon a Time writer Brigitte Hales, totting up another fairy tale credential.
Between filming, the cast shared their adventures around Ireland. Amy Adams had previously visited Enniskerry to film Leap Year in 2009 – one local coffee shop owner even remembered her coffee order from last time round.
This time, she brought her husband and daughter along for the shoot. Her husband, David Le Gallo, shared pictures of their trips to Powerscourt Gardens and Trinity College Dublin – home to the Book of Kells.
Meanwhile, co-star Patrick Dempsey shared snaps of Dublin, Ashford Castle, the Cliffs of Moher, and Innishmore. And Maya Rudolph and her family took a boat tour along the coastline, as reported by the Irish Mirror.
The Disenchanted Filming Locations
George Washington Bridge
George Washington Bridge. Acroterion, CC BY-SA 4.0 , via Wikimedia Commons
The New York bridge in Disenchanted is the George Washington Bridge. It crossed the Hudson River to link the Big Apple with New Jersey – and it makes perfect sense as a Disenchanted filming location. In the Disney Plus sequel, we revisit Gisele and Robert as they make their move out of the city.
It's not the same bridge that appeared in Enchanted, where Prince Edward was confused about hot dogs. That scene was filmed at the Brooklyn Bridge, which of course stars in many a movie and postcard.
Gisele and Robert's New York Apartment
The Paterno Apartments. ajay_suresh, CC BY 2.0 , via Wikimedia Commons
Robert's apartment building in Enchanted and Disenchanted is The Paterno, also known as 440 Riverside Drive. It stands at the corner of 440 Riverside Drive and 116th Street in Manhattan.
This was one of the first filming locations to be revealed by the trailer. The curved building shape and archways over the entrance both belong to 440 Riverside Drive. It was also one of the last locations where filming took place. Amy Adams and Patrick Dempsey were spotted during reshoots outside the Disenchanted New York apartment location in spring 2022.
Monroeville Railway Station
Disenchanted's Monroeville railway station location is Dundalk Railway Station in County Louth. In the new Disney Plus Enchanted sequel, Robert is adjusting to commuter life after moving out to Monroeville.
Monroeville and Monrolasia
Enniskerry. Thorsten Pohl Thpohl, Public domain, via Wikimedia Commons
The fairy tale Monroeville locations in Disenchanted are Enniskerry in County Wicklow, and Hambleden in Buckinghamshire. Already known for their quaint architecture, the villages were transformed with climbing roses and wisteria, and Disney-style shop fronts.
Unlike many dual-location shoots (like Hocus Pocus 2, which turned two towns into one Salem reconstruction) there's a story behind the split. One village was used for the initial filming, but another was used for reshoots just months before Disenchanted's release on Disney Plus in November 2022.
Shopfronts were specially built around Enniskerry Village Square back in 2021. Look out for some of the town's own landmarks in the background. You can just make them out behind the Madame Fee and Bibidi Bobidi Butchers signs and all the wisteria!
Watch for Andalasia style shop names including Mary Popover's, Beauty and the Book and the Royal Sip.
More Monroeville and Monrolasia
Steve Daniels / The village square in Hambleden
After test screenings came back with mixed reviews, Monroeville reshoots took place in March and April 2022. But this time the Disney Enchanted sequel filming took place in Hambleden.
Bucks Free Press dropped by Hambleden village as Monrolasia for the Disenchanted shoot, complete with signage and fantastical florals. Meanwhile, My Marlow caught Amy Adams on set in full Giselle mode.
Look out for Little Darlings Umbrellas, Parasols and Sticks, the Village Cutlers (Sword Sharpening While You Wait!), Fairytale Fondants, Mountback Saddlery, Monrolasia Toy Emporium, Tippity Top Music Shop, Maid Marion's Dairy, Tick Tock Clock Makers, Needleye Binders Books and Scrolls, and Elderflower Ale House.
Festival of Monrolasia
The Festival of Monrolasia scene features Enniskerry Clock Tower in the Village Square – with some CGI assistance. It was built in the 1840s, and the distinctive cupola on top was added around 20 years later. And while the platform surrounding it does usually have its own flower beds, Disenchanted's Monrolasia scenes take them to another level.
Monroeville Town Hall
Disnechanted's Monroeville Town Hall exterior location is in Enniskerry. Unfortunately the exterior doesn't belong to a real building you can visit. The steps and pillars seen in the Cinderella-inspired grand entrance were constructed specially in Enniskerry Village Square.
Indoor Sets
Indoor and green screen filming for Disenchanted's magical scenes took place at the RDS in Dublin. Sets were built within the space of the RDS, as well as the custom buildings that popped up alongside Enniskerry's own buildings.
Giselle, Robert and Morgan's House
The Disenchanted house is a private residence in The Burnaby, in the Greystones area in County Wicklow. Unfortunately Giselle's house in Disenchanted was painted pink and given the finishing fairy tale touches just for the film.
According to the Sunday World, Disney organised a luxury hotel stay for the house's residents and their neighbours during the shoot. But other locals were quick to sneak in a photo opportunity in front of a little piece of Andalasian enchantment.
Malvina's Palace
Powerscourt Estate. Frabjousone, CC BY-SA 4.0 , via Wikimedia Commons
We think Malvina's palace location in Disenchanted is the marble entrance hall at Powerscourt.
Filming took place around the Powerscourt Estate, which is something of a screen favourite. Powerscourt has appeared in over 25 films, ever since its first movie appearance in Laurence Olivier's Henry V. But more recently, the estate is known from the likes of Ella Enchanted, The Tudors and Vikings.
Malvina's Wood-Panelled Throne Room
Filming for Malvina's throne room in Disenchanted took place in the 18th Century Dining Hall of Trinity College Dublin in July 2021 - and while the set was closed to visitors, several cast members shared their location. It would be hard to resist, given its smart architecture though.
When it's not acting as a Disenchanted filming location the Dublin venue is used for events and functions. And of course, Trinity College Dublin is known as the home of the Book of Kells illuminated manuscript.