In the ITV drama Deep Water filming locations tell a huge part of the story, with the Lake District taking over the screen from the first scene to the last.
"I wanted it to feel like these women go into huge journeys, huge choices. And by putting them in that very elemental landscape, particularly as the series goes on, we see them out and about in these huge landscapes…"
Anne Symon - Writer and Executive Producer
Where Is Deep Water Filmed?

The ITV drama Deep Water is filmed in the Lake District. Although the series is based on Paula Daly's Windermere novels, the series is actually filmed on location around other towns and lakes.
Along with the villages where Kate, Roz and Lisa live, you can visit Deep Water filming locations including the café and lake. They're all in Cumbria, though be prepared to drive around a bit.
If it seems like the Deep Water characters are constantly hopping into Land Rovers, that's not far from the truth. The locations are situated around several lakes, with miles of water and national park land between them.
"When you live here you tend to look for places you know, and some of the show was actually filmed at Coniston."
Lisa Greasley, Windermere Town Councillor
Apart from a few local swaps, Deep Water's attention to detail is remarkable. The characters stay well within a small radius and take a realistic time to travel between villages. Even if the plot takes a dramatic turn at times, the backdrop really does reflect this part of Cumbria.
Kate's House
Kate's House in Deep Water is just outside Hawkshead, on Lake Windermere. It's at the heart of the Lake District National Park and Deep Water territory – and Kate's standout location at the water's edge is a sign of her luxurious lifestyle.
"One of the interesting things is that the more money you have the bigger your connection to the lake… It was a deliberate decision that Kate had to have a house overlooking the lake, and that they have a boat, so they've got a boat house."
Anne Symon, Writer and Executive Producer
The desirable town itself sits on the edge of Esthwaite Water, with Windermere to the east and Coniston Water to the west.
If you visit, look out for the Beatrix Potter Gallery on Main Street. It's just one charming highlight on a route that's lined with independent shops, inns and tea rooms.
Roz's House and Joanne's House
Windermere Lake. Abbasi1111 [CC BY 3.0 (https://creativecommons.org/licenses/by/3.0)]
Exterior shots of Roz's house were filmed in Staveley, and Joanne's home is in the village too.
It's further back from the lake, half way between Kendal and Windermere, though that still sets it just a ten minute drive from Lake Windermere.
It wouldn't take Joanne long to reach the lake for a swim – another realistic background detail. And in fact, Joanne's swimming scenes really were filmed at Lake Windermere.
Staveley is a Deep Water filming location that's just a rural as it appears in the ITV series. The classic Cumbrian houses are centred around a traditional main street.
Lisa's House
In Deep Water, Lisa's house is not far from Roz and Joanne's house, or the village school location which is also in Staveley. Her farmhouse-style property and kennels are on the edge of the village, and again it's all part of the portrait.
"Lisa is very much of the earth, as a character, she's got her dog kennels. We built those kennels into the scenery so that you can really see that she's of the hills."
Anne Symon, Writer and Executive Producer
There's actually another clever detail here, because when she drives to Kate's house it looks like a longer journey. It's accurate, she would have to drive part way around Lake Windermere to get there.
The Café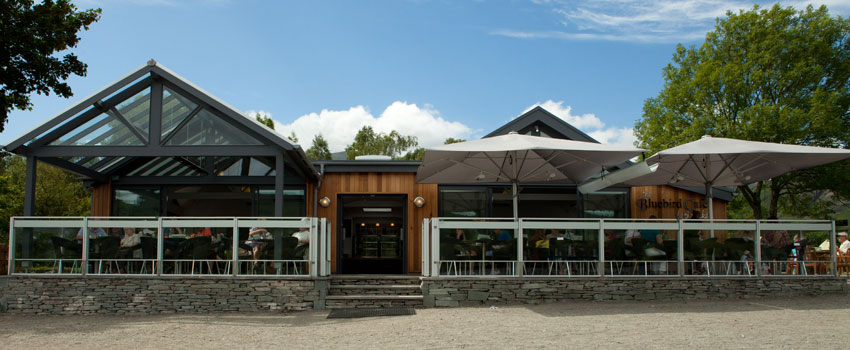 The Bluebird Cafe. Copyright thebluebirdcafe.co.uk
Deep Water's café location is The Bluebird Café. Scenes were filmed at the café on the edge of Coniston Water in Autumn 2018.
If you want to try out the lifestyle (without the intrigue and scandal, of course) Coniston Water is a great Deep Water filming location you can visit. Apart from The Bluebird Café, attractions include a boating centre, gardens, and it's all set against the backdrop of breathtaking views.
John Ruskin lived in nearby Brantwood, and the museum in his honour actually remembers another figure too. Sir Donald Campbell died attempting a world speed record in his boat, the Bluebird – which inspired the café's name.
And if you dreamed of a Swallows and Amazons lifestyle as a child, then this is one filming location you've got to visit.
Directly across Coniston Water lies Bank Ground Farm, which inspired Arthur Ransome's sailing adventure stories.
If you watch a lot of ITV dramas, you may have seen Coniston before. Safe House was filmed at Coniston and nearby Derwentwater in 2014.
The Hotel
Deep Water's hotel is a Deep Water location you can stay in. The hotel scenes were filmed at the Holbeck Ghyll Country House Hotel, overlooking Lake Windermere.
Actually, this beautiful getaway has already had a brush with fame. Renee Zellweger stayed while she was filmed scenes for Miss Potter in Cumbria.
"Holbeck provides a versatile location for both TV and film crews, with iconic views, authentic period interiors, and flexible outdoor spaces with woodland, meadows, formal gardens and tumbling Lakeland streams it's the perfect place to film."
Elia Shreiber, General Manager of Holbeck Ghyll
You don't need a film crew to drop by though. With the perfect location on the lake and the hills rising up around it, this could be the ideal base for your taste of the Lake District lifestyle Deep Water shows off so well.