Track A Boy Called Christmas filming locations from Primrose Hill and King's Cross to Slovakia's High Tatras, Dobříš Château and Křivoklát Castle, Řepora and 'The Devil's Heads' in the Czech Republic. Scenes were also filmed at Elstree and Barrandos Studios - with a little bit of movie magic to bring extra drama and snowstorms to the Christmas fantasy.
Based on Matt Haig's book, A Boy Called Christmas was reworked for the big screen by Ol Parker and Gil Kenan. The festive fantasy takes us on a snowy journey through the mountains and forests of Lapland - with several countries lending their scenery and chateaux to complete the picture.
In present day London, Aunt Ruth (Maggie Smith) tells her nephew's children all about Nikolas (Henry Lawfull) and his magical journey. Many years ago in Finland, Joel (Michiel Huisman) sets out for Elfhelm on a quest for the King (Jim Broadbent), leaving his son Nikolas in the care of Aunt Carlotta (Kristen Wiig). But when he doesn't return, Nikolas follows, with the help of his mouse Miika (Stephen Merchant).
Along the way, he befriends the reindeer Blitzen, and meet The Truth Pixie (Zoe Colletti), Little Noosh (Indica Watson), Mother Vodal, the Leader of ElfHelm (Sally Hawkins), and Father Topo (Toby Jones).
Where Was A Boy Called Christmas Filmed?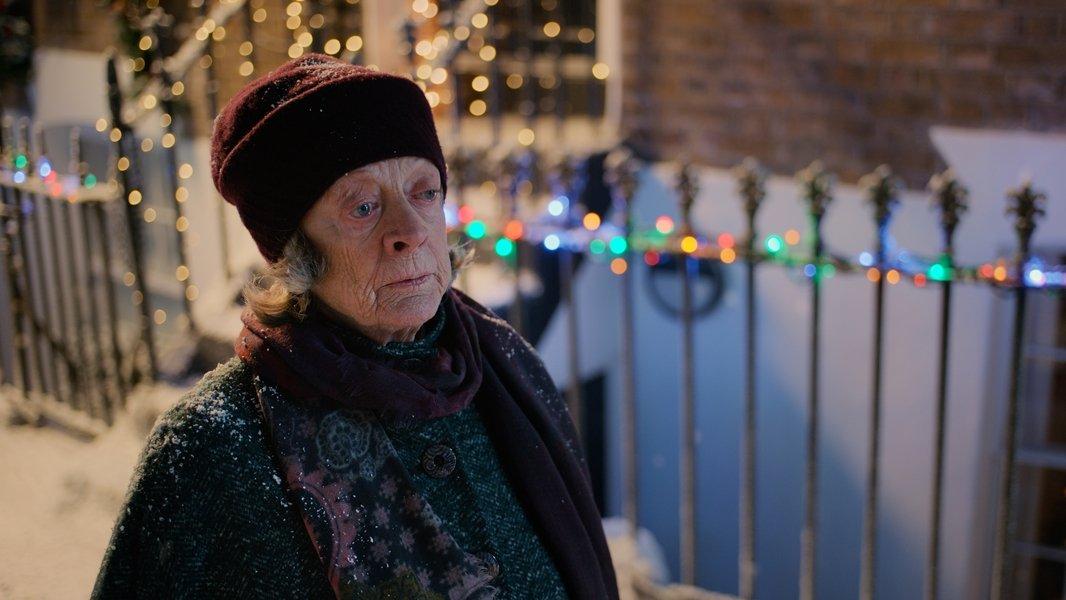 A Boy Called Christmas
A Boy Called Christmas was filmed in Northern Lapland, Primrose Hill and King's Cross in London, and Dobříš Chateau, Křivoklát Castle, the forest at Jevany forrest, Řepora Open Air Museum and 'The Devil's Heads' in the Czech Republic.
Sky Cinema and Netflix's holiday collaboration features extensive fantasy elements, so it's no surprise that custom sets were used. They were built at Barrandov Studios in Prague, and Elstree Studios in Borehamwood.
Primrose Hill
Maggie Smith filmed the opening scenes of A Boy Called Christmas in Primrose Hill at the end of January 2020, treating residents to a few days of snowfall and lights.
In the scene, Maggie Smith's character, Aunt Ruth, is seen walking past shops festooned with Christmas decorations. The North Finchley bus pulls up on Regent's Park Road, and she steps off beneath the garlands.
The Christmas Tree Shop
Aunt Ruth passes a Christmas tree shop as she walks towards the children's home. It's on the corner of Regent's Park Road and Sharples Hall Street. Maggie Smith was spotted filming in Primrose Hill in January, revealing a sneak preview of the scene.
The Family House
Keystone Crescent. Stephen McKay / Keystone Crescent, King's Cross
The London house in A Boy Called Christmas is on Keystone Crescent. Its architecture could easily blend in with Primrose Hill, but in fact it's in the King's Cross area, just a stone's throw from the station. The tiny terrace dates back to the 1840s and claims the unlikely title of the smallest radius of any crescent in Europe.
Nikolas' Village
Řepora open-air museum. cs:User:ŠJů, CC BY-SA 3.0 , via Wikimedia Commons
The Finnish village in A Boy Called Christmas is really Skanzen Řepora, an open air museum in Prague. It's designed to recreate a medieval village, and while it's miles from Finland, it lends plenty of historic atmosphere for the story-within-a-story.
Skanzen Řepora contains recreated homesteads, potters' and blacksmiths' workshops, and even a church and market. Unfortunately, the open air museum was damaged by fire in autumn 2020 - after filming.
Finland
The Finland scenes in A Boy Called Christmas were filmed around Kilpisjärvi in Northern Lapland. In real life, the Kilpisjärvi area is home to Arctic foxes, and reindeer – like Blitzen in A Boy Called Christmas. And it also boasts one of Finland's highest rates of Northern Lights viewing, with the natural phenomenon visible from ski slopes and trails.
The new Christmas movie's authentic locations brought a little more enchantment – as well as the challenges of shooting in the depths of Lapland. Director Gil Kenan told Empire:
"It was total magic... It set right away the benchmark for what the world would have to be, the authenticity of the journey and the adventure at the centre of it... When I got out of the plane, it was minus 40 degrees and immediately my lungs hurt with the first breath that I took. It was the coldest and I was not prepared."
Gil Kenan, Director
The Rock Giants
We think the rock giants in A Boy Called Christmas were filmed at Želízy in Kokořínsko at 'The Devil Heads' - these carvings really exist. Reaching almost 30 feet in height, the mysterious faces date back 200 years.
Filming in the area was confirmed by the Czech Film Commission. Onscreen, you can see a few extras added to the carvings, dropping them into the snowy mountains and ramping up the snow effects. So it's possible to visit
Sleigh Ride
Jozef Kotulič, CC BY 3.0 , via Wikimedia Commons
A Boy Called Christmas's sleigh ride was filmed in Slovakia's High Tatras or Vysoke Tatry, a mountain region on the Polish border. The Slovak Film Commission revealed the location in advance of the film's release.
The Tatra mountains are part of the Carpathian range, and brimming with Alpine landscapes, glacial lakes and thermal waters. Visitors come to the area for its hiking trails and ski resorts – and of course, the glorious scenery.
And of course, the dramatic landscape lends itself perfectly to fantasy movies. 2009's Eragon, starring Ed Speleers, also filmed scenes in Slovakia's High Tatras.
The Throne Room
In A Boy Called Christmas, the King's throne room location is the Mirror Hall at Dobříš Château, near Prague. The privately owned residence is a Rococo and Baroque mansion that's brimming with elegant rooms… and its very own family-friendly ghost museum.
Outside, an elegant French garden and English park wrap around the building, forming an elegant backdrop. Dobříš Château does open to visitors, check for opening dates and arrangements in advance.
The King's Bedroom
Krivoklat Castle. Svobodat, CC BY-SA 3.0 , via Wikimedia Commons
The castle scenes in A Boy Called Christmas were also filmed at Křivoklát Castle. We think the King's bedroom location is the great hall of Křivoklát, or was modelled closely on it. Again, filming at the castle was revealed by the Czech Film Commission in advance of the movie's release.
The 12th Century Křivoklát Castle is located in Central Bohemia, and was home to Czech rulers for centuries. Inside, you'll find some beautifully preserved halls, and a vast library and historical collection. But it also hides a grim past as a prison.
It's open to visitors, so you can visit this A Boy Called Christmas filming location in real life. Check in advance for opening dates and ticket information.