A Castle for Christmas was filmed at Dalmeny House, Culross, Loch Fyne, Edinburgh Airport and Tantallon Castle – here's where to find the movie's Dun Dunbar Castle and more.
In the 2021 Netflix Christmas movie, Sophie Brown (Brooke Shields) is the celebrated American author of the Emma Gale novel series. But one Christmas she takes a break from her celebrity writer lifestyle to get in touch with her Scottish heritage, and travels to Dun Dunbar Castle. There, she meets Myles, Duke of Dunbar (Cary Elwes) and befriends the locals at the Castle Inn.
Where Was A Castle for Christmas Filmed?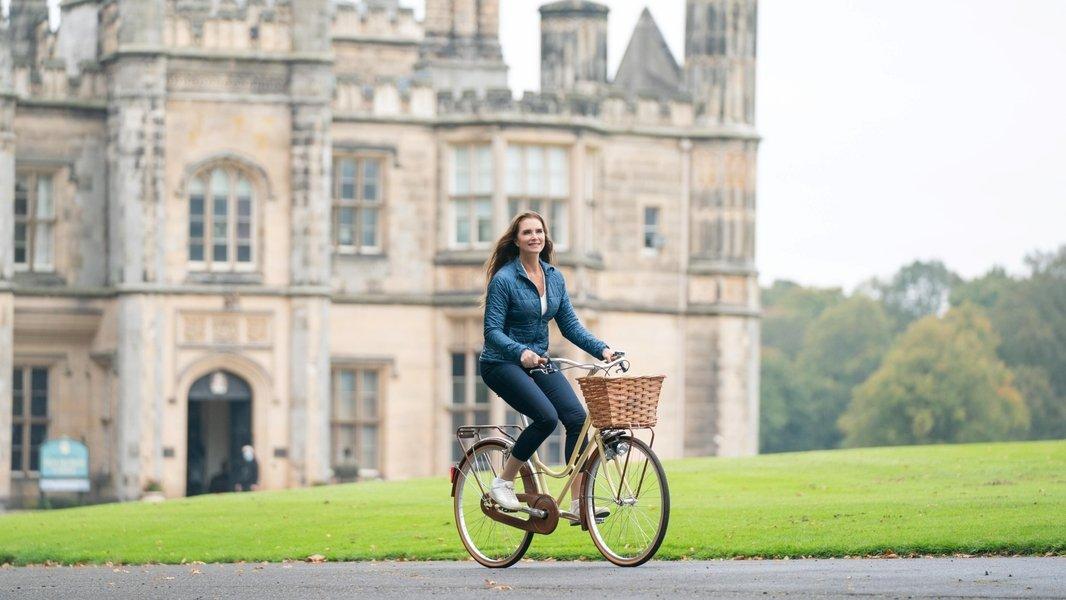 A Castle for Christmas
A Castle for Christmas was filmed on location in Scotland near Edinburgh at Dalmeny House near South Queensferry, Tantallon Castle by North Berwick, Culross in Fife and Invararay in Argyll and Bute.
The movie's stars, Cary Elwes and Brooke Shields, shared pictures from hillsides and castle turrets on their Scottish adventure. https://www.instagram.com/p/CWBi-r7rmVU/ And yes, these are authentic destinations – though the geography makes use of creative licence (and if you're looking for Dunbar, don't follow Sophie Brown's route).
But there are a few local additions to the movie to balance it all out. As well as showcasing some of Scotland's glorious scenery, the Netflix Christmas movie features a song by Glasgow band Starsky & The Fox. https://www.glasgowtimes.co.uk/news/19736473.meet-glasgow-band-behind-song-netflixs-castle-christmas/
New York Skyline
Chrysler Building. Misterweiss at English Wikipedia, Public domain, via Wikimedia Commons
Look out for some iconic buildings in the New York skyline in the opening credits. There are a few classic views to set the scene before the action movies to Scotland – look out for a glimpse of the Chrysler Building in the mix.
Edinburgh Airport
Look out for the real Edinburgh Airport in A Castle for Christmas on Netflix. Locals will probably recognise the Edinburgh Airport Tower, which appears for a moment in the scene. In the Netflix movie, we see it in daylight, but the tower occasionally changes colour to mark special events.
Arrivals Taxi Rank
Sophie hails a taxi at the pick-up area and bus stop outside Edinburgh Airport. Again, this part's free from camera trickery - travellers really do catch their onward road connections from this point.
The Loch
Loch Fyne. dave souza, CC BY-SA 4.0 , via Wikimedia Commons
The loch in the Castle for Christmas driving scene is Loch Fyne. Sophie's route to Dunbar in A Castle for Christmas takes her along the Old Military Road over the River Aray and past Inveraray.
It's a stunning view to start off the Scottish-themed adventure. Though if you're aiming to get to the real Dunbar from Edinburgh, don't go via Loch Fyne unless you fancy the scenic route. It's a couple of hours' drive away on the opposite coast, so you would be in for a hefty taxi fare.
Sophie's First Scottish Castle
Inveraray Castle. DeFacto, CC BY-SA 4.0 , via Wikimedia Commons
The first castle Sophie sees in a Castle for Christmas, with the elegant turrets, is Inveraray Castle. In reality it's the seat of the Clan Campbell, and has housed the Dukes of Argyll for centuries.
But Downton Abbey fans will know it better as Duneagle Castle, Lady Rose's ancestral home in the Highlands. While Inveraray Castle received plenty of screen time in the Christmas special, we just see its elegant facade for long enough to enchant Brooke Shields' American author.
The Village
The village in A Castle for Christmas is Culross in the Kingdom of Fife. Culross lies just over the Firth of Forth from Edinburgh, roughly opposite Dalmeny House and Barnbougle Castle. Outlander fans might recognise the perfectly preserved community – it's a screen favourite that appeared heavily in Season 1.
And it really does look like this in real life, with 17th and 18th Century buildings not just preserved, but still used to this day. The golden-walled Culross Palace stands at the heart of it all. Run by the National Trust for Scotland, this Castle for Christmas location is open to visitors to explore (check before you travel).
Dun Dunbar Castle
Dalmeny House. Mat Fascione / Dalmeny House
The real Dun Dunbar Castle is Dalmeny House near Edinburgh. It's on the same Rosebery Estates land as Barnbougle Castle, which guest stars in The Princess Switch 3: Romancing the Star. Cary Elwes shared shots as Myles, the Duke of Dunbar, at the filming location near South Queensferry – and a few snaps from his travels around Edinburgh.
In A Castle for Christmas, the 12th Duke of Dunbar's family have lived in Dun Dunbar Castle for 500 years. The filming location, Dalmeny House, has also been home to the real Earls of Rosebery for centuries, and it remains a private residence. You can't visit the house at present, but tours have been available in the past by appointment only.
Castle on the Clifftops
Tantallon Castle. D. Gordon E. Robertson, CC BY-SA 3.0 , via Wikimedia Commons
The castle with 'ocean views and its own graveyard' in A Castle for Christmas is Tantallon Castle in East Lothian. You can usually visit with a prebooked ticket through Historic Scotland. Though at the time of the movie's release the grounds remain open, while the castle itself is closed for masonry work.
Which is fair enough, because this castle dates back to the 14th Century. Today, only ruins remain, but it was once the stronghold of the Red Douglases, passing through the hands of Mary of Guise and James VI, and surviving numerous sieges. Eventually an attack by Oliver Cromwell damaged Tantallon's walls, and it was worn away by the centuries.
Now here's a good bit of screen magic. We may only see Tantallon Castle for a few seconds in the Netflix movie but it's actually the closest to the real Dunbar of any of the Castle for Christmas filming locations in Scotland.
Tantallon is on the outskirts of North Berwick, less than ten miles from the real Dunbar. Which of course, is in East Lothian.