A Christmas Number One was filmed around King's Cross, Shoreditch, Notting Hill, Wales - and look out for a Love Actually location in the background. The Sky Original Christmas movie takes us on a tour of fast-paced studio spaces and Instagrammable Notting Hill - here are the locations for the rain scene, Meg's house and more.
Blake Cutter (Iwan Rheon) is a rock singer who can't break through into the charts. His niece, Nina (Helena Zengler) is his biggest fan – when she falls ill, her only wish is to see him make it big with a Christmas No 1 single. Dragging his grumpy band and new manager Meg Rai (Freida Pinto) along for the ride, he sets out to record a Christmas hit record.
In an interview with RTÉ, Frida Pinto talked about her character's journey from New York to London, and its reflection of London's record industry.
"it's not a documentary on the music industry, and the darkness and the nastiness of people within it. But because it makes fun of itself, it gives people a glimpse into what the music industry is like, but at the same time also offers laughs and a little bit of silliness as well."
Frida Pinto, Meg Rai
And look out for cameos from Joe Lycett and Rich Hall, with acclaimed tenor Alfie Boe as Grainger Cocksmith, manager of Cocksmith Records. https://www.facebook.com/watch/?v=570770653991614 The film's Christmas No 1 was written by Iwan Rheon along with Guy Chambers, who wrote the rest of the film's music. https://www.whattowatch.com/watching-guides/a-christmas-number-one-everything-you-need-to-know-about-the-fun-new-festive-movie-on-sky
Where Was A Christmas Number One Filmed?
Sky Original movie A Christmas Number One was filmed around Shoreditch and Notting Hill, near King's Cross Station and Regent's Park, and Wales. Look out for a crossover with Love Actually - one of the houses from the Christmas movie appears as A Christmas Number One filming location.
Some Christmas movies are filmed in January or February to make the most of naturally wintry weather. A Christmas Number One was filmed in the summer, so the wintry touches were added extras.
"The snow machine was very, very strange. But that kind of weirdly messes with your head, you think when you see snow you associate winter, but it was very warm… I was just very, very hot for the longest time running around wearing a Christmas jumper and coat in July."
Iwan Rheon, Blake Cutter
The Rehearsal Studio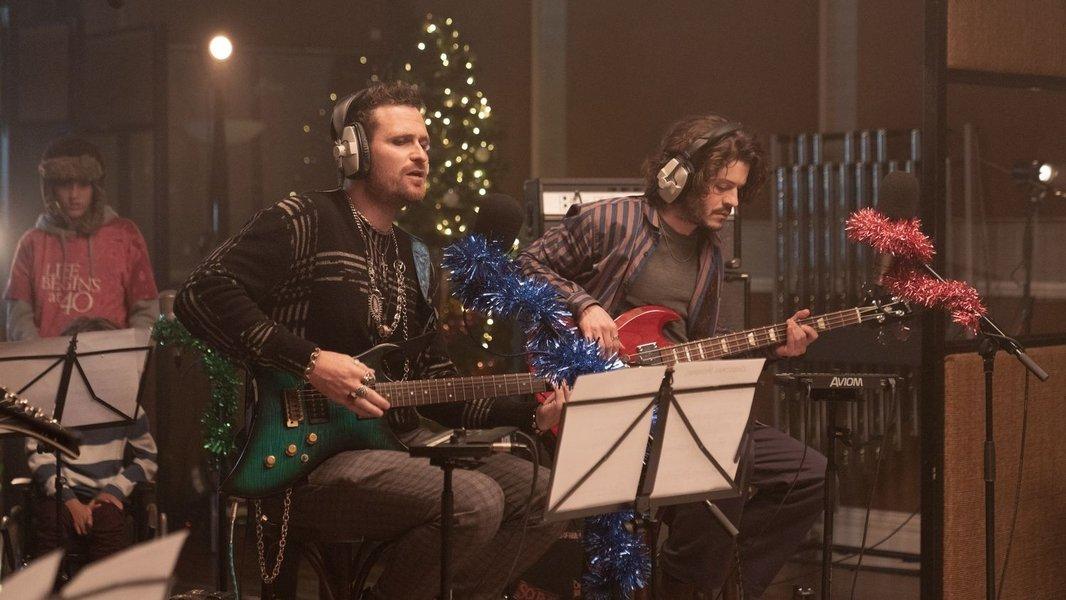 A Christmas Number One
The Christmas Number One studio filming location in the rain scene is Grey Eagle Street in Tower Hamlets. Blake's band are in the right place, because Shoreditch is known for studios, galleries, pop-ups and creative spaces.
Grey Eagle Street runs behind the Old Truman Brewery, an old Spitalfields landmark that's now known for pop-up markets and exhibitions. Which in turn stands on Brick Lane in all its multicultural glory.
Rehearsal Studio Rooftop
We think the recording studio rooftop location in A Christmas Number One could be the Old Truman Brewery's own rooftop.
In the scene, Blake is briefly held hostage on the roof, then argues with Meg about her interfering with the group dynamic. You can see plenty of the East London surroundings and the rooftop itself as the lead singer and manager talk it out.
High Street
The London high street is Grays Inn Road near King's Cross Station – it's visible in the movie and the trailer. We see an Arriva 73 bus to Oxford Circus rounding the corner from King's Cross Bridge before passing the shops on Grays Inn Road in the direction of King's Cross Station.
New York Billboards
Times Square. chensiyuan, CC BY-SA 4.0 , via Wikimedia Commons
The billboards have of course been added to Times Square in New York - you probably spotted this one. It's one of the shots that appeared in the trailer, linking up with Meg's history in New York and of course the band's new goals.
Train Station
Look out for King's Cross station, a famous A Christmas Number One filming location in London for frequent travellers. You can see the recently restored front of the building, revealed a few years ago after the old concourse was demolished.
Meg and Blake Walk Back from the Bar
Argyle Square. Stephen McKay / Argyle Square, King's Cross
Meg and Blake walk along Argyle Square on their way back from the bar. It's just a short distance from King's Cross Station but as the elegant townhouses that line it suggest, it's part of Bloomsbury.
They're in for a long walk, because Meg's house location in the Sky Original movie is right across town… but they're walking south west from King's Cross, so the geography's accurate. Maybe they really are attempting it?
Meg's House
Meg's house filming location in A Christmas Number One is St Luke's Mews in Notting Hill. It's not just for the screen, this is a charming pastel-coloured residential area in London.
St Luke's Mews is a popular photo spot but it's also known from the famous signs scene in Love Actually. Keira Knightley's character is seen answering the door of the pink house seen to the side of the shot as Meg and Blake walk by.
The Taxi Picks Up Meg and Blake
Cornwall Terrace. Elisa.rolle, CC BY-SA 4.0 , via Wikimedia Commons
The taxi is seen driving along Cornwall Terrace en route to Meg's House, to pick her up for the video recording. The Grade I-listed terrace stands overlooking Regent's Park, in contrast to the former industrial area where the band practices.
Music Video Soundstage
The music video scene in A Christmas Number One was filmed on Deer Park Road on the border of South Wimbledon and Morden. We think it looks like the Wimbledon Studios building, where films from Bohemian Rhapsody to Jack Reacher: Never Go Back to The Iron Lady have shot scenes.