The BBC's Bodyguard filming locations take the action from housing estates to the top of London landmarks – making some unexpectedly iconic stops along the way.
"It's very contemporary and obviously we want to handle that in the most sensitive way, but also in a way that does feel authentic."
Jed Mercurio, writer and creator
One of the show's biggest assets in creating that feeling of authenticity is the amount of location filming that that took place, but filming topical scenes around London was also one of its biggest challenges. Sniper and bomb scenes weren't the only flashpoints either.
"During one of Julia's speeches we had a few actors to protest as part of the scene, but then an actual protest kicked off for real outside! It was some students throwing flyers from a balcony and shouting down the hallway next to where we were shooting…"
Keeley Hawes
Where Was Bodyguard Filmed?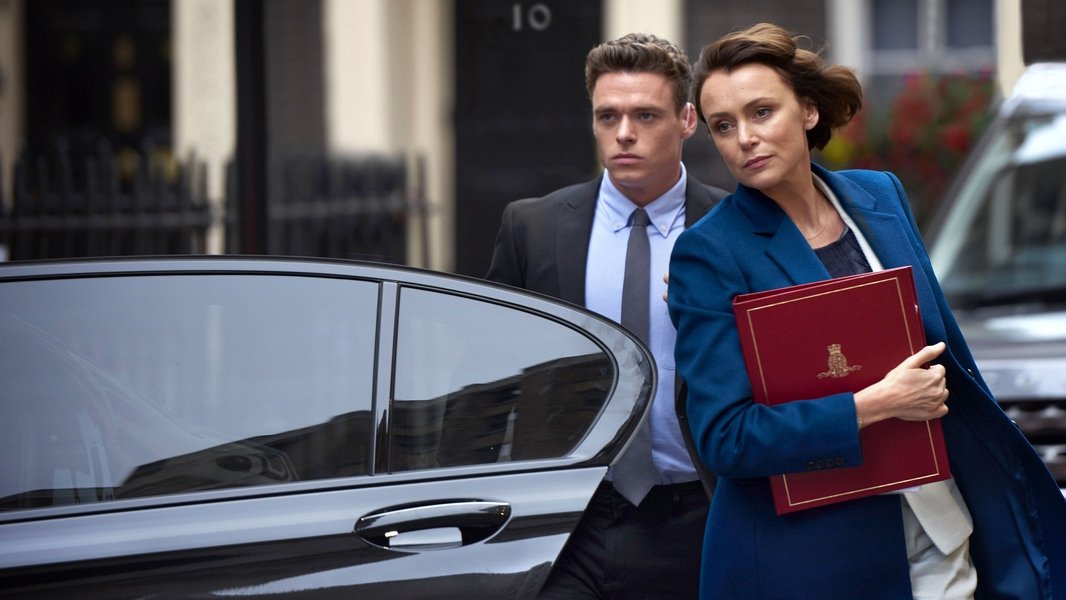 BBC's Bodyguard was filmed at a popular Downing Street stand-in location, a suburban office block and in residential neighbourhoods across Camden, Islington, Southwark and Haringey including the now-closed Hornsey Tavern.
But some of the show's filming locations are unexpectedly high profile – including a South Bank icon which appears as Metropolitan Police headquarters.
Railway Scenes
Bodyguard's train station scene was filmed on Mid Norfolk Railway in Dereham. The BBC drama opens with an extended, high tension terrorist attack on a train bound for Euston, but the scene was originally meant to be set and filmed at Waterloo Station.
"The opening sequence of Bodyguard was originally going to be shot on a train about to depart Waterloo Station. Permission was revoked and we had to reconceive the whole sequence to a new location with a completely rewritten chain of events."
Jed Mercurio, writer and creator
Permission to film at the busy mainline station had even been granted, but as the filming dates approached it was revoked. That sudden change of plans led to a change in location – and in plot, with the story swiftly rewritten to fit a less recognisable backdrop. As one of the show's most memorable scenes, the last minute rewrite turned out to be a stroke of good luck.
David's Flat
On BBC's Bodyguard, the filming location for David's flat can be found in Highgate's Whittington Estate. While the ex-soldier's wife and two children live elsewhere he's shown entering a fairly modest home in a residential block, but in line with the show's unexpected mixture of down-to-earth and note-worthy this is not just any housing estate.
Stoneleigh Terrace was designed by Hungarian architect Peter Tábori with interior planning by Ken Adie in the 1970s.
It was originally constructed as one of Camden's post-World War II social housing projects, but the concrete maisonettes with their stepped balconies now fetch well over half a million pounds.
It's certainly distinctive, and Stoneleigh Terrace is also typical of a certain London architecture trend that reaches across Camden and the rest of the city.
David's Family Home
Bodyguard's filming location for David's family home can be found on Lofting Road in Islington. This North London location fits in with the show's line-up of authentic but sought-after urban destinations.
The street itself lies in a residential area near the Caledonian Road, which runs north to Holloway and south to the bustle of King's Cross, but Islington's bars, bakeries and cultural scene are just a few minutes away.
Julia Montague's Flat
Battersea Park. By Garry Knight (Flickr: Battersea Park 05/03/13 - 19) [CC BY-SA 2.0 (https://creativecommons.org/licenses/by-sa/2.0)], via Wikimedia Commons
Overstrand Mansions, Bodyguard's filming location for Julia Montague's flat, can be found in Battersea and there's not much camera trickery here. The lettering above the portico is visible in several shots, and this really is the name of the mansion block.
It sits on Prince of Wales Drive, a desirable locale that borders Battersea Park – beyond the park lies the River Thames, with prestigious Chelsea on the other side. All in all, it's a convincing location for the Home Secretary's apartment.
The Home Office
Interior shots of Bodyguard's Home Office scenes were filmed on set. Further filming took place in Uxbridge.
The cast and crew shot around one of the west London suburb's modern office buildings, taking advantage of an unoccupied block.
The Safe House
Julia Montague's safe house scenes were filmed on location at the South Place Hotel. Onscreen it's renamed as the Blackwood Hotel, the luxurious spot where the Home Secretary goes into hiding and where David later returns to search for evidence on the CCTV footage.
In reality, the South Place Hotel is a boutique five star luxury hotel in the City of London. That chic aesthetic comes courtesy of Conran and Partners, and while its quirkier side isn't highlighted onscreen its core concept is a hybrid of City quality and Shoreditch trendiness.
10 Downing Street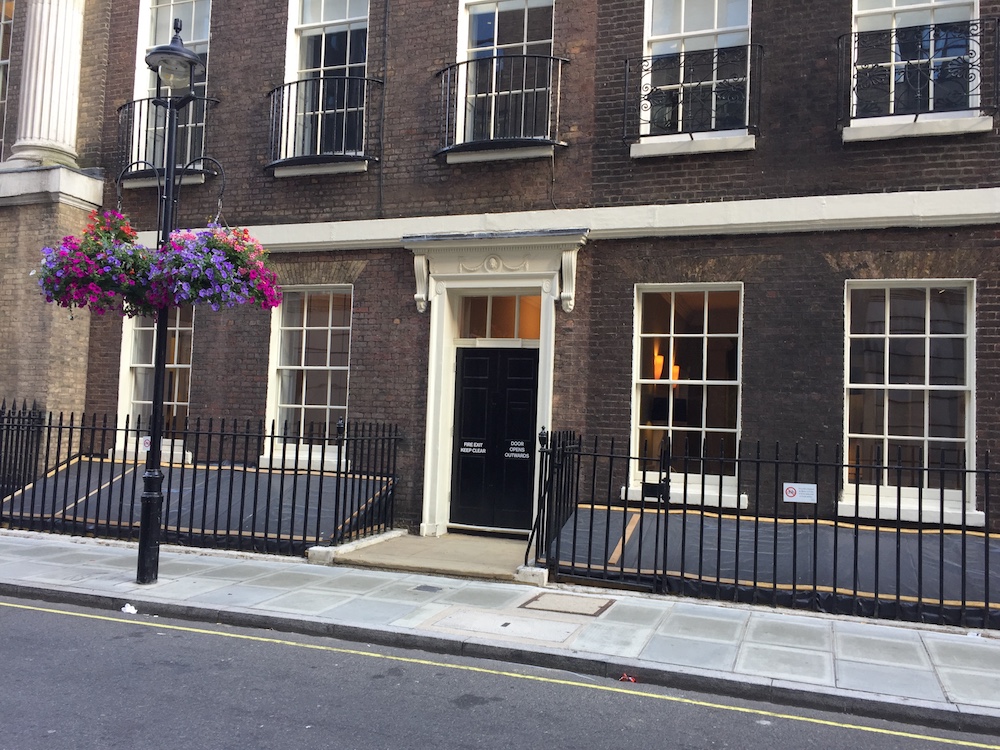 John Adam Street, London. Copyright FindThatLocation.
8 John Adam Street was used as Bodyguard's 10 Downing Street location. Special effects changed some details on the frontage – only a few touches though, because this entrance is known in filmmaking circles as No 10's closest relation.
As the street name hints, it was built by the Adam brothers who famously designed much of Georgian London in the Neoclassical style.
The Prime Minister's real life residence is the result of several redesigns, none by the Kirkcaldy-born architectural dynasty, but nonetheless the match is convincing.
This filming location is actually the home of the RSA, an organisation that began in an 18th Century coffee house and has continued its quest for enlightened thinking ever since.
If you're interested to see what lies behind its black door, there's a virtual tour that takes you inside. You can even look out through the windows to see the view from inside Bodyguard's 10 Downing Street.
Houses of Parliament
Charterhouse School. By Tinyguy (en:File:Chouse22.jpg) [Public domain], via Wikimedia Commons
A pivotal moment takes place inside Westminster. The filming location was Charterhouse, a private boarding school in Surrey whose alumni include, among many others, Vanity Fair author William Makepeace Thackeray, founder of the Scouts Robert Baden-Powell, and presenters David and Jonathan Dimbleby.
Built in the late 19th Century when the school moved out of London, it shares a Victorian Gothic aesthetic with the Houses of Parliament. Each building features wood-panelled interiors and stairwells, so the production team has given that all-important scene a convincing backdrop.
Metropolitan Police Headquarters
Tate Modern. By Fred Romero from Paris, France (London - Tate Modern) [CC BY 2.0 (https://creativecommons.org/licenses/by/2.0)], via Wikimedia Commons
The Tate Modern art gallery provides an unexpectedly high profile filming location for Bodyguard's Metropolitan Police Headquarters.
It's an unusual move. Corner windows behind the desk reveal views of Shakespeare's Globe and the Millennium Bridge which could only be seen from the Tate Modern.
The brutalist icon stands on London's Bankside. Metropolitan Police HQ (home to the famous revolving New Scotland Yard sign) is relatively close – it's located a little way along the opposite bank of the Thames on the Victoria Embankment, though none of the same distinctive landmarks are visible.
Of course, there's no denying that the gallery offers a striking central London backdrop. Combined with the terrorist plots under discussion in the accompanying dialogue, the choice of location also makes it hard to forget that attacks are a real concern in high profile locations.
The Sniper Scene at Pascoe House
During the sniper shooting which catches Julia and her newly appointed bodyguard unawares, their car is seen on central London streets before pulling over. David names the nearby building as Pascoe House.
Bodyguard's Pascoe House is really a CGI approximation of 20 Old Bailey, with safety concerns driving the agenda.
"For public safety we weren't permitted to put anyone on the roof with a rifle. This image on David Budd's phone was created with visual effects. Pascoe House is fictional - the sign is also vfx."
Jed Mercurio, creator and writer
To get a feel for the area, it's overlooked by St Paul's Cathedral, surrounded by the offices of major banks and companies. As the name suggests, it's on the same street as the historic Old Bailey or Central Criminal Court.
College
The game-changing scene where Julia is set to make a speech at a Central London college, really does take place inside a University of London building. Senate House is the striking Art Deco building seen in interior and exterior shots, including the grand façade, staircases and hallways.
Students of the University's colleges use the building everyday to access Senate House Library's extensive collections. It's another well-chosen filming location and yet again, an easily recognisable one to anyone familiar with this architectural, and academic, landmark.
Chequers
Ham House. By Stevekeiretsu [CC BY-SA 4.0 (https://creativecommons.org/licenses/by-sa/4.0)], from Wikimedia Commons
The Prime Minister's country residence can be found in Buckinghamshire, not far from the market town of Aylesbury. Bodyguard's Chequers location is Ham House in Richmond, a stately home on the fringes of London.
Built by a favoured courtier on James VI and I, it's within easy reach of Hampton Court and is recognisably a Stuart era house – not a bad match for the real Chequers, a late Tudor red brick mansion where Lady Jane Grey was once held at Elizabeth I's command.
Ham House is one of many National Trust properties that crops up regularly onscreen. It has played Kensington Palace in Young Victoria while the lawns were used as the Osborne House gardens in Victoria and Abdul.
Look out for the mansion's appearance as Versailles in Alan Rickman's A Little Chaos, and in Keira Knightley movies Never Let Me Go and Anna Karenina (the Joe Wright movie lent a selection of costumes for an exhibition in the mansion's Long Gallery).
Street Scenes
During the van chase sequence before it reaches the school the van veers off Boston Manor Road onto Wellmeadow Road when they notice the police. Earlier on in the sequence the van is seen driving past a florists on the corner of Uxbridge Road and Boston Road in Hanwell.
David's first car journey with the Home Secretary takes place against the background of the Embankment by night. Other shots take us through the streets adjacent to filming locations like Julia's Battersea home on Prince of Wales Drive.
BBC's Bodyguard team made extensive use of locations around popular areas of the city and in local neighbourhoods.
"The production made it clear they recognised they were guests in the area and worked hard to film with minimal disturbance."
Karen Everett, Filmfixer CEO
Shots filmed inside the Tate Modern gave us a glimpse of Shakespeare's Globe below. The streets that run behind the landmarks earn some screen time of their own with shots of armed police officers filmed in Sumner Street and around Bankside.
The scene where the abandoned car is found was filmed in Bear Gardens, in the shadow of Southwark Bridge.
Armed officers are also seen in The Cut, a street brimming with bars and restaurants which runs between the nearby stations of Southwark and Waterloo.