Gurinder Chadha knew there was only one place to find the perfect Beecham House filming locations. The new ITV period drama shows off some of India's most glorious architecture – along with its landscapes and an atmosphere you just can't imitate.
"One of the things about India that existed long before the British came along and carried on long after they left, and will carry on, is their architecture, the palaces, the forts. We have used many, many shots of those amazing buildings and that is India, for me. You cannot shoot that anywhere else."
Gurinder Chadha, Creator
Where was Beecham House Filmed?
Beecham House was filmed in the palaces, forts and royal gardens of Jaipur, Rajasthan. The ITV drama series is actually set in 1790s Delhi.
"I can't think of any other depiction of this time on television. We've only ever gone as far back as the days of the Raj, whether that be Ghandi or Jewel in the Crown or Passage to India. The costumes are fantastic and the set and locations look great."
Adil Ray, Murad Beg
Delhi lies just across the border of the neighbouring state of Haryana, and both places are North Indian. But India is a big country, they're over 250 km apart.
Luckily they share a glorious architectural history and Jaipur's palaces still radiate 18th Century elegance. As a result, those sumptuous Beecham House filming locations are fairly accurate.
Generations of nobility and royalty have built the kind of mansions you'd expect to see on Downton Abbey across Jaipur. The stunning Rajasthan equivalents, of course.
And thanks to the new drama, we get to explore them onscreen. Of course, we also get to look behind the scenes and meet characters from all walks of life, living very different lives within the same walls.
Is Beecham House Based on a True Story?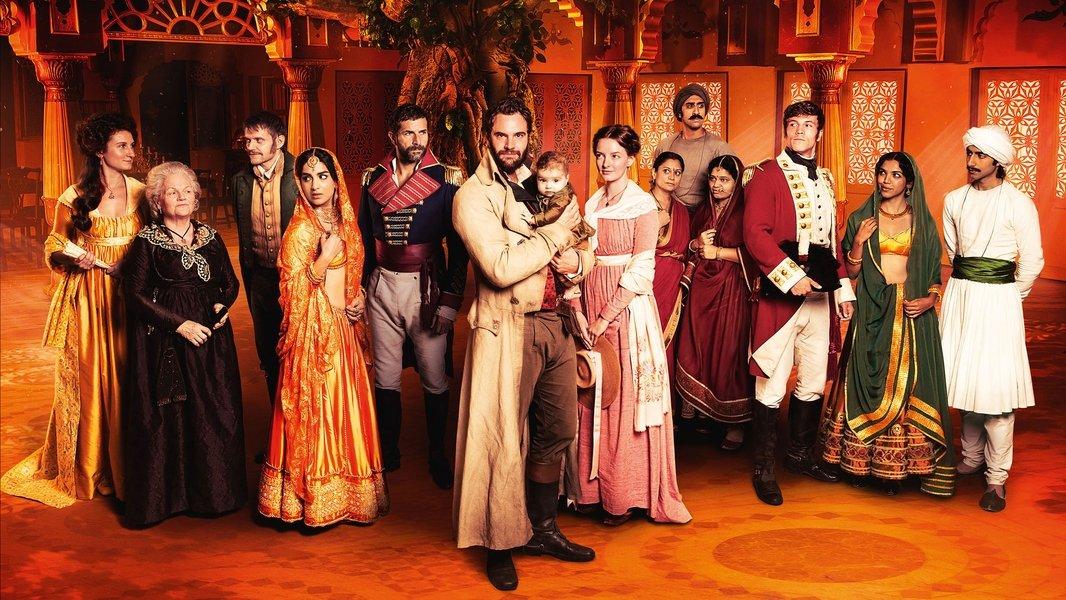 Not precisely, though the context is very real – the Indian nobility, their servants, the East India Company, the French army and the uneasy relationships between each party.
"It's in a different period in a different country, but I always loved the interactions between the 'upstairs' and 'downstairs' in those sorts of period dramas, and all the political and cultural stuff that comes with that."
Gurinder Chadha, Creator
For one of the cast members, it was a welcome change of scene. Lesley Nicol plays the much-loved cook Mrs Patmore in Downton Abbey – this time round, she gets out of the kitchen.
"'I'm unusual casting for this, because I never get to go upstairs! It's taken a long time and I say thank you to all the people who went, 'I think she might be able to do it'."
Lesley Nicol, Henrietta Beecham
Alongside the Beechams' domestic and social drama, there are some clever historical gems woven into the series. The Emperor is based on the very real Shah Alam II, who ruled from Delhi during the era.
Miss World winner and Bollywood star Lara Dutta plays another historical figure, Begum Samra. She goes a step further than the fictional strong women we've already been introduced to on the show.
The real Begum Samra was born into a noble Mughal family in 18th Century Delhi, but when her father died she was cast out of the household. She forged a living as a dancing girl, married a Dutch mercenary and eventually took over his army.
In her unusual new role, she rose to the top of the Mughal court once again – but not without controversy.
She lived in the era of Emperor Shah Alam, as depicted in Beecham House, and played a part in a major incident at the Red Fort. So her placement in the show is absolutely spot-on.
Beecham House
Samode Palace. Meena Kadri [CC BY 2.0 (https://creativecommons.org/licenses/by/2.0)]
One stunning Beecham House filming location is perched on a hillside just outside Jaipur. Samode Palace and Samode Bagh were favourites with the cast, and it's easy to imagine why.
Fort walls surround the stunning palace at the heart of Samode Palace, now a hotel. A grand staircase leads up from the courtyard to the lobby – from there, it's all red, gold and deep blue halls. The Samode Palace dates back almost 500 years and its architecture reflects that.
Its opulent design comes from its dual Indian and Mughal heritage. But the setting really completes the picture. Golden-walled rooms open right out onto balconies with a clear view of the hills that rise up around the palace.
The real occupants of this Beecham House location include celebrities and royalty. In fact, this smart hotel boasts four royal suites.
But the new ITV drama reflects the different ways of life that go along side by side, and even today you can see that relationship in action. On the doorstep of the hotel you'll find Samode Village.
It's a rambling network of cobbled streets leading to a market, and it's a little bit of 'real' India.
Further afield in Samode Bagh lies the private garden retreat of the Samode Royal Family. You can see it in Beecham House garden scenes.
"Samode Bagh was my favourite one. There was this beautiful quad where we were staying, and it's out the back, they had a swimming pool and stuff, and out the back was John Beecham's garden. So we got to stay there and walk around those gardens and stuff… it was like a big old holiday."
Tom Bateman, John Beecham
In fact, the accommodation around the quad is all tented, completing the picture of a faraway escape. But these tents are the epitome of glamping – each one is fitted with its own marble en suite bathroom.
Beecham House interior shots were filmed in London's Ealing Studios. For the Indian cast members, the show's London shoot was a novelty.
"We also shot in London which was a whole new experience for me. I learned so much and I've taken back some amazing memories. It's been a very surreal experience for me."
Shriya Pilgaonkar, Chanchal
For two of the stars, it was a strange experience for another reason. Bessie Carter is the daughter of Imelda Staunton and Downton Abbey's Jim Carter.
"… as I am 'upstairs'. I am officially posher than my dad. We pushed the Downton film out of Ealing Studios, too. That's where they usually film but we got in there first so they had to go to another studios instead."
Bessie Carter, Violet Woodhouse
Lesley Nicol was in an even stranger situation because the shuffle. She was shooting the Downton Abbey film at the same time, going back and forth between Ealing, the relocated Downton set and India.
The Red Fort, Delhi
Amer Fort. Kuldeepsingh Mahawar [CC BY-SA 4.0 (https://creativecommons.org/licenses/by-sa/4.0)]
The French military base scenes are set at the Red Fort in Delhi, but Beecham House's Red Fort filming location is actually Amer Fort in Amber, Jaipur.
And if you think it has a presence all of its own onscreen, you're not alone. Even Grégory Fitoussi, who plays the all-knowing General Castillon, was blown away by it.
"… my main location was the Red Fort which is really impressive, and really moving. I had some amazing emotions shooting there. For my character it was important to feel strong, like a boss, like it's his castle, his place."
Grégory Fitoussi, General Castillon
Today, Jaipur is the capital of the region. But 500 years ago, Amber was the first city, known as Dhundar and it was here that Raja Man Singh built the Amer Fort in 1692.
Just as you see onscreen, it's a mixture of imposing castellated walls and elegant archways built around courtyards.
The grander apartments were created for the maharaja, and they're all embellished with carvings, mirrored tiles and frescoes.
Because nothing in Jaipur is minimalist.
The real Red Fort in Delhi hasn't looked as it would have in Beecham House's era for a long time. But it's in the midst of a restoration project, turning back the clock on Colonial and post-Independence additions.
Nobody has seen the 350-year-old fort in its all its Mughal era grandeur for centuries, but that's about to change.
And of course, in the meantime, we can enjoy ITV's version.
Murad Beg's Mansion
Beecham House's filming location for Murad Beg's mansion is the stately Chomu Palace Hotel, and it's the definition of Jaipur's elegance cultural heritage.
Chomugadh was built as a fort in the early 17th Century, in the depths of the Rajasthani jungle.
You can still see the fortified outer walls to this day, but once you step it's every inch a palace.
Scalloped arches line every hall and courtyard. Whitewashed walls gleam in some rooms, while others are so intricately tiled they look like jewel-boxes.
Look out for one of the Chomu Palace Hotel's terraces during Murad's party.
It features one of the biggest crowd scenes in the series, and offers a stylish backdrop to introduce Delhi's high society figures.
The Emperor's Palace Compound
Emperor Shah Alam II was a real Mughal ruler, and his history explains why the Englishman is so unwelcome.
His reign was blighted by a declining empire, not helped by battles against the English. Onscreen, he's played by stage, film and TV actor Roshan Seth from iconic productions like Indiana Jones and the Temple of Doom.
Some of the scenes were filmed around Jaipur, but it was almost impossible to keep locals and tourists out of shot.
"when we were shooting, a lot of the emperors' palace stuff, there were up to a thousand maybe more people with their phones out filming us. They would clear the space behind us so they could shoot on us – and then everything else was just full of people!"
Dakota Blue Richards, Margaret Osborne