Quaint A Christmas Carol filming locations from Bristol to Hampstead get a gritty makeover in the 2019 drama.
The new Dickens adaptation from Tom Hardy's production company Hardy, Son and Baker and Scott Free London was filmed in late spring and summer 2019, so every location got a good helping of fake snow into the bargain.
Where Was a Christmas Carol Filmed?
A Christmas Carol 2019 was filmed on one of Warwick's oldest streets to give the show its tottering timbered houses.
Other scenes took the production to the Essex border, Hampstead and Lancashire.
Only one filming location is in City of London where Charles Dickens' A Christmas Carol is set.
But in BBC One and FX's A Christmas Carol, every room and alleyway is lit to perfection. You can visit most of these filming locations, but be warned, they'll look far cheerier without the lamplight and shadows.
Scrooge's School
Shaun Ferguson / Stonor House
Scrooge's school scenes were filmed at Stonor Park, Berkshire, in May 2019. Andy Serkis' Ghost of Christmas Past takes Guy Pearce's Scrooge back to his schooldays in darker style than your average Dickens adaptation. But what else would you expect from the Peaky Blinders team?
There are no dishevelled ghosts lurking around Stonor Park in real life, and their Christmases are tasteful, enchanting affairs. Visit during the festive season, or book a tour during the year to explore the red brick hall and beyond.
In fact, the Stonor family have lived at the house for 850 years (and still do). Look around and you'll find traces of every era from the Restoration to the Gothic revival.
St Giles Church of Bishopsgate
Chris Gunns / St John at Hampstead, interior
St John-at-Hampstead Parish Church is the North London location used for A Christmas Carol's church and graveyard scenes. Look out for it in the memorable opening scenes of Episode 1.
Hampstead's Church Row was dusted with snow in the middle of May. Meanwhile, the church was temporarily rebranded as St Giles Church of Bishopsgate for the shoot.
Scrooge's House
Rainham Hall [CC BY 2.0 (https://creativecommons.org/licenses/by/2.0)]
Scrooge's House is really Rainham Hall, a Grade-II listed house near Essex. Filmed in May, the scenes brought horses, bonneted extras and fake snow to Rainham Broadway.
"The area outside the front of the Hall, the exterior of the stable block (where our café is) and the courtyard was covered in artificial snow and wintery shrubbery. During the filming the courtyard was filled with carts, barrels and even artificial horse manure for a street market scene."
Sally Parker, Volunteering and Community Involvement Officer at Rainham Hall
But you'll see more than just the façade in A Christmas Carol. The three-hundred-year-old house's entrance hall became the miser's front room, and it's here you'll find the shuttered windows Guy Pearces Scrooge watches from.
"The main entrance of the Hall was transformed into Scrooge's sitting room and our beautiful mahogany staircase (dating from when the Hall was built) comes into its own."
Sally Parker, Volunteering and Community Involvement Officer at Rainham Hall
Rainham Hall is run by the National Trust, and if you're quick you can book a place on A Christmas Carol filming tour.
Don't panic if you miss out – the Georgian house is open throughout the year (check dates before you travel). There's a tearoom in the former stables too.
Scrooge and Marley's Office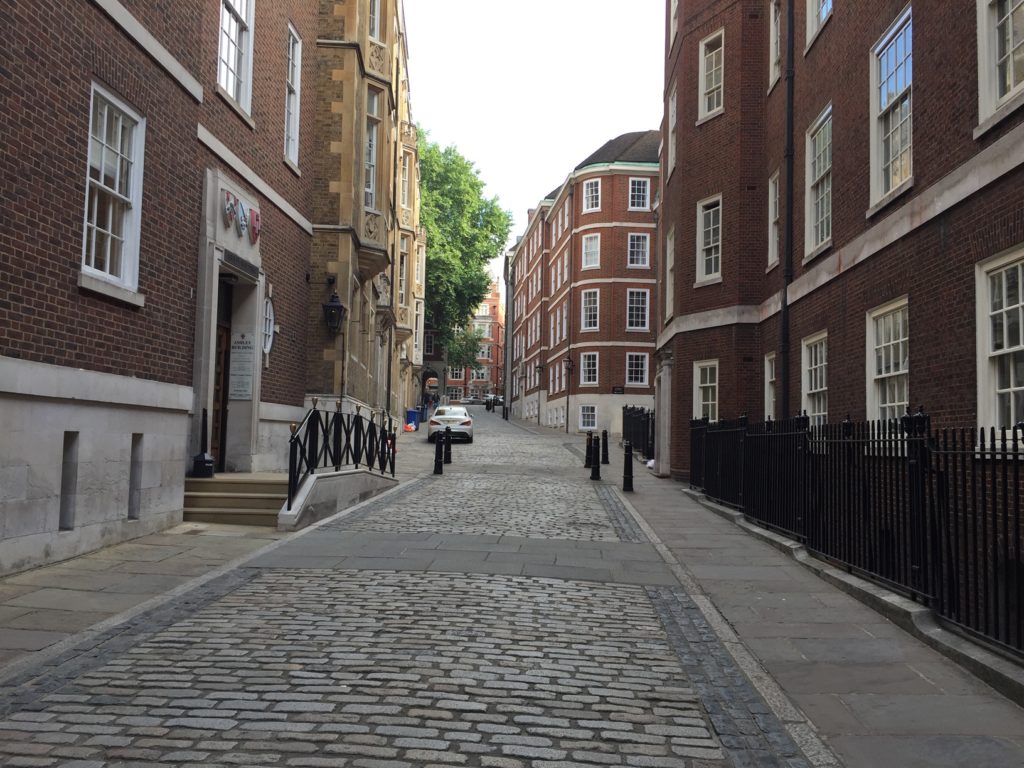 Scrooge's office location is in Middle Temple Lane, with a bit of help from VFX to round out a Victorian London streets.
This City of London street lies in the right part of town, according to Dickens' description of Scrooge's neighbourhood. Middle Temple Lane links Victoria Embankment with the point where the Strand meets Fleet Street.
It's appeared in the likes of Christopher Robin and Mary Poppins Returns over recent years, but fans of The Da Vinci Code might want to take note too.
Dan Brown brought Temple Church to the wider public's attention when he featured it in his second Robert Langdon novel.
The lane, and the Inn of Court at Middle Temple, really are named for the Knights Templar, who owned the plot 900 years ago.
Bob Cratchit's House
Misterweiss at English Wikipedia [Public domain]
Exterior shots of Bob Cratchit's house were filmed in Warwickshire. Warwick's half-timbered buildings were ideal for bringing Victorian London back to life, with filming taking place at the Lord Leycester Hospital in June 2019.
It's on the High Street, at the medieval heart of Warwick. The teetering building looks as if it's come straight from the past.
Actually, it has - its history goes back almost a thousand years, with the building passing though the hands of King Richard II, various Earls of Warwick, Henry VIII and Robert Dudley, Earl of Leicester.
During Dudley's tenure in the Elizabethan era, a system of masters and brethren was set up. It's continued onwards for centuries, even into present day.
But Doctor Who fans might know it better as the street from Season 3's The Shakespeare Code.
You can take a guided tour of this filming location for yourself – whether you're interested in its screen time or its past.
The Mill
Betty Longbottom / Queen Street Mill
A Christmas Carol's mill is actually the Queen Street Mill in Burnley.
You might have spotted it briefly in The King's Speech, but locals will know it right away as a Grade-I listed landmark.
The textile mill opened its doors in the 1890s and closed a century later, becoming a museum.
It closed for conservation work several years later, and has recently reopened to show off its 308 Lancashire looms and more.
That's not all – in fact, this could be one fascinating day out. Queen Street Mill is the only remaining operational steam-driven weaving shed in the world, and there are plans to fire the boilers in the near future.