Find Christmas in London filming locations like Glasgow's St George's Tron Church and George Square, the London Eye and Elizabeth Tower, Alliston's Gibson Center and Newmarket's British import store.
A Christmas Exchange was retitled Christmas in London for the UK market. And it's based on the 2011 book Molly Cooper's Dream Date by Barbara Hannay, with a few details changes for the screen. In the romance novel, Molly lives on Magnetic Island off the Queensland coast instead of Westport, Connecticut.
In the movie, journalist Molly (Laura Vandervoort) finds out that her local newspaper, The Westport Post, is publishing its final issue. On the same day, her boyfriend ends their relationship. With a bit of encouragement from her friend Andy (Yanic Truesdale), Molly takes it as a sign to chase her dreams. She swaps homes with a Londoner for the holidays, to visit the city she's always wanted to see for herself – and maybe find love along the way.
Molly and Patrick Kensington (Rainbow Sun Francks) agree to email each other from their exchanged homes. As they write, they realise that might just be well-matched.
Where Was Christmas in London Filmed?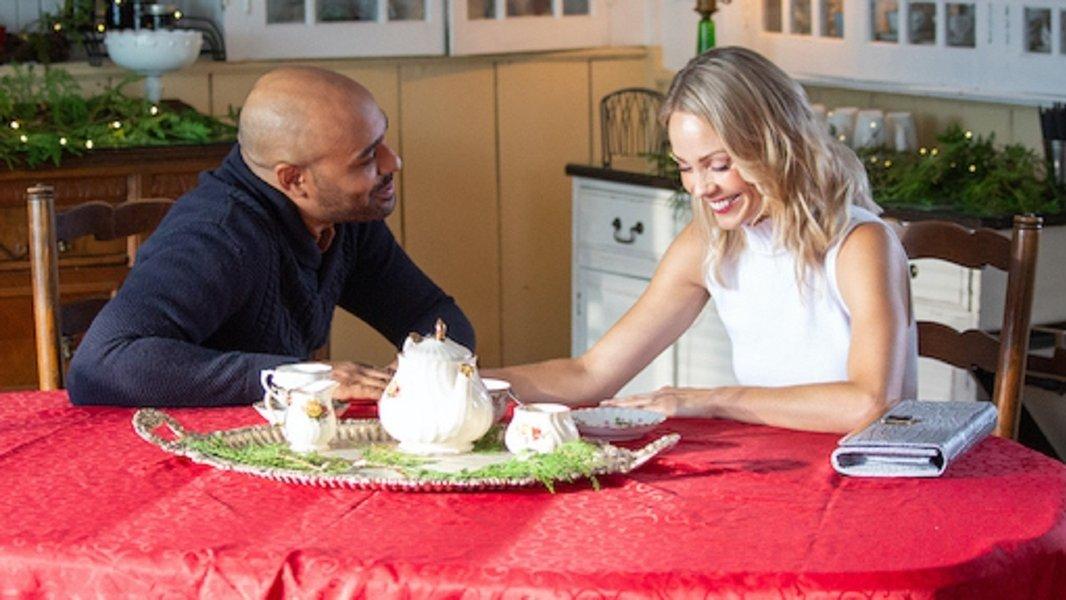 Christmas in London, also known as A Christmas Exchange, was filmed in Alliston, Newmarket and Barrie in Ontario, Buchanan Street and George Square in Glasgow, and features snippets of Tower Bridge, London Eye and the Houses of Parliament in London.
It was made by Brain Power Studio, who shared the premiere announcement back in 2020. Their studios are in Barrie, Ontario, with a standing set in Newmarket, and the film's Canadian locations are all found in Ontario.
Locals might have noticed a few mix-and-match backdrops in A Christmas Exchange's version of London. Since the Lifetime movie was filmed in the middle of the health restrictions, it makes sense – and who can argue with these snowy settings?
We don't want you to miss a moment of Christmas magic, so we've included as much as possible. Here are A Christmas Exchange's London montage moments, Glasgow streets and the Canadian locations where the cast shot their scenes.
Filming Locations List
Tower Bridge
Tower Bridge. Barcex, CC BY-SA 3.0 , via Wikimedia Commons
Look out for Tower Bridge in the snow in Christmas in London. It appears just after Molly makes her decision to travel to London.
And of course, it's a movie favourite – look out for it in Paddington, Muppets Most Wanted and many, many more films throughout the years.
The Christmas Fair
Christmas in London's Christmas carnival is actually the Christmas Fair at George Square, Glasgow. And if you didn't recognise it right away, the 500 Glasgow Airport Express passing by might just give you a clue.
The Christmas market appears when Molly first arrives in London – she takes a picture from the taxi as she passes by. While it's not named in the festive film, we assume it's a stand-in for Winter Wonderland in Hyde Park.
Houses of Parliament
Palace of Westminster. © User:Colin / Wikimedia Commons
As Molly explores London, she takes a photo of the Houses of Parliament and Big Ben. Of course, it's now known as Elizabeth Tower – and as a famous piece of trivia tells us, it's the bell that's called Big Ben. The tower and clockface were refurbished just in time for the Queen's Platinum Jubilee celebrations in summer 2022.
The London Eye
Blink and you'll miss it, but the London Eye is one of the attractions Molly visits in A Christmas Exchange, also known as Christmas in London. She takes a snapshot of it just after passing the Houses of Parliament from the Thames Path.
Laura Vandervoort may not have set foot on the South Bank but this route it totally plausible. Molly is seen taking her photo on the west side of Westminster Bridge, and her next picture shows the attraction. It's on the east side of the same bridge, so is a logical next stop.
The London Eye was built on the South Bank in 2000 to mark the new millennium, meaning it's now over 20 years old. We'll never know if Molly took a flight around for its famous views, but you certainly can!
Shopping Street
Buchanan Street, Glasgow. Jean Marie Desbois aka Malost, CC BY-SA 3.0 , via Wikimedia Commons
The shopping street location in Christmas in London is Buchanan Street in Glasgow. In the Christmas movie, again it's not named but is we think it's supposed to be Oxford Street or Regent Street.
Look out for St George's Tron Church in the background in several shots throughout A Christmas Exchange. It stands at the junction of Buchanan Street, Nelson Mandela Place and West George Street. If you continued along West George Street, you'd find yourself in George Square – home of the Christmas Fair.
British Sweet Shop
The sweet shop location in Christmas in London is really a British import store in Ontario. In the Lifetime movie, Molly visits the shop and admires the treats on the shelves.
Filming took place at British Fine Foods & Bakery at 474 Timothy Street, Newmarket, in July 2020.
The Sweets In Store British Imports store has been running for almost forty years. It was recently rebranded as British Fine Foods & Bakery by its Buckinghamshire expat owners, and stocks favourites like Cadbury's chocolate and Marks and Spencer tea and biscuits.
So while the shop's location isn't quite authentic to A Christmas Exchange's London setting, the food on the shelves is the real deal!
Clarington Publishing
Christmas in London's Claringon Publishing location is the Gibson Center on Tupper Street West in Alliston, Ontario. The arts and cultural venue confirmed their appearance in December 2021 – under the American title, A Christmas Exchange. And we spotted several Christmas events on their line-up, so you might even be able to make a holiday visit.