The Best London Market Locations
London markets are popular filming locations and with unique stalls, street food and an atmosphere all of their own, they make great destinations for fun days out in the city.
We love all the Harry Potter filming locations the capital has to offer, and the London market location of the Leaky Cauldron is not to be missed. Going west, Portobello Road is full of treasures for film fans and antiques hunters alike. South of the river you'll find the iconic Borough Market, home to delicious food and fresh produce, as well as romantic comedy moments.
Borough Market
Nestled between narrow streets and railway bridges to the south of the Thames, you'll find this historic London Market (the area dates back to Roman Londinium).
One great movie for South London locations is Bridget Jones's Diary (2001). You might remember Bridget chases after Mark Darcy from the door of her flat, running out into the snow and searching for him in the street. Alternatively, switch sides and walk past Daniel Cleaver's flat on nearby Clink Street, where you'll find traditional pubs and old London alleys.
Bridget's flat is actually located just around the corner from Borough Market, and we see her passing through the market a few times throughout the film, during the daytime and after trading hours. So why not make a tour of the area before browsing the stalls and getting a bite to eat?
Portobello Road Market
You'll also find Portobello Road in London, and though it's just minutes from the city centre this sprawling market feels like a different world. It's actually comprised of various street markets, arcades and shops, so set aside plenty time for your visit!
The famous blue door at 280 Westbourne Park Road has long since been auctioned off, but the Find That Location team agrees that you can still catch the Notting Hill (1999) atmosphere from the surrounding area. Stroll between Notting Hill Gate and Portobello Road for the full effect, with avenues of pastel-coloured houses giving way to a labyrinth of independent shops and Portobello Market's stalls.
142 Portobello Road is the shop front you see in the film, though today you'll find souvenirs inside. Alternatively, try 13 Blenheim Crescent for a literary browse William Thacker would be proud of, at The Notting Hill Bookshop.
Now, where have we met another antiques dealer? Ah, that's it, Paddington's (2014) friend, Mr Gruber. If you caught the film, you'll remember his cave of antique treasures, and the fantastic news is that you can visit the real thing at Alice's Antiques. Not only was it the filming location from Paddington, it also houses a trove of curios.
If this street market is reminding you of something else, it might be Bedknobs and Broomsticks (1971). The scene was filmed on a sound stage, but the Portobello Road song is entirely set around the market and carnival with Eggletine, Mr Brown and the children hunting high and low for a rare spellbook. It just goes to show, you never know what you might find here!
Our top tip? Check the market's schedule on their website before you go - depending on where and when you visit, you could find anything from antique teacups to apples on sale.
Leadenhall Market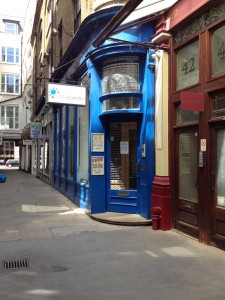 Where better to find the heart of wizarding London than in the city's ancient heart?
The entrance to the Leaky Cauldron in Harry Potter and the Philosopher's Stone (2001) made use of an unusually shaped doorway in Bull's Head Passage, just feet from the entrance of Leadenhall Market, in the heart of the historic City of London. We advise you to get your Hogwarts book list in order before you visit though, as you might remember Harry and Hagrid strolling through the area en route to Diagon Alley.
Muggles can enjoy the market too, though. Other movies filmed on location at Leadenhall Market include Lara Croft: Tomb Raider (2001), where you can see Lara whizzing through on a motorbike during a major chase sequence.
The market is located in a stunning listed building, so don't forget to check out its ornate ceilings while browsing the high end boutiques (sorry, no Wizard Wheezes). If you're not going to be in the area, take a 360 degree virtual tour or catch their updates direct on Twitter.
Why Visit a London Market Location?
The Find That Location team love the fact that when you spend a morning at a market, the cost is entirely down to you. Pick up rare antiques, just stroll through or get a coffee and a postcard, the choice is yours. So if you're looking for cheap days out in London, they're hard to beat.