Find Emily in Paris filming locations at La Sorbonne, Cinema Le Champo, La Samaritaine, Les Halles, Rue de l'Odéon, La Coupole, Versailles, Palais-Royal, Chateau de Sonnay, Le Senequier, Fontaine St-Michel, Le Raidd, and more. We've tracked down the chic restaurants, English pub, cinema, statues, fountains and department stores of the glamorous Darren Star series.
And best of all, it's filmed on location in truly up-and-coming and iconic spots around the City of Light. So you can easily visit Emily in Paris locations for yourself – Instagrammable outfits not required.
Where Is Emily in Paris Filmed?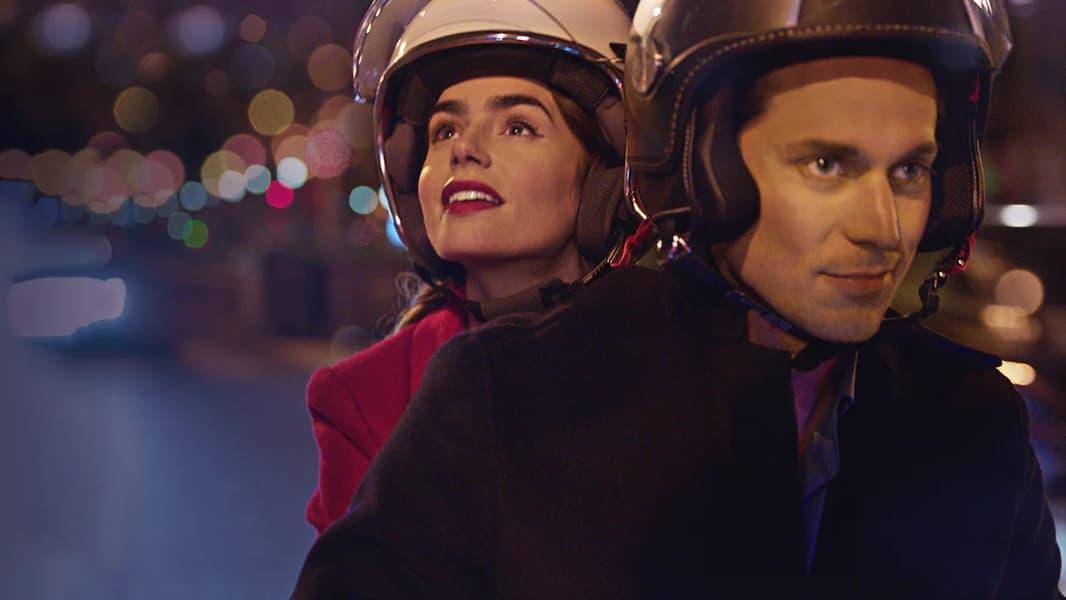 Emily in Paris was filmed in the Latin Quarter, Place de Valois, La Sorbonne, Saint-Étienne-du-Mont, Le Marais, Les Halles, Versaille's Hall of Mirrors, Cinema Le Champo, Chateau de Sonnay, Le Senequier, Le Raidd, and the bateau mouche on the Seine. The cast were spotted filming on location in Paris throughout summer 2021.
Look out for new love interest Alfie (Lucien Laviscount), French class friend Petra (Daria Panchenko), and a new restaurant project from Mathieu Cadault (Charles Martins). And that restaurant scheme prompts an even more complicated love triangle for Emily (Lily Collins), Camille (Camille Razat) and Gabriel (Lucas Bravo).
And of course, Emily makes it through Season 2's escapades with the help of her bestie Mindy (Ashley Park), colleagues Luc (Bruno Gouery) and Julian (Samuel Arnold), Chicago boss Madeline (Kate Walsh) and Savoir's head honcho Sylvie (Philippine Leroy-Beaulieu).
Of course, new storylines bring new settings. Some of the locations are unmistakeable Parisian icons, others are new hotspots that are name-dropped amongst the show's own fictional brands. And look out for new Emily in Paris St Tropez locations in Season 2, when Emily, Camille and Mindy take a trip to the Cote d'Azur.
Emily in Paris Filming Locations List
Emily's Apartment Building
Place de l'Estrapade, Paris. Celette, CC BY-SA 4.0 , via Wikimedia Commons
In Emily in Paris the apartment building is at 1 Place de l'Estrapade in the 5th arrondissement. Once again Emily and Gabriel share the apartment building, with Emily on the 5th Floor and Gabriel on the 4th. But this time Mindy is sharing the flat and she's made herself completely at home – prepare for flatmate adventures and girly moments.
Emily's apartment in the Netflix show is in the stylish Latin Quarter, and throughout the series we see plenty more of the area.
Emily's Office
The Savoir office location in Emily in Paris is Place de Valois above Galerie Patrick Fourtain. It's a courtyard between Rue des Bons Enfants and Rue de Valois, in the heart of the city. In fact, Emily's office location is located in the 1st arrondissement, half way between the Louvre and Jardin du Palais-Royal.
Gabriel's Restaurant
Known Restaurant Les Deux Compères and Chez Lavaux in Emily in Paris, the real restaurant where Gabriel (Lucas Bravo) works is Ristorante Terra Nera. The Emily in Paris restaurant location is located at 8 Rue des Fossés Saint-Jacques, between the Pantheon and Jardin du Luxembourg. And you can find it on our Emily in Paris location map right here!
But why does the name of the restaurant in Emily in Paris change? In Season 1, Gabriel's restaurant is called Restaurant Les Deux Compères. He intends to leave Paris at the end of the season, but stays on to create the menu when Mathieu Cadault buys it and renames the restaurant Chez Lavaux. Cadault appoints Gabriel as head chef, though the two clash on the opening night.
Gare de l'Est
Gare de l'Est. Hugh Llewelyn, CC BY-SA 2.0 , via Wikimedia Commons
Emily's train to St Tropez leaves from Gare de l'Est in Season 2 Episode 1, "Voulez-Vous Coucher Avec Moi?". In the scene, Emily's latest fling abandons her on the moving train after he suspects she still has feelings for Gabriel.
Chez Madeleine
Emily posts her first Cote d'Azur Instagram update from the courtyard outside Chez Madeleine in St Tropez in Season 2 Episode 2, "Do You Know the Way to St. Tropez?". The restaurant is an oyster bar, and the courtyard is Place aux Herbes, St Tropez.
The photogenic courtyard is just around the corner from the harbour, and almost immediately behind Le Senequier.
Grand-Hotel du Cap-Ferrat Four Seasons
Grand-Hotel du Cap-Ferrat. Txllxt TxllxT, CC BY-SA 4.0 , via Wikimedia Commons
The Four Seasons Grand-Hotel du Cap-Ferrat is the St Tropez hotel in Emily in Paris Season 2. It's been a popular spot on the French Riviera for decades, claiming Picasso and Somerset Maugham as former regulars.
Ragazzi House
The real Ragazzi House location in Emily in Paris Season 2 is Chateau Diter in Grasse, on the French Riviera. And the story behind the Diter mansion is a strange one.
The property developer owner first started building the house in the early 2000s. After years of work, the square footage came to 32,000 and the estimated value rose to $66 million. Patrick Diter ran into trouble over the French judicial court over permissions, which ended in a demolition order.
Chateau Diter's drama makes the Emily in Paris Ragazzi House storyline look fairly sedate. In the scene, Camille parties after finding out that Gabriel has cheated. Of course, when she confides in Emily she doesn't realised that her friend is the mystery girl in question.
Le Senequier
In Season 2, Episode 2 "Do You Know the Way to St Tropez?", Emily and friends call at Le Senequier restaurant in the Cote d'Azur resort. The Saint Tropez restaurant from Emily in Paris is on Quai Jean Jaures, where it has been attracting the brightest creative clientele for decades.
Emily, Mindy and Camille end up there after Mindy suggests going for lunch somewhere near the waterfront. But the Emily in Paris girls don't eat lunch at Le Senequier – instead they accept an invitation to the yacht moored outside.
The Yacht in St Tropez
The St Tropez yacht in Emily in Paris is moored at Quai Jean Jaures, outside Le Senequier restaurant. Emily, Camille and Mindy join Gregory Elliot Dupree (Jeremy O. Harris) on his yacht after meeting him around the Cote d'Azur's party circuit. Gregory is a fashion designer and former protégé of Savoir's client Pierre Cadault.
The Department Store where Petra and Emily Shoplift
The department store where Emily accidentally shoplifts is La Samaritaine. In the scene, Emily's French school classmate Petra encourages her to steal a hat and bag from the Parisian store.
La Samaritaine is owned by LVMH Moët Hennessy Louis Vuitton (no surprise it caught the attention of the Emily in Paris team with those credentials) and reopened in 2021 after a sixteen-year closure and grand refurbishment. We don't see much of this ornately decorated store, but later in the series we get a closer look.
Emily Ends Her Friendship with Petra
Voie Georges Pompidou. Damien LUCCA, CC BY-SA 3.0 , via Wikimedia Commons
When Emily realises what's going on and insists on returning everything, her new acquaintance leaves. This scene takes place on Voie Georges Pompidou near Pont Neuf, the path which runs along the banks of the Seine. It's at the end of the block where La Samaritaine stands.
Incidentally, Kiev native Petra was not a popular character in her home country. For obvious reasons, Ukrainian commentators were unhappy with the unusual name choice and poor representation.
French School
Emily's French language school in Emily in Paris is the Residence Universitaire Concordia at 41 Rue Tournefort. As you might have guessed, this is not a real language school – it's actually a student residential building.
Emily and Alfie (Lucien Laviscount) are seen at the entrance on Rue Tournefort. It's also used in establishing shots as Emily learns she's not moving up to the next level – and finally makes an effort to learn French.
The Bombardier English Pub
Emily in Paris's trip to The Bombardier was filmed in a real English pub in the 5th Arrondissement. In Season 2 Episode 7, "The Cook, the Thief, Her Ghost and His Lover", Emily and Alfie get takeaway pints from the pub before French class.
The Bombardier is located at 2 Place du Pantheon, opposite the l'Eglise Saint-Étienne-du-Mont. The church is famous as the Midnight in Paris steps filming location - Emily and Alfie pass the same spot with their takeaway beers.
Le Marais
Le Marais. Guilhem Vellut from Paris, France, CC BY 2.0 , via Wikimedia Commons
In Season 2 of Emily in Paris, several scenes were shot around Le Marais, a trendy district in the centre of Paris. Le Marais is known for its boutiques and village atmosphere – despite that central location.
And while it's defined by historic mansions, it also has a quirky. Look out for true one-offs and art and design statements, whether it's the Pompidou Centre with its famously unusual architecture or the museums dedicated to Victor Hugo, Picasso and the French Revolution.
Nilai Store
Look out for Nilai Store Marais when Emily spends time in stylish Le Marais. The area has become a shopping haven, with vintage boutiques jostling alongside an influx of high profile designers. This particular fashion accessory and jewellery boutique can be found at 2 Rue des Rosiers.
Breakfast in America
The diner Alfie and Emily visit in Emily in Paris Season 2 is Breakfast in America Marais. It's got a reputation for American-style milkshakes and pancake stacks – as you would expect for a self-respecting diner. It's located at 4 Rue Malher.
The Boat Ride
Alfie crashes Mindy's concert on the Seine to spend time with Emily in Season 2 Episode 5, "An Englishman in Paris". The publicity event takes place on the bateau mouche – a famous riverboat service that runs along the Seine.
Of course, Alfie's unexpected appearance is only one of the dramas that starts on the bateau mouche. Sylvie and Erik (Søren Bregendal) catch each other's attention at the event, sparking an affair in Episode 6.
If you want to recreate the Emily in Paris bateau mouche scene, you can book a regular sightseeing cruise or a dining experience.
The Cemetery
Pere Lachaise Cemetery. Helen Simonsson, CC BY-SA 2.0 , via Wikimedia Commons
Luc (Bruno Gouery) takes Emily to Pere-Lachaise Cemetery in Episode 3, "Birthday". It's the largest cemetery in Paris, and was the first garden cemetery. It's known as the final resting place of celebrated authors, artists and historical figures.
Emily visits the grave of Honoré de Balzac, but there are hundreds of notable gravestones throughout the necropolis, tombs and vaults. It even houses a lesser-known ossuary. Pere-Lachaise Cemetery is easy to visit in the 20th arrondissement in the northeast of Paris. And fortunately, there are guided tours to lead you around the extensive site.
Cinema Le Champo
The cinema Luc takes Emily to is Cinema Le Champo at 51, rue des Écoles. After the explosive ending of Season 2, Episode 3 "Bon Anniversaire!", Emily's co-worker distracters her with a trip to an arthouse cinema in Season 2, Episode 4 "Jules et Em".
Dating back to the late 1930s, the cinema is a landmark of the Latin Quarter, attracting French cinema's icons of the 20th Century.
Ice Cream Stand
Place de l'Odéon. Mbzt, CC BY-SA 3.0 , via Wikimedia Commons
The ice cream stand in Season 2 Episode 8, "Champagne Problems" is Place de l'Odéon. It's at the heart of the Quartier de l'Odéon, neighbouring the Latin Quarter (they lie on opposite sides of Boulevand Saint-Michel).
In the scene, Emily's boss, Sylvie (Philippine Leroy-Beaulieu), discusses Rome with Dutch photographer Erik (Søren Bregendal) at the ice cream cart in front of the theatre. They're standing in front of the 18th Century Odéon-Théâtre de l'Europe – one of France's six national theatres.
Sylvie and Erik Meet Antoine and Catherine
The restaurant where Sylvie and Erik run into Antoine (William Abadie) is La Méditerranée on Rue de l'Odéon.
Sylvie's former affair partner and client, Antoine, is dining on the terrace with his wife, Catherine (Charley Fouquet). After discussing Maison Lavaux and Erik's photography work, Sylvie and Erik walk down Rue de l'Odéon to discuss their relationship.
Brasserie Lutetia
Did you spot Brasserie Lutetia? Emily in Paris features a chic table in front of the 45 boulevard Raspail eatery in Season 2.
Conseil Constitutionnel
Conseil Constitutionnel. P1050187_Paris_Ier_rue_de_Montpensier_conseil_constitutionnel_rwk.JPG: Mbztderivative work: César, CC BY 3.0 , via Wikimedia Commons
Emily picks up Alfie outside the Conseil Constitutionnel building at 2 Rue Montpensier. The building itself is the historic Palais-Royal which was built for Cardinal Richelieu in the 1630s. It stands opposite another grand pre-Revolutionary palace, the Louvre.
Emily and Camille's Lunch
The rooftop restaurant where Emily meets Camille (Camille Razat) for lunch is The Terrace at Galeries Lafayette. In the scene, Camille invites Emily to get back on board with the marketing campaign for her family's vineyard.
Perched at the top of the celebrated department store, the restaurant overlooks the Opéra Garnier and Eiffel Tower.
A glass wall lets diners enjoy spectacular views over Paris from the indoor seating area – and yes, you really can visit this Emily in Paris location. Visitors can look out over the city from the terrace throughout the year, but in summer you can try its pop-up restaurants.
Camille's Château de Lalisse in Champagne
The Champagne region chateau where Camille's family live in Emily in Paris is le Chateau de Sonnay. Is the Champere chateau really in Champagne? In fact, it's in the Loire Valley which is renowned for it svineyards.
Emily in Paris production designer Anne Seibel had an advantage when it came to securing the location for the show. As Seibel recounted to House Beautiful, the chateau location is owned by her good friend, Frédéric de Foucaud. Despite making the introductions, she only intended for Foucaud to offer his advice on local chateaux.
"When the location manager scouted the Loire Valley and the area around Tours and Chinon, I told him to ask my friend Frédéric… but looking at Frédéric's chateau, he thought he would take some pictures and joined them with the other options… Darren Star just fell in love with it."
Anne Seibel, Production Designer
The Chateau de Sonnay appears in Emily in Paris Season 1 and in Season 2 Episode, "Champagne Problems". In the memorable episode, a simple photo shoot goes wrong when Camille's father launches the Champere Challenge.
Maison Lavaux Party
The Maison Lavaux party in Season 2, Episode 7, "Scents and Sensibility" was filmed at La Samaritaine department store. In the scene, the Chicago office's boss, Madison (Kate Walsh) navigates French etiquette and makes some unwelcome discoveries.
Look out for its distinctive Art Nouveau details, like the curved railings that line the upper floors – these date back to a 1920s remodel. Behind that, there are layers of Art Deco, and the original late 19th Century building.
The Laboratoire Lavaux stand is situated on the top floor of the seven-storey building. Glance at the top of the screen to catch the Eiffel-style ironwork roof and signature peacock mural.
Fontaine Saint-Michel
Mindy's band perform in front of the Fontaine Saint-Michel, also in the Latin Quarter of Paris. It's very close to the Seine, standing just a few paces from Pont Saint-Michel.
In the scene, the band perform in front of the fountain to their audience – though as we know, things don't always run as smoothly behind the scenes.
Listening Statue
The scene where Mindy reunites with her boyfriend and bandmate was filmed at the Sculpture Écoute in Quartier Les Halles.
Look out for it at the start of Season 2, Episode 10, "French Revolution". It's another Emily in Paris filming location you can visit easily – this sculpture is located by Les Halles shopping mall (now Westfield Forum des Halles). And if you're wondering, the Gothic church behind it is Saint-Eustache.
Le Raidd Bar
The bar where Emily meets Grégory Elliot Duprée (Jeremy O. Harris) is Le Raidd Bar. The Emily in Paris is listed as one of Time Out's 100 Best Bars in Paris.
Emily meets Pierre Cadault's rival at the popular baron Rue du Temple in Season 2, Episode 10, "French Revolution".
Pont Alexandre III
Pont Alexandre III Bridge. Moonik, CC BY-SA 3.0 , via Wikimedia Commons
Emily reflects while she walks along Pont Alexandre III, the Parisian bridge lined with elegant lamps. Built for the 1900 Universal Exhibition, it looks out across the Seine and Eiffel Tower and links two elegant quarters of Paris.
Hotel Huatian Chinagora
The Chinese restaurant in Emily in Paris where Emily, Gabriel and Alfie listen to Mindy's band is part of the Hotel Huatian Chinagora. The restaurant appears in Season 2, Episode 10, "French Revolution" of the Netflix series, with Gabriel and Alfie discussing their relationships before Emily returns to the table.
Inspired by Beijing's Forbidden City and the Chinese Imperial Palace, the striking Hotel Huatian Chinagora is actually a floating pagoda. Despite sitting on the Seine and boasting views of the Eiffel Tower, this Emily in Paris restaurant location is in Alfortville. It's part of the suburbs on the southeast of Paris, in Val-de-Marne.
Grégory Elliot Duprée's Fashion Show
Grégory Elliot Duprée's fashion show was filmed at the Hall of Mirrors in Versailles. Pierre Cadault makes an unexpectedly grand entrance at his protégé-turned-rival's Marie Antoinette-themed show.
The former palace of Marie Antoinette and Louis XVI is open to visitors by ticketed entry, allowing you to explore the Hall of Mirrors and other stunning spaces. Check the schedule in advance. You may not score a ticket to a Duprée show, but there are some spectacular events in the gardens and grounds.
The Marble Courtyard
Palace of Versailles Marble Courtyard. Gary Todd from Xinzheng, China, CC0, via Wikimedia Commons
Madeleine clashes with Pierre Cadault and Sylvie's team in the Marble Courtyard of the Palace of Versailles in Season 2 Episode 10, "French Revolution". And of course, the distinctly French setting shows up the differences between the French and American teams.
The courtyard itself is an original feature of Versailles, dating back to the days of Louis XIII. Before he assumed the throne, he set up a hunting lodge in the forest outside Paris. And the ornate paving is an improvement added by Louis XIV, when he inherited his father's hunting lodge.
La Coupole
The restaurant where Alfie and Emily talk at the end of Season 2 Episode 10, "French Revolution", is La Coupole in Montparnasse. Since its opening in the 1920s, the Art Deco restaurant has been part of the area's cultural scene, hosting the likes of Pablo Picasso, Edith Piaf and Serge Gainsbourg.