Looking for the latest episodes of Grace? Our article on Looking Good Dead is available here:
ITV's Grace filming locations for Dead Simple include Brighton's Sydney Street and Bond Street, Van Alen Building, Brighton Palace Pier, and in Kingston-Upon-Thames.
Grace's Brighton locations are a natural match for the ITV series based on Peter James' bestselling Roy Grace books, famous for their Sussex setting.
The adaptation is packed with crime drama and thriller stars including Liar's Richie Campbell, Shetland's Rakie Ayola and Line of Duty's Craig Parkinson, alongside Life on Mars' John Simm. Lewis and Endeavour's Russell Lewis wrote the screenplay, and this first two-hour film was directed by Belgravia's John Alexander.
DS Roy Grace (John Simm) and DS Glenn Branson (Richie Campbell) join forces to solve a missing person case that isn't adding up. Grace is still tormented by his own wife's disappearance – and ACC Alison Vosper (Rakie Ayola) is keeping a close eye on him after his last investigation attracted controversy.
Where Was Grace Filmed?
The first episode of ITV's Grace was filmed around Brighton Palace Pier and the Van Alen Building, in the real shops of the North Laine's Sydney Street and near Brighton Marina. Scenes for ITV's Grace adaptations were also shot further west at Hove's Promenades and at the industrial port of Shoreham.
They're used as crime scenes and dark alleyways at times, but Brighton's icons are front and centre throughout the series.
And the cast and crew were only too happy to film on the Sussex coast.
"I knew Brighton fairly well before this because we'd visited many times… I've always loved Brighton and it was a lovely place to film."
John Simm, DS Roy Grace
But it's not just the postcard shots that show up in this crime drama. With Brighton residents on the design team and Sussex author Peter James putting his local knowledge into the source material, every facet makes it to the screen.
"We really want to show all the different aspects of Brighton, including images of the seafront and the countryside all the way from Shoreham to Peacehaven. We are giving it a good showcase and taking in the sights of Sussex…"
Madelaine Leech, Production Designer
ITV's Grace is based on the Peter James novel Dead Simple, with a second episode of Grace, Looking Good Dead, set for release later in the year. It will follow Roy Grace on a new investigation, featuring new filming locations around Brighton.
So we can look forward to more real Sussex settings from the shoot appearing soon.
The Courtroom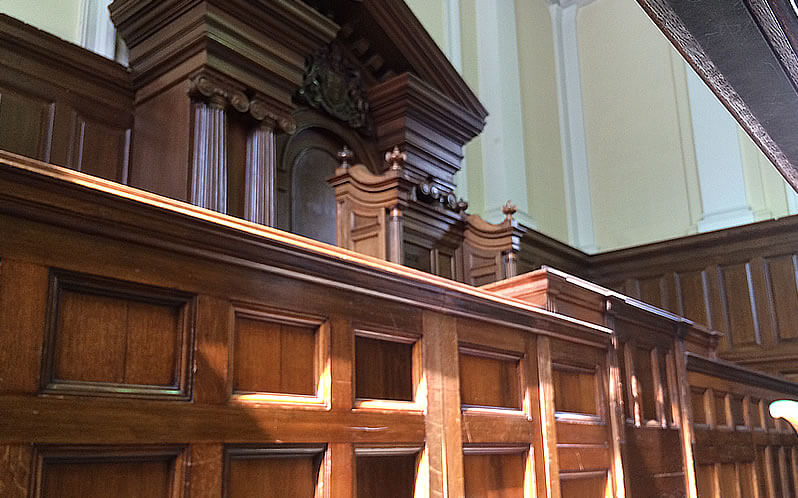 Surrey County Hall Count. Copyright Kingston Online
Dead Simple's courtroom filming location is Surrey County Hall, seen in the opening scenes with Roy Grace giving evidence.
It's the same location that was used for Downton Abbey's trial scenes and the Krays' court appearance in Legend.
Surrey County Hall is one of the few Grace filming locations outside Sussex, situated in Kingston-Upon-Thames.
The Apartment Building
The upmarket apartment filming location in Grace: Dead Simple is the Van Alen Building on Marine Parade. It sits opposite Brighton Palace Pier, and is just a short distance from many of the other locations seen in the episode.
It's a modern building built in 2001, but this recognisable Brighton landmark was named after William Van Alen, architect of the Chrysler Building. And with a design that harks back to the 1930s it adds up.
Brighton's Van Alen Building could be mistaken for a typical Art Deco seafront construction at a glance.
Grace and Branson's Street Scenes
Grace and Branson are seen buying lunch at the Flour Pot Bakery on Brighton's Sydney Street and walking down the road as they discuss their new case.
It's a real bakery in the city's bustling North Laine area. The network of tightly-packed shopping streets has held onto its character since the 19th Century https://brightonjournal.co.uk/10-things-you-probably-didnt-know-about-the-north-laine/ and we get a glimpse of that in the new ITV drama.
Those shops are all real - The Argus spoke to shopkeepers at To Be Worn Again, Books for Amnesty and Holler Brighton who saw the actors pass by on each take.
Brighton Palace Pier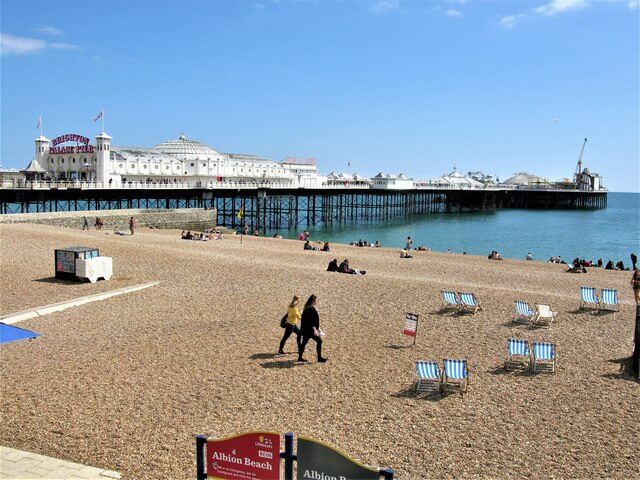 Brighton Palace Pier
cc-by-sa/2.0 - © G Laird - geograph.org.uk/p/6217457
You can't miss Brighton Palace Pier centre stage in the Grace publicity shots and in the stag do scenes.
Look out for its bright lights in the first few scenes of Dead Simple as the mystery is set up.
The Alleyway
The alleyway where the stag group leave in the van is King Place off Bond Street, opposite the Theatre Royal Brighton.
It's only a brief glimpse, but the group are seen running into the alleyway from Bond Street before getting into their vehicle in the courtyard at the end.
Vehicle Compound
The filming location where Grace and Branson take a closer look at the crashed van in Grace: Dead Simple is on Marina Way.
It's near the eastern end of the beach, in an industrial area near Brighton Marina.