Explore Haunted Mansion (2023) filming locations like the Buckner Mansion Bourbon Street, Royal Street, Lafitte's Blacksmith Schop, Jackson Square and Tulane University. The live action Disney movie takes us on a tour of the Garden District and French Quarter, showing off classic New Orleans architecture before dialling up the Haunted Mansion details with a stage set in Atlanta, Georgia.
Ben Matthias (LaKeith Stanfield) is an astrophysicist who now conducts ghost tours of New Orleans. After visiting Gabbie (Rosario Dawson) and her son Travis (Chase W Dillon) at their unhappy home, Gracey Manor, he realises he didn't leave the spooky feeling behind him. He returns to help Gabbie and Travis, but soon realises he's in over his head.
Can college professor Bruce David (Danny DeVito), exorcist Father Kent (Owen Wilson) or local psychic Harriet (Tiffany Haddish) help them without becoming the 1000th spirit?
The Disney live action movie is inspired by the theme park ride, like the 2003 movie starring Eddie Murphy. Haunted Mansion (2003) takes a scarier turn, but the script by Ghostbusters writer Katie Dippold makes room for fun and fan favourite references along the way.
Look out for plenty of nods to the Disneyland Haunted Mansion attraction, with appearances from Madame Leota (Jamie Lee Curtis), Hatbox Ghost (Jared Leto) and more iconic characters from the ride. And for Behind the Attraction fans, don't miss tributes to the original Imagineers Marc Davis, Rolly Crump and Yale Gracey.
Where Was Disney's Haunted Mansion Filmed?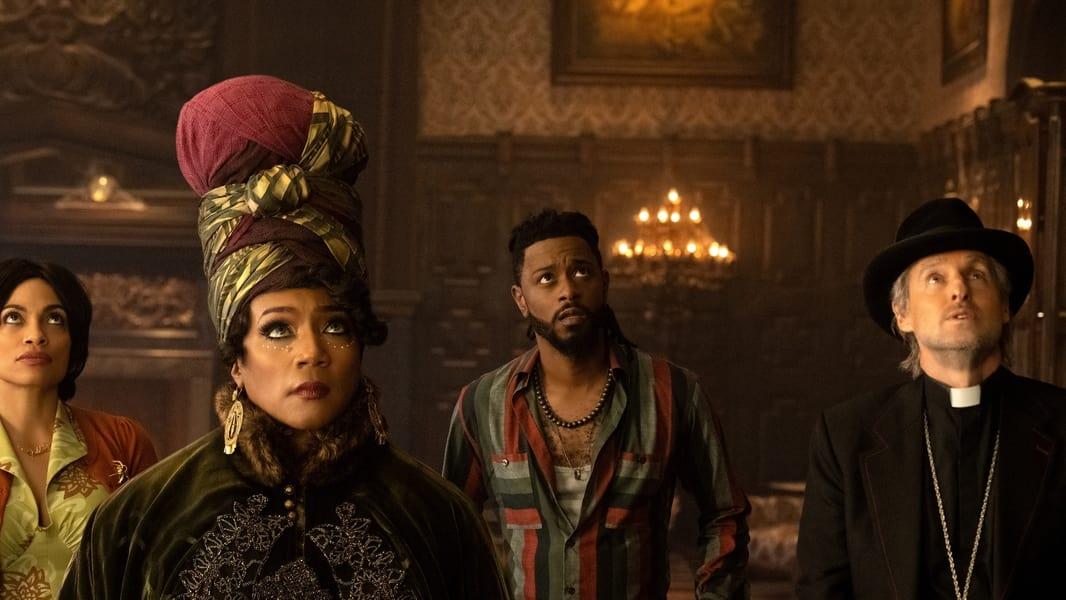 Haunted Mansion was filmed in Lafayette Cemetery No 2, the Buckner Mansion, Jackson Square, Tulane University, and Lafitte's Blacksmith Shop in New Orleans, as well as Atlanta's Trilith Studios.
Each Haunted Mansion ride gives signature characters like Madame Leota and the Singing Minstrels an adapted setting inspired by the surrounding land. In Florida's Magic Kingdom, the mansion is a New England house on Liberty Square. In Disneyland Paris, Phantom Manor overlooks Big Thunder Mountain – naturally, it takes on a Wild West theme complete with its own ghost town. And in Disneyland, California, the Haunted Mansion stands in New Orleans Square.
The movie's director grew up in Louisiana, making it an easy decision to use real Haunted Mansion filming locations in New Orleans.
"It makes sense that this is a place where you can laugh and cry and be afraid and be exhilarated all at the same time. Because that's exactly what New Orleans represents: all the flavors of life, just kind of smashing into each other…I wanted you to feel like you're in this city. That this mansion couldn't exist anywhere else…"
Justin Simien, Director
He ramped up the existing New Orleans Square atmosphere with details from the real Louisiana city. Where better to film the Haunted Mansion movie than a real antebellum manor house?
Where Is the House from the Haunted Mansion?
Buckner Mansion. APK, CC BY-SA 4.0 , via Wikimedia Commons
The real mansion from the Haunted Mansion is the Buckner Mansion in the Garden District of New Orleans, with interior sets built in Atlanta.
The Buckner Mansion already has a horror connection, as the filming location for Miss Robichaux's Academy for Exceptional Young Ladies in American Horror Story: Coven. In real life, the mansion at 1410 Jackson Ave was built for cotton king Henry Sullivan Buckner in 1856. This grand residence was built to impress – Buckner wanted a home that looked bigger and better than his rival's.
You may have guessed, the ride-replica interior was specially built on set at Trilith Studios in Atlanta, Georgia. Founded as Pinewood Atlanta Studios in 2013, the studios have hosted numerous MCU movies and shows including Ant-Man, Black Panther, WandaVision, Ms Marvel and Loki. So it's no surprise that Disney returned to the studios for Haunted Mansion.
And just for fun, check out the Zillow listing for the Disney Haunted Mansion, "minutes from downtown New Orleans, just outside the city on a secluded bayou road". You can take a virtual tour of the Library, Hallway and Séance Room (don't miss the Doom Buggy shape of the chair).
Lafayette Cemetery No 2
Lafayette Cemetery. KSloane-Boekbinder, CC BY-SA 4.0 , via Wikimedia Commons
The New Orleans cemetery filming location in Haunted Mansion (2023) is Lafayette Cemetery No 2. It's a real graveyard situated just 2 miles from the French Quarter, at the corner of Washington Avenue and Saratoga Street. Built in 1850, it's populated with the above-ground tombs New Orleans is known for.
The 19th Century cemetery appears in the opening scenes of Disney's Haunted Mansion movie, as we follow Ben around the city. It's shown in the sequence highlighting New Orleans' famously celebratory funerals, with a band playing as the funeral procession passes through.
Jackson Square
Jackson Square. Diego Delso, CC BY-SA 3.0 , via Wikimedia Commons
Look out for another authentic New Orleans Haunted Mansion filming location, Jackson Square, in Disney's comedy horror. The park seen in Haunted Mansion is on Decatur Street, in the heart of the French Quarter. Visitors can catch a carriage ride, watch artists at work or stroll around the shops that line the streets alongside.
And if you're wondering, the turreted building at the back isn't another ghostly mansion – it's the 18th Century St Louis Cathedral.
Ben's House
The Haunted Mansion location for Ben's house in on Royal Street in New Orleans' French Quarter. Historic Royal Street runs parallel to Bourbon Street close to Jackson Square, and is known for its restaurants and hotels. While Ben is horrified to find he's attracted a hitchhiking ghost after his visit to Gracey Manor, he lives practically next door to several spirits. Numerous houses on Royal Street are reputed to have spooky hauntings of their own.
Tulane University
The Haunted Mansion university location is the real Tulane University of Louisiana. In the 2023 Disney movie, the Haunted Mansion's living residents seek out Bruce Davis. Tulane University is a private university that was founded in 1834, with a historic campus in Uptown New Orleans.
Rue Bourbon
Bourbon Street. Infrogmation of New Orleans, CC BY-SA 4.0 , via Wikimedia Commons
Ben is seen walking down Bourbon Street in the Haunted Mansion's city scenes as he looks for a solution to his ghostly problem. Located in the French Quarter, the 18th Century Bourbon Street is at the centre of New Orleans' Mardi Gras events.
This is where you'll find the city's oldest buildings, decked out with wrought iron balconies and brimming with jazz music. In fact, Bourbon Street is one of the oldest streets in the USA, dating back to the region's Spanish colonial days.
Lafitte's Blacksmith Shop
The street corner bar location is is Lafitte's Blacksmith Shop. As spotted in local press, this is another real New Orleans location to appear in the 2023 Haunted Mansion movie. It's said that the 300-year-old bar was once a smugglers' den. And it's reputed that the past occupants haven't left, because Lafitte's Blacksmith Shop is another real haunted house in New Orleans.