Jingle Jangle: A Christmas Journey filming locations in Norwich's centuries-old Elm Hill area. The magical Christmas movie stars Forest Whitaker as Jeronicus Jangle, a toymaker and inventor. He sets out to create something spectacular and new in time for Christmas. And along the way he makes the season magical for his granddaughter Journey Jangle (Magdalen Mills).
Everyone's guaranteed to recognise a famous face in the Victorian town of Cobbleton, including Phylicia Rashad who graced our screens for years as legendary TV mum Clair Huxtable. Disney's Princess Tiana and The Good Wife's Wendy Scott-Carr, Anika Noni Rose, co-stars as Jessica Jangle.
Screen and voice actor Keegan-Michael Key plays Jangle's apprentice, Guftofson. Downton Abbey fans will recognise Mr. Delacroix (Hugh Bonneville).
Classic pop lovers should listen out for Don Juan Diego's familiar voice (Ricky Martin) – and a new song performed by Usher.
The Netflix musical features songs by John Legend, Davy Nathan and Philip Lawrence. Legend also produces the movie under his Get Lifted production company's banner. And of course, Jingle Jangle brought that impressive cast to the UK for filming.
Where Was Jingle Jangle Filmed?
Jingle Jangle: A Christmas Journey was filmed in Norwich's cobbled lanes, which matched the writer's vision perfectly, and a small village in Buckinghamshire which provided Jessica and Journey's cottage.
"When I wrote the script, I always imagined a magical cobblestone town as the centrepiece of the film. Little did I know, this town already existed."
David E. Talbert, Writer and Director
And so, the production came to the UK. David E. Talbert and the Netflix team didn't need to make many changes apart from signage and that Christmas movie essential, heaps of snow.
Jangle and Things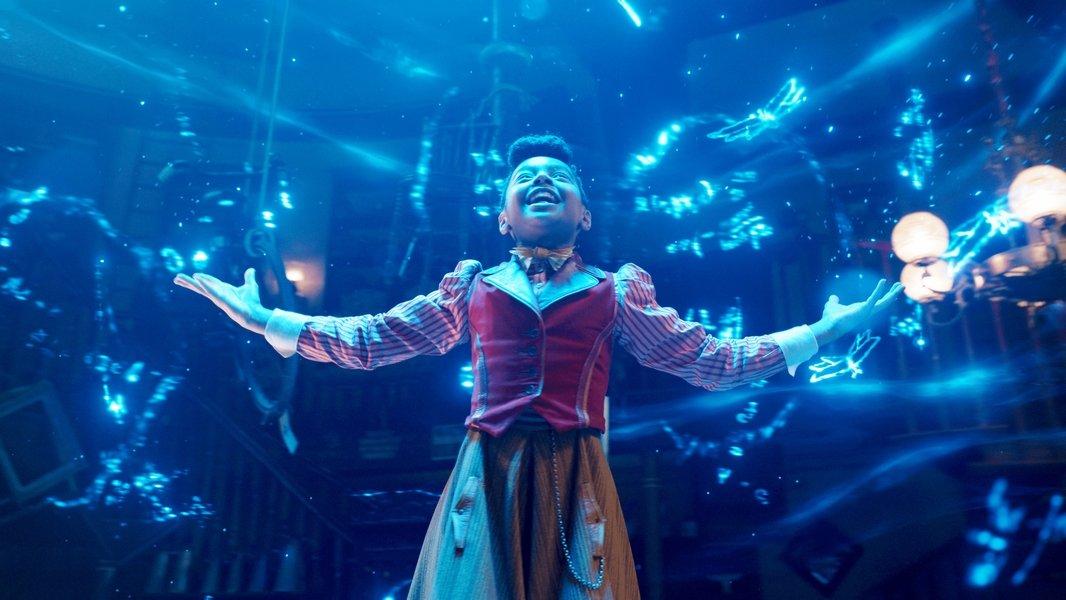 The more elaborate sets like the magical Jangle and Things workshop were built at Arborfield Studios in Wokingham, within reach of Netflix's Shepperton Studios base.
It was previously used for Disney's live-action Aladdin and is home to Netflix's The Witcher, which returned to the studios in late 2020 to continue Season 2 filming.
Of course, you can't go to Jeronicus Jangle's shop in real life. But the real Cobbleton is home to toy shops, board game specialists and all kinds of treasures – so you can very nearly visit the real thing.
Cobbleton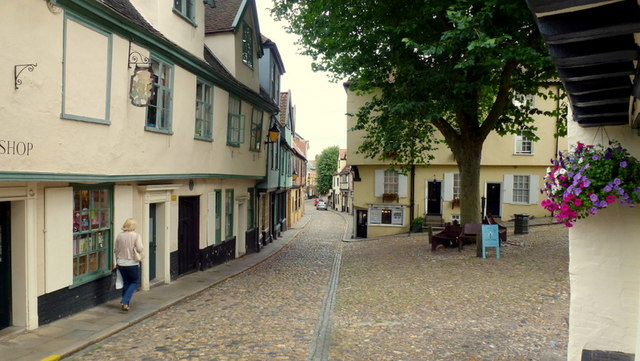 Elm Hill, Norwich
cc-by-sa/2.0 - © Jonathan Billinger - geograph.org.uk/p/3656359
The real Cobbleton is Norwich, where Jingle Jangle's town scenes were filmed on Elm Hill. Filming took place in June 2019, with Elm Hill and Wensum Street closing for the shoot.
And of course, a lot of artificial snow was needed to magic up a Victorian Christmas in a 21st Century summer heatwave.
Despite being a medieval street, the oldest surviving building is the early Tudor one – The Britons Arms. In reality it's a coffee house, and was featured as the inn from Neil Gaiman's Stardust in the movie adaptation.
A patchwork of shops, cafes and houses totters down the cobbled lanes. They include a dedicated teddy bear shop and The Games Room, a specialist board game shop. It was dressed as a newspaper shop for Jingle Jangle.
Meanwhile, Elm Hill Brides' signage was changed to a butcher's shop. Stoned & Hammered contemporary jewellers became Mitchell's Packing and Supplies.
It's seen between a bakers sign added to its neighbour, and GW Carver greengrocer – actually John Olivers Hairdressing Group. We think the fictional grocer's shop is named in honour of George Washington Carver, the agricultural scientist and inventor.
At the Wensum Street end of Elm Hill, Truman's Barber Shop became Madam Walker Hairdresser and Beauty Parlour. And Olive's breakfast café was dressed up as the S Boone Town Store and Supplies.
Snowball Fight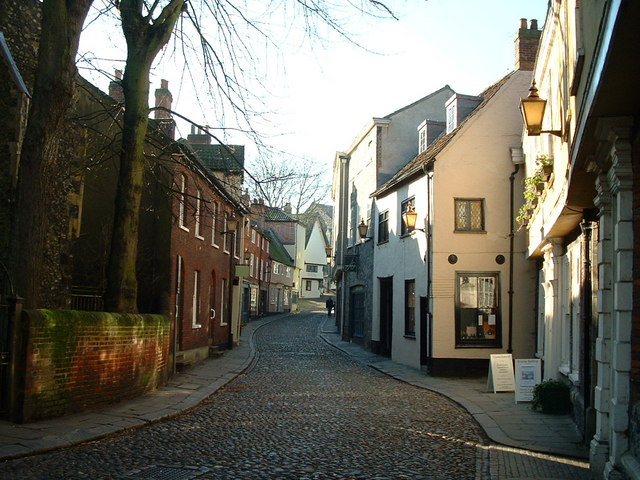 Elm Hill
cc-by-sa/2.0 - © Keith Evans - geograph.org.uk/p/688021
The snowball fight was filmed at Elm Hill in Norwich. Locals joined Jeronicus (Forest Whitaker) in the scene as extras, with certain Jingle Jangle filming locations standing out in the sequence.
Much of the snowball scene takes place between the jewellers (as Mitchell's Packing and Supplies) and the café (as S Boone Town Store). Some angles reveal an old church building. It's actually St Simon and St Jude's Church, which stands across the cobbles of Elm Hill.
Though it might look like a carefully preserved piece of history, St Simon and St Jude's hasn't run as a church since 1892. Having survived the collapse of the tower, it narrowly avoided demolition in the 1920s.
After several decades as a Sunday School it stood abandoned for thirty years. After years of use by different activity groups, the former church became home to a theatre company who have opened up the converted space to its original layout.
Nesbitt Cottage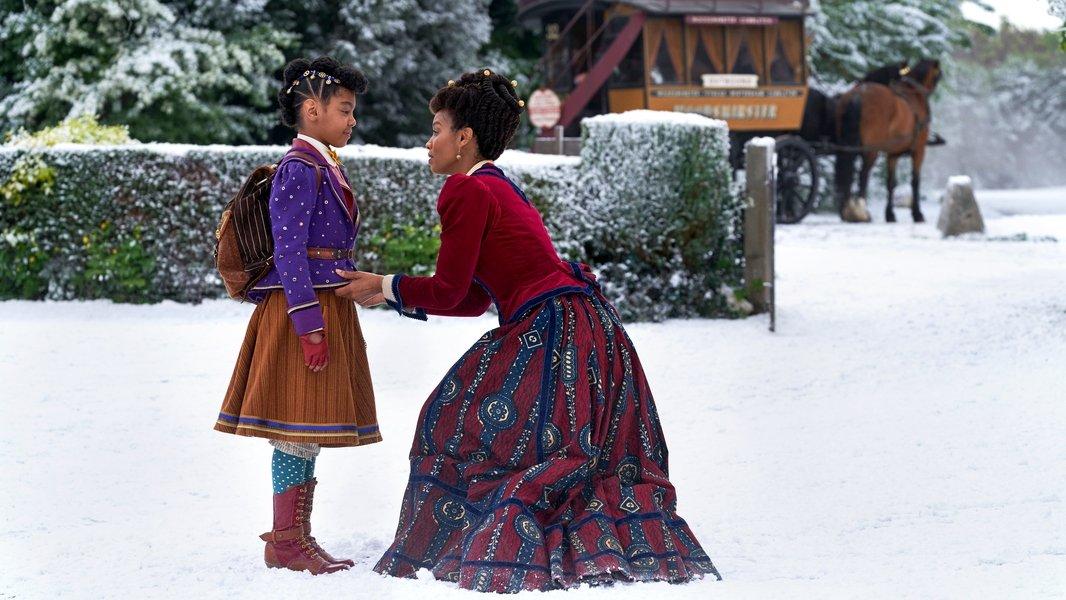 The location for Nesbitt Cottage where Journey Jangle grows up is in Nether Winchendon between Aylesbury town and the Oxfordshire border. Anika Noni Rose and Madalen Mills shot scenes of the mother and daughter talking in gardens while the Woodsminster Omnibus waits beyond the hedges.
Nether Winchendon is a small, historic village in Buckinghamshire centred around St Nicholas Church, which dates back to the 13th Century. The surrounding cottages also date back through the centuries, as they do in many of the surrounding Oxfordshire and Buckinghamshire villages.
It was the first sequence shot for Jingle Jangle. And yes, this Jingle Jangle filming location required a lot of fake snow to create Christmas in the height of summer. Looking at the final scene of a hopeful Journey setting off in midwinter, you would never guess.