Did you spot Luther: The Fallen Sun filming locations including Fleet Street, Piccadilly Circus, Charing Cross, Dorchester Prison, Chinatown, Wilder Walk, Brasserie Zedel, the Port of Dover and Iceland? The Netflix Luther movie brings the tough cop back to our screens, and for the first time, a case takes him out of London.
Even a jail sentence won't keep former DCI John Luther (Idris Elba) from taking on City trader turned serial killer David Robey (Andy Serkis). Now Luther is tracking down the bad guy while running from the law himself, while his former colleague Odette Raine (Cynthia Erivo) gets caught up in the battle of nerves.
Where Was Luther The Fallen Sun Filmed?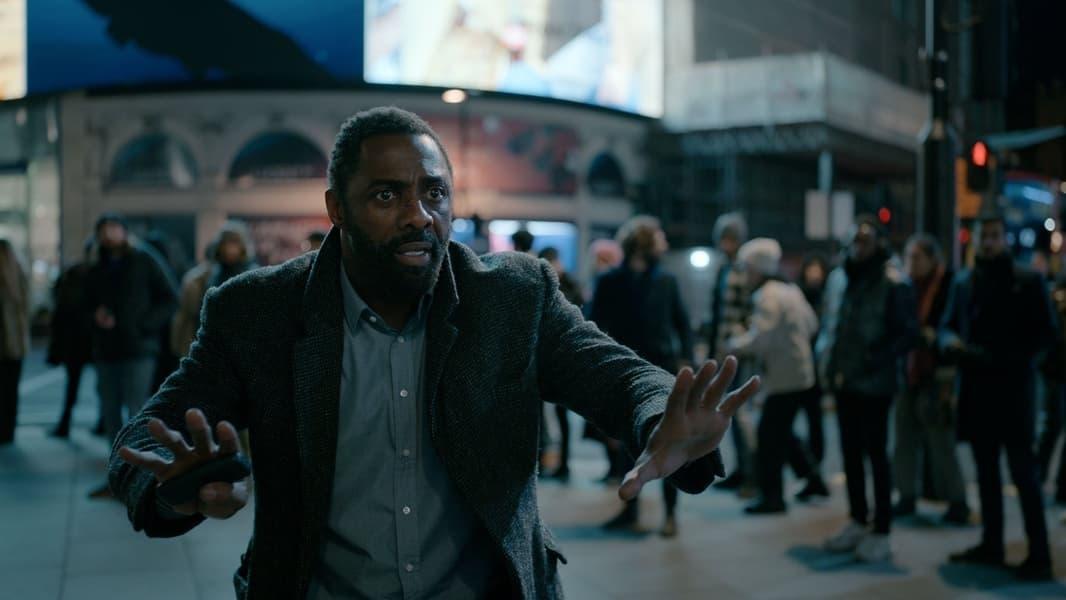 Netflix's Luther: The Fallen Sun was filmed at Piccadilly Circus, the Old Bailey on Fleet Street, Chinatown, Charing Cross, Chinatown, Soho, Camden, Dorchester Prison, the Port of Dover and in Iceland. Scenes were also shot at Lites Studios in Belgium in early 2022.
It's not the first time Andy Serkis has played a City trader. In the mid-90s, he researched his role in Mike Leigh's Career girls by taking a temporary job at the London International Financial Futures and Options Exchange.
Despite the City connection, most of the action happens in London's West End. Luther trails the villain's contacts through Soho, Camden, Chinatown and Piccadilly before setting off to an Icelandic glacier by way of the Port of Dover.
Luther The Fallen Sun Filming Locations List
The Old Bailey
Old Bailey Entrance. Tbmurray, CC BY 3.0 , via Wikimedia Commons
Luther: The Fallen Sun's Old Bailey scenes show the real Fleet Street location. We see the Old Bailey in news footage, and catch former DCI John Luther as he's sentenced to jail.
Dorchester Prison
Luther's prison scenes were filmed at Dorchester Prison, now a museum and popular filming location. You may have seen the former HMP Dorchester in BBC One's The Gold in 2023, or Netflix's Enola Holmes 2 in 2022. If you're tempted to get a closer look at the Luther prison location, you can book at tour led by a former prison officer!
Soho
Luther's bar scenes were filmed in several streets around Soho. In the Netflix movie, Luther tracks the serial killer's contacts to Soho after he breaks out of prison. Known for its nightlife, Luther's Soho locations draw attention to the area's darker side.
Chinatown
Chinatown, London. Aurelien Guichard from London, United Kingdom, CC BY-SA 2.0 , via Wikimedia Commons
Look out for London's Chinatown in Luther: The Fallen Sun. It's one of many central London Luther film locations that appear in the 2023 Netflix movie. Idris Elba's character is seen passing through the alleyways around the edge of Chinatown before and after his trip to Soho.
Piccadilly Circus
Piccadilly Circus. Kwh1050, CC BY-SA 4.0 , via Wikimedia Commons
The Luther filming location for Piccadilly Circus is the real London site. Luther emerges from Glasshouse Street on the Soho side, and approaches the pedestrian crossing in front of the Piccadilly Lights. He tracks the villain to the Eros statue as the action ramps up across every corner of the junction.
If this scene looked tricky to film, then that's because it was complex to arrange – but the Netflix movie caught a lucky break. Idris Elba told Metro that the production's contact in the permits department turned out to be a fan. Since the show has consistently stayed close to its London roots, he was happy to make an exception.
Regent Street
The armed response team are seen in another West End Luther location, Regent Street. They're seen running down the south end of Regent Street towards Piccadilly Circus. Chaos ensues as they reach it, leading to the Luther movie's larger-than-life action sequence.
Piccadilly Circus Tube Station
Aldwych Station. Chris Roberts, CC BY-SA 4.0 , via Wikimedia Commons
Luther: The Fallen Sun's Piccadilly Circus Station scenes were filmed in Piccadilly, Charing Cross and Aldwych tube stations. The three locations are just a short walk from each other.
The chase starts outside the Piccadilly Circus Station entrance by Lillywhites. Once the former DCI runs inside towards the platform, Jubilee Line branding is visible. In reality, the Jubilee Line doesn't run through Piccadilly Circus. This part of Luther's tube chase sequence was filmed at Charing Cross, where you can indeed catch the Jubilee Line.
As it looks like the filmmakers' favourite disused station in London, Aldwych, is used for Luther's tube platform sequence. During the high-stakes chase scene, Luther trails the suspect while they're both pursued by armed police officers.
DCI Odette Raine and Anya's Flat
We think DCI Odette Raine's flat in Luther: The Fallen Sun is on Rowley Way in Camden. The Brutalist estate where David Robey calls has been popular with film and TV makers for decades. Rowley Way has been seen in everything from The Sweeney and The Bill to The Kingsman.
Soho Bar
The bar where Luther meets Odette is Brasserie Zedel's Bar Americain. It's located near Regent Street and has been named as one of London's Most Beautiful Restaurants by Londonist.
The venue is styled as a Parisian brasserie in Piccadilly, hosting its own cabaret entertainment as well. Brasserie Zedel's Bar Americain, where Luther and Odette are seen, is the venue's cocktail bar.
Soho Alleyway
The alleyway where Odette and Luther argue about their strategy is Wilder Walk, just off Glasshouse Street. Wilder Way stands on a Crown Estate plot opposite the former Café Royal, and was shaped by the Regent Palace Hotel's £300 million restoration project.
Port of Dover
Port of Dover, Eastern Docks by Helmut Zozmann, CC BY-SA 2.0 , via Wikimedia Commons
Odette drives past Dover Terminal 4 to catch the ferry. Another Dover location was used for Luther: The Fallen Sun in addition to the Port of Dover, but you won't see it onscreen. Kent Film Office revealed that the Luther team filmed on the White Cliffs of Dover, in a deleted scene that didn't appear in the Netflix movie.
Estonia
Luther: The Fallen Sun's Estonia scenes were filmed in Iceland at the Svinafellsjokull glacier. Writer Neil Cross told Radio Times magazine that taking Luther out of London was a balancing act.
"We were clear that whatever we did had to belong to the same territory that we'd established in the TV series. It couldn't be Luther in Marbella. It still had to smell and sound and feel like Luther."
Neil Cross, Writer