Nolly filming locations include the Stockport Plaza, Liverpool Docks, Space Studios Manchester, Deansgate and Le Mans Crescent in Bolton, Exchange Flags and Santa Croce in Venice.
Helena Bonham Carter stars as Noele Gordon in Nolly, written by Russell T Davies. The Doctor Who showrunner drew on his own experiences as a Crossroads viewer, and his brush with a writing gig on the soap.
Noele Gordon starred as Meg in the motel-set series for almost 20 years, gracing screes between 1964 and 1981. In the ITV series, we join Crossroads in its heyday – just as Nolly is about to be fired from the show.
Where Was Nolly Filmed?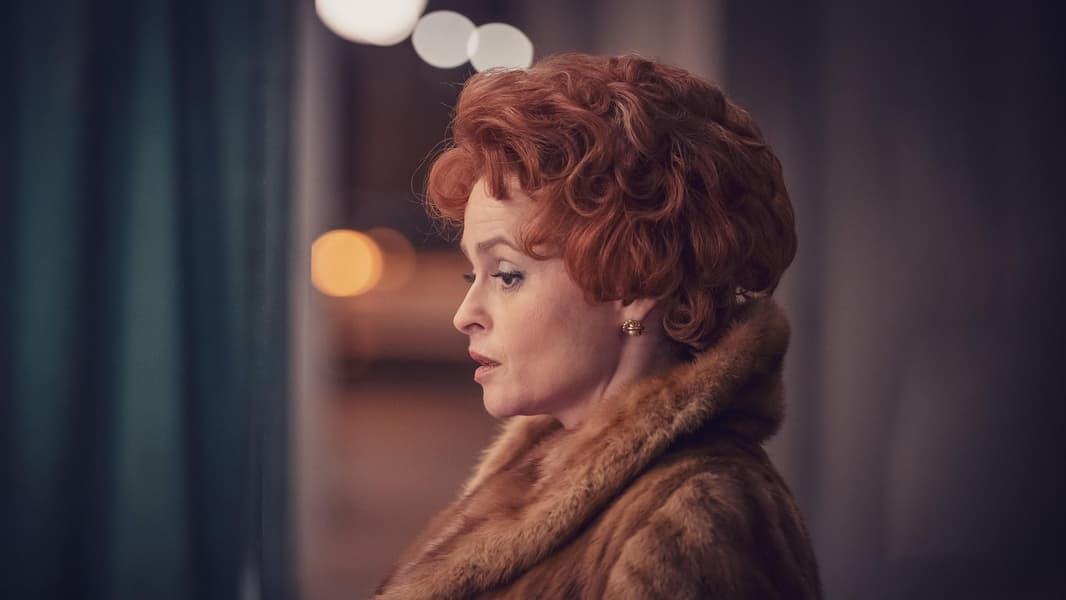 Nolly was filmed at Stockport Plaza, Stopford House, a hotel in Venice's Santa Croce, Exchange Flags and the docks in Liverpool, Deansgate and Le Mans Crescent in Bolton. Filming also took place at Space Studios Manchester.
The show brings in stars of the era, and figures from the Midlands entertainment scene.
Nolly introduces us to the Generation Game's Larry Grayson (Mark Gatiss), Bond girl Fiona Fullerton (Emily Butcher), Nolly's agent Michael Summerton (Max Brown), Crossroads writer Jack Barton (Con O'Neill) and ATV executive Charles Denton (Tim Wallers).
Introducing us to the world of Crossroads rehearsal rooms and studios is Poppy Ngomo (Bethany Antonia), a new character created by Russel T Davies as Meg's adopted daughter.
We also meet Jane Rossington (Antonia Bernath) who played Meg's daughter, Jill, Tony Adams (Augustus Prew) who played Adam Chance, Susan Hanson (Chloe Harris) who played Diane Lawton, andCrossroads' Benny actor Paul Henry (Lloyd Griffith). Ronnie Allen (Richard Lintern) who played Meg's business partner, David Hunter, appears along with David's onscreen wife Barbara Brady, played by Sue Lloyd (Clare Foster).
ATV Studios
Stopford House. WythenshaweMike, CC BY 3.0 , via Wikimedia Commons
The Crossroads studio location is Stopford House in Stockport. Onscreen it's also known as Manchester Police Station in Life on Mars. The real Crossroads was filmed at ATV Studios, which became Central Entertainment Television, on Broad Street.
The Theatre
Stockport Plaza. Ian S, CC BY-SA 2.0 , via Wikimedia Commons
Nolly's theatre location is the Stockport Plaza on Mersey Square. Also known as the Plaza Super Cinema and Variety Theatre, the venue dates back to 1932. In Nolly we see the auditorium as well as the foyer, which shows off the theatre's Art Deco doors and tiling.
Episode 2 shows off the Stockport Plaza theatre location when Nolly visits her friend, Larry Grayson. He performs onstage, before we see Nolly and Larry discussing their lives and careers in his dressing room.
Southampton Docks
Liverpool Docks. John Bradley, CC BY-SA 3.0 , via Wikimedia Commons
Nolly's Southampton Docks QEII scene was filmed at Liverpool Docks. The brass band who played for the shoot is Littleborough's Boro' Brass, a community band who travelled to Liverpool for the occasion.
In the scene, Nolly's character, Meg, is written out of Crossroads by sailing to America on the QEII. The creators come up with the storyline as an alternative to the death plotline they had prepared. In the Russell T Davies drama we even see her onscreen daughter filming burial scenes, before the writers finally agree to Nolly's request for an upbeat send-off.
Central Manchester
Le Mans Crescent by David Dixon, CC BY-SA 2.0 , via Wikimedia Commons
Look out for street scenes in Le Mans Crescent, including evening shots of Helena Bonham Carter as Nolly. Here it's used as a Northern backdrop, but Bolton's Le Mans Crescent has appeared in a number of series in recent years. In 2019, It's a Sin used the location as a 1980s London street.
Birmingham Hotel
Exchange Flags, Liverpool. Rept0n1x, CC BY-SA 3.0 , via Wikimedia Commons
Nolly challenges Jack on Charles Denton's decision in the Exchange Flags building in Birmingham – used the lounge of a Birmingham hotel.
The Grade II-listed Exchange Flags was built in the 1930s and stands amongst other imposing Liverpool buildings. Across the square you'll find Liverpool Town Hall, and the Liver Building is just a stone's throw away.
Rackhams
Beales, Bolton. Plucas58, CC BY-SA 4.0 , via Wikimedia Commons
Nolly and Tony are seen walking past the former Beales store in Bolton as Rackhams department store – the shoot was captured by the Birmingham Mail.
The department store building has stood on Deansgate for over a century, and spent much of that time as a local institution.
Hotel al Sole
Hotel Al Sole, Venice. Robert Freeman, CC BY-SA 3.0 , via Wikimedia Commons
The Nolly Venice scenes were filmed in the real Venice at the Palazzo Marcello Hotel al Sole and Fondamenta Minotto. The pair step from the boat onto the Fondamenta Minotto just before the bridge, and enter the Hotel al Sole.
The 500-year-old building is located in the Venice's Santa Croce district. Once a family palazzo, the building is now a hotel. It stands on the Rio del Magazen canal, just moments away from the Grand Canal.