Queen Charlotte: A Bridgerton Story filming locations include Belton House, Lancaster House, Hatfield House, Wilton House, Bath Assembly Rooms, Hampton Court Palace and Waddesdon Manor. The Bridgerton prequel's locations take us back to Wilton House and Hampton Court, and introduces new locations as we meet the Ton mamas in their younger days.
In Shondaland's Netflix series, Golda Roshuevel returns as Queen Charlotte, alongside Adjoa Andoh as Lady Danbury and Ruth Gemmell as Violet, Dowager Viscountess Bridgerton. But the Bridgerton prequel actually follows their younger selves, with India Amarteifio as the young Queen Charlotte, Arsema Thomas as the young Lady Danbury and Connie Jenkins-Greig as the young Violet Ledger.
Queen Charlotte: A Bridgerton Story also introduces us to Lord Danbury (Cyril Nri), Lord Bute (Richard Cunningham), Adolphus (Tunji Kasim), Lord Ledger (Keir Charles) and the young King George III (Corey Mylchreest).
Where Was Queen Charlotte: A Bridgerton Story Filmed?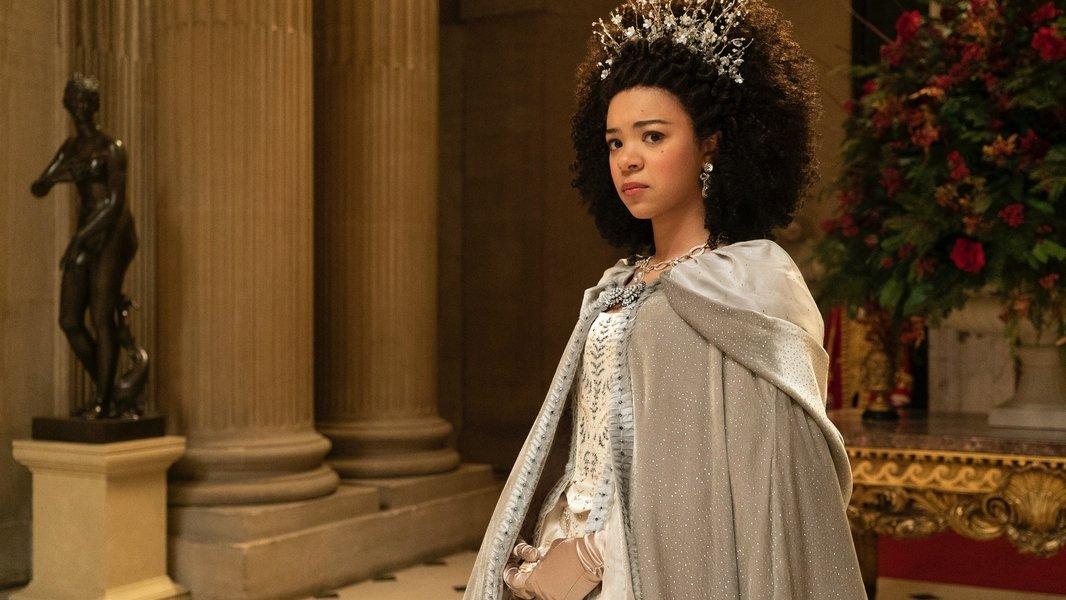 Netflix's Queen Charlotte was filmed at Hampton Court, Bath, Belton House near Grantham, Lancaster House in London, Wilton House near Salisbury, Hatfield House in Hertfordshire, and Waddesdon Manor in Buckinghamshire.
Look out for new and returning filming locations from the Bridgerton series as we catch up with the characters' earlier lives.
Queen Charlotte: A Bridgerton Story Locations
London Townhouses
Queen Charlotte: A Bridgerton Story's London street location is Royal Crescent in Bath. Coaches deliver the King and Queen's wedding invitations on the crescent in Episode 1, and ball invitations in Episode 3.
The crescent is home to the Featheringtons' house in Bridgerton, and was a popular address in the Georgian era. Bath's fashionable Royal Crescent was completed in 1775, and one of its 30 townhouses still lives in the era. No 1 Royal Bath Crescent is not only a Bridgerton filming location, the interior is a museum preserved for Georgian life.
The Palaces
Queen Charlotte: A Bridgerton Story's palace locations include Belton House, Hampton Court Palace, Blenheim Palace, Wilton House and Hatfield House.
Kew Palace
Belton House. It's No Game from Leicestershire, UK, CC BY 2.0 , via Wikimedia Commons
The Kew Palace filming location in Queen Charlotte: A Bridgerton Story is Belton House in Lincolnshire. In the Netflix prequel series, the new Queen seeks out the King at Kew Palace after he leaves her living separately at the Queen's House, also known as Buckingham House and later Buckingham Palace.
Filming took place at the National Trust property back in summer 2022.
The grand country house was built in the 1600s. It's surrounded by parkland with its own herd of wild fallow deer, boating lakes, and formal gardens that are perfect for a Bridgerton or queen-to-be to stroll through.
Belton House is a National Trust property and it's open to the public, so you can visit this Queen Charlotte location. Check with the National Trust for details of opening times.
Buckingham House
Blenheim Palace Saloon. Glen Bowman from Newcastle, England, CC BY 2.0 , via Wikimedia Commons
Queen Charlotte's Buckingham House filming location is Blenheim Palace. Look out for Queen Charlotte's palace filming locations around Blenheim Palace including the entrance and Great Hall.
The Oxfordshire stately home features heavily in interior and exterior palace shots throughout the Netflix prequel series.
Queen Charlotte's palace locations include the Saloon at Blenheim Palace is the grand palace location with richly decorated walls. It stands beyond the less ornate Great Hall. Home to the Dukes of Marlborough for centuries, construction of Blenheim Palace began in 1705 and took 17 years to complete.
It's surrounded by landscaped gardens crafted by Lancelot 'Capability' Brown, whose carefully refined landscapes are a period drama staple.
Visitors can prebook tickets to tour Blenheim Palace. And if you're lucky enough to catch one of its season events you might even see the Saloon's dining table set with regal silverware.
St James's Palace
Wilton House. David Spender, CC BY 2.0 , via Wikimedia Commons
More of Queen Charlotte's palace scenes were filmed at Wilton House. Already established as a Bridgerton filming location, the Salisbury mansion's State Rooms return as a Queen Charlotte: A Bridgerton. As rumoured in Wiltshire Live, Queen Charlotte: A Bridgerton Story filmed scenes at Wilton House in June 2022.
The exterior of Wilton House was previously used as a location for Simon's London townhouse, Hastings House, in Season 1. Meanwhile, Wilton's Cube Room and Double Cube Room become the audience room and its lobby. We first see them in the scene where Daphne Bridgerton (Phoebe Dynevor) is presented to Queen Charlotte in Season 1, Episode 1.
Queen Charlotte: A Bridgerton Story replicates Bridgerton's intimidating royal audiences in the Double Cube Room. First, the future Queen Charlotte is met with stern opinions about her European-style wedding dress. Later, royal staff and courtiers are interrogated about the King and Queen's marriage in the same palace filming location.
While the Grade I-listed stately home has been the seat of the Earls of Pembroke for four centuries, these rooms were added more recently. Inigo Jones led the design of the Cube and Double Cube, inspiring their unusual names. They measure 9m in every dimension, and 9m x 9m x 18m, respectively – and were designed to house the Pembroke family portraits which can be seen in Queen Charlotte and Bridgerton.
Hampton Court
Hampton Court. Steve Cadman from London, U.K., CC BY-SA 2.0 , via Wikimedia Commons
Queen Charlotte: A Bridgerton Story was filmed at the real Hampton Court Palace. The sprawling palace featured heavily in Bridgerton Season 2, hosting most of Queen Charlotte's scenes, and that trend has continued into the prequel series.
Season 2 of Bridgerton features the Fountain Court, King's Staircase and gardens. In Queen Charlotte: A Bridgerton Story we see more of Hampton Court's older quarters and courtyards in particular.
It's one of the Bridgerton spin-off's palace locations with a connection to the real Queen Charlotte. King George III and Queen Charlotte used the royal residence, following in the footsteps of Henry VIII, and William III and Mary II.
The Gardens
Arsema Thomas discussed the cast's trip to Kew Gardens to see the real Queen Charlotte's home. Kew Palace was King George III's summer residence, while Queen Charlotte's Cottage was styled to the queen's own preferences.
It was actually a hidden retreat, not a royal residence. They were surrounded by a menagerie including kangaroos, black swans and pheasants.
Bridgerton fans will remember Queen Charlotte's exotic animals from Season 2, when several were seen around Hampton Court Palace.
Hampton Court Garden Wall
Hatfield House Garden. Paul Hudson from United Kingdom, CC BY 2.0 , via Wikimedia Commons
The scene where Charlotte tried to climb over the garden wall was filmed in Hatfield House's walled gardens. It's used as a filming location for Hampton Court's own walled garden.
Episode 1's wedding sequence is interrupted by Charlotte's attempted escape. As she makes her way up the wall, she meets the future King George as he emerges from the hedges.
These hedges are part of Hatfield's traditional gardens, one of several outdoor spaces landscaped in different styles.
The Orangery
The Orangery, Belton House by Philip Halling, CC BY-SA 2.0 , via Wikimedia Commons
Queen Charlotte's orangery location is the Belton Park Orangery. It appears in flashback scenes as the young Queen Charlotte is shown the orangery and invited to choose a fruit. Later in the episode, the Bridgerton-era Queen Charlotte takes tea with Lady Danbury and Violet Bridgerton in the same orangery location.
Later in Episode 3, Queen Charlotte returns to the orangery and declares that she will pick her own oranges. In the scene, she discusses royal engagements.
The Aviary
Waddesdon Manor Aviary. DeFacto, CC BY-SA 4.0 , via Wikimedia Commons
Lady Danbury and Violet Bridgerton are seen walking by Waddesdon Manor's Aviary, another garden location. Waddesdon's trelliswork Aviary was inspired by pavilions at the Gardens of Versailles, and the centuries-old fashion for menageries and aviaries. So it ties in perfectly with Queen Charlotte and King George III's own collections.
Agatha's House
Dorney Court. Jo Turner / Dorney Court, Dorney, Windsor
Dorney Court is Lady Danbury's house location in the Queen Charlotte prequel series. It appears as Agatha's house before she becomes Lady Danbury. It appears from Episode 1 until Episode 3, when they newly titled couple upgrade to Danbury House.
Dorney Court previously appeared in Bridgerton Season 1 as Daphne and Simon's Coaching Inn.
Danbury House
Lady Danbury's house location is the Holburne Museum of Art in Bath. The cultural centre has been used for exterior shots of Danbury House since Bridgerton Season 1. Further locations provided some of the Season 2 interiors.
Ballroom Scenes
Assembly Rooms, Bath. Charles D P Miller, CC BY 2.0 , via Wikimedia Commons
Queen Charlotte's ballroom scenes were filmed at the Assembly Rooms in Bath. The cast were spotted in period costumes in Bath during the May 2022 shoot.
Bath's Assembly Rooms first appeared in the Bridgerton universe in Season 1. The venue's rooms regularly host the Ton's London balls in Bridgerton, and the real history isn't so different. This Bridgerton and Queen Charlotte filming location was completed in 1771 for Bath's fashionable society visitors.
The Assembly Rooms are now National Trust-run. They're planning to run a Georgian experience at the Bath venue, so you may be able to get a taste of Bridgerton's society lifestyle in the near future!
Funeral Procession
Old Royal Naval College. eefeewahfah, CC BY-SA 2.0 , via Wikimedia Commons
The funeral procession scene in Queen Charlotte: A Bridgerton Story was filmed in Greenwich. Look out for the Old Royal Naval College in shots of the royal carriage carrying the Queen. This area where the first Whistledown Papers were distributed in Season 1, and the shopping arcades went up in Season 2.
It's just a short distance across Greenwich's parkland from the Queen's House – the location of the Duke of Hastings and Lord Berbrooke's fight.