The fifth Harry Potter film, Harry Potter and the Order of the Phoenix, takes on a darker edge still with the introduction of Dolores Umbridge (darker than you can expect from a pink suited cat lover). Look out for some great London filming locations also!
Our first glimpse of location filming starts off with members of the Order escorting Harry to Grimmauld Place. Along their adventurous journey they pass the River Thames past Tower Bridge, the Houses of Parliament and Big Ben as well as several Thames River cruise boats.
The journey ends and the group arrive at Grimmauld Place. Now I hate to burst a bubble, but this is often wrongly cited as being shot on a square in central London (many have been referenced), however noted in several interviews that it was in fact a film set, sorry to disappoint!
Following the news that Harry must attend a hearing at the Ministry, Harry and Mr Weasley set off and decide to use muggle transport (much to Mr Weasley's fascination). Here you can see the very recognisable interiors of Westminster Underground station whilst en route.
The visitor's entrance to the Ministry is via a phone box. The location for this was the corner of Scotland Place in central London, although you will see that a bridge was digitally added directly above where the phone box stood (possibly to hide the door way behind).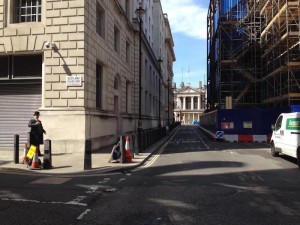 Kings Cross is the next filming location we see, as Harry is escorted by the Order to the station, accompanied by Sirius who takes Harry into the waiting room to talk to him and explain about the Order, showing him a past photo of his parents. The waiting room is believed to be on Platform 8, however has undergone many changes since and the bridge has been replaced since filming.
Another location used is Blenheim Palace in Oxfordshire. Blink and you'll miss it though as it is used briefly in a flashback scene involving a young James Potter bullying and also young Severus Snape. The tree used is instantly recognisable though, and can be seen to the left of the bridge as you walk away from the Palace within the grounds.
So, how well do you know the film, very well you say? Well you should have no problem with our quiz below! Have a go and let others know how you do!
[slickquiz id=6]