The ABC Murders follows Mammoth Screen's adaptations of And Then There Were None, Witness for the Prosecution and Ordeal by Innocence but this one's different. While the previous stories were standalone mysteries, The ABC Murders is the first to tackle one of Agatha Christie's beloved detectives.
John Malkovich launches a new look for Belgian sleuth Hercule Poirot, breaking away from David Suchet's much-loved incarnation of the detective. But who are we to argue.
"I am most excited to experience the unique approach John Malkovich will bring to the role in this thrilling one-off television adaptation."
Executive producer, CEO of Agatha Christie Productions and Agatha Christie's great-grandson James Pritchard
Harry Potter's Moaning Myrtle, Shirley Henderson, appears alongside Broadchurch's Andrew Buchan and Tara Fitzgerald, most recently seen in Game of Thrones. Eamon Farren, Kevin McNally, Bronwyn James, Gregor Fisher, Freya Mavor and Poldark's Jack Farthing round out the line-up.
Where was The ABC Murders Filmed?
The BBC adaptation of Agatha Christie's The ABC Murders was mostly filmed on location around Yorkshire with a few additional locations including Saltaire, Bradford and studio filming at Amazon Studios and Studio 81 in Leeds. Look out for Yorkshire's Victorian architecture on screen as the three-part drama transforms it into the 1930s Home Counties.
"Yorkshire offered us the perfect base for 'The ABC Murders'. We had a wealth of period locations at our fingertips all within easy reach, including doubles for 1920s London. Couple that with a film friendly environment, Yorkshire is one of the best places for location filming in the U.K."
Charlie Thompson, Location Manager
Look out for Yorkshire's Victorian architecture on screen as the three-part drama transforms it into the 1930s Home Counties. And with a railway guide and typewriter connecting each of the murders, locomotives and stations are given a generous amount of screen time.
"The approach we took to the trains was very much the same way that I approached the typewriter: two machines that have a life of their own. I wanted to explore these two things in minute detail and create monsters within them."
Alex Gabassi, Director
Scotland Yard
ABC Murders Scotland Yard filming location is Bradford City Hall. Look out for the tiled entrance hall and stairs, complete with glowing lamps, as Hercule Poirot enters Scotland Yard for the first time at the start of Episode 1.
Extras in period police uniform popped up around the Victorian heart of Bradford's town centre for scenes which appear later in the series.
King's Cross Station
Keighley Station. Ian Kirk [GFDL (http://www.gnu.org/copyleft/fdl.html), CC-BY-SA-3.0 (http://creativecommons.org/licenses/by-sa/3.0/) or CC BY 2.5 (https://creativecommons.org/licenses/by/2.5)], from Wikimedia Commons
CGI features heavily in bringing the 1930s to life but one ABC Murders Kings Cross Station filming location is the underpass at Keighley Station. In the background you can see the West Yorkshire station's signage, indicating the direction of platform 3.
The much-loved 1970 adaptation of The Railway Children was filmed on the Keighley and Worth Valley Railway, making this station well worth a visit for movie fans. It's also in the heart of Bronte country with a base at Haworth, putting it on literature lovers' must-see list too.
Andover Station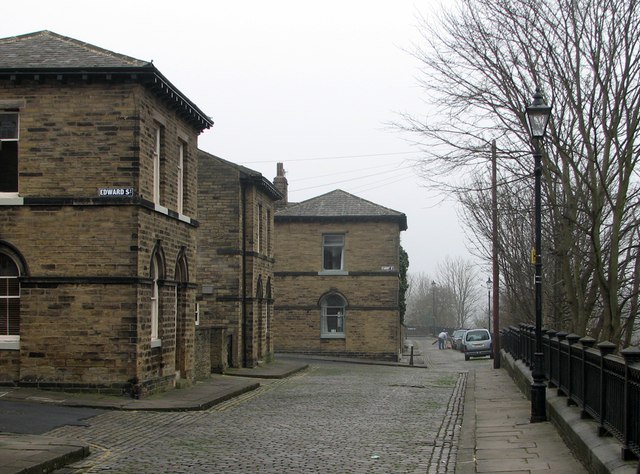 Saltaire: Albert Terrace.
cc-by-sa/2.0 - © John Sutton - geograph.org.uk/p/2865006
Establishing shots of Andover were filmed at Albert Terrace in Saltaire, the UNESCO World Heritage Site village. Look for it when Poirot first arrives in Andover and calls at the tobacconist's shop.
When he arrives and inspects the Andover Town Centre map, the filming location is Saltaire's Victoria Road. Hockney 1835 Gallery and Salts Mill are behind him, and Northern Railway's Saltaire Station really is located nearby – but on another level. The train which passes by has been added with CGI.
Other Andover Station scenes were filmed at Grosmont on the North Yorkshire Moors Railway. It was used for shots of the platform and tracks, and police officers are seen at the station later in the mystery drama.
NYMR is another heritage line that's open to visitors on dates throughout the year. Grosmont Station acts as a hub linking the heritage line to the modern network. And while it dates back to the 1830s and appears in the 1930s setting of The ABC Murders, it's actually decked out in 1952 regalia.
Bexhill Station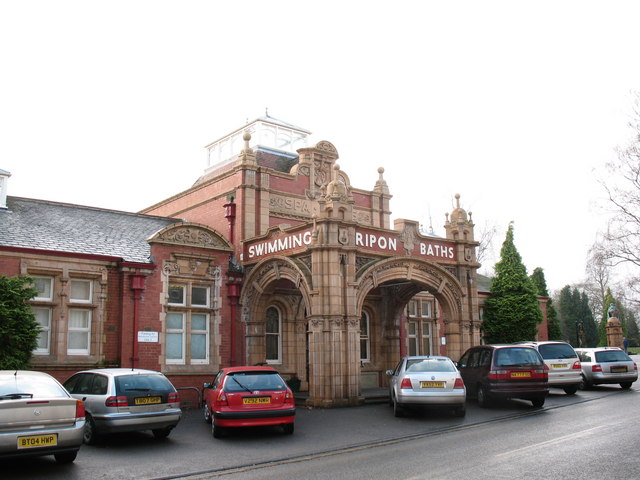 Ripon Spa Baths. cc-by-sa/2.0 - © Gordon Hatton - geograph.org.uk/p/624031
The ABC Murders filming location for Bexhill Station is Yorkshire's Ripon Spa Baths.
In the BBC drama, the Edwardian bath house's entrance hall are transformed into a train station waiting room – look out for its wooden arches.
Nearby Park Street was commandeered by the cast and crew in July 2018 when exterior shots of Bexhill Station were filmed at the bath house. The portico is seen clearly in the first episode.
Bexhill Seafront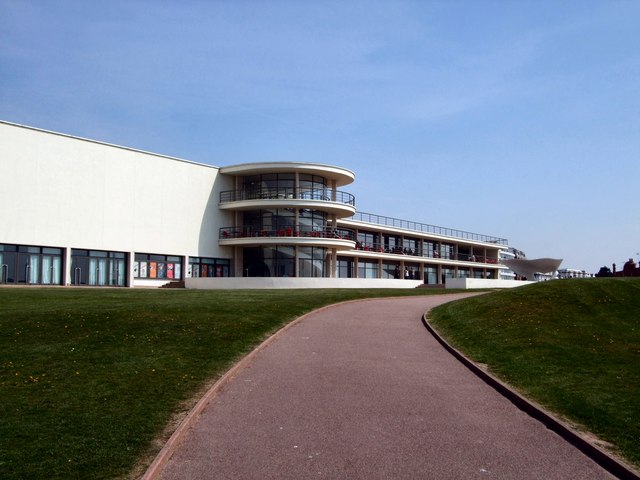 De La Warr Pavilion.
cc-by-sa/2.0 - © Paul Gillett - geograph.org.uk/p/1822009
The ABC Murders filming location for Behxill seafront is actually the town's very own seafront, with Bexhill's De La Warr Pavilion firmly in the picture.
It's delightfully Modernist – ideal for a 1930s-set adaptation in theory. If you know the area, its casting might raise an eyebrow because this Poirot miniseries is actually set in 1933. Close enough though, and the mystery was first published in 1936.
Visitors will find that this seafront building is actually a cultural hotspot, celebrating art and music. It was designed by a German refugee and a Russian, taking inspiration from the sleek new styles taking hold in Continental Europe.
The forward-thinking mayor set up the promenade building as a beacon of contemporary arts, culture and design. It fell into disrepair in the mid-20th Century, but by 2000 it a restoration programme was set in motion to restore the building and its creative agenda.
Churston
Newby Hall. Lynne Glazzard [CC BY-SA 2.0 (https://creativecommons.org/licenses/by-sa/2.0)]
Shots of Carmichael Clarke's residence at Churston were filmed at Newby Hall, another Yorkshire location for The ABC Murders.
The red brick stately home is located near Ripon and opens to the public on dates from spring to autumn. It's got something for everyone, from a miniature railway to a doll's house exhibition – and of course, the house itself.
Sir Christopher Wren designed the original house, with John Carr and then Robert Adam renovating it, making Newby Hall a living 'who's who' of architecture and interior decoration. The interiors and exteriors and seen onscreen in the Agatha Christie adaptation, including Inspector Crome's interview which takes place in the library.
"It's really interesting seeing how [Alex Gabassi} shoots depending on what environment we are in. When we were in Newby Hall there were a lot of stoic shots and he is very good at filming in a way that suits the location…"
Rupert Grint, Inspector Crome
But there's another TV connection here.
Downton Abbey Filming Locations fans might be interested to note that a previous owner was Lord Grantham, whose heir through marriage was a Lady Mary. Ripon is the closest major centre, and the similarities don't end there. It's may very well be the 'real' Downton Abbey – but don't tell Highclere.
Doncaster Station
The letter D arrives on Poirot's agenda. Doncaster Station scenes were filmed at another NYMR destination, Pickering Station.
Conveniently for Mammoth Productions, this Victorian station is already themed around the 1930s.
The Doncaster Empire
City Varieties in Leeds is a music hall which dates back to the 1860s.
Despite the plush surroundings of the City Varieties Music Hall auditorium, it's the backstage area which is in the spotlight as the murderer sets his sights on ventriloquist Dexter Dooley.
Embsay Station and Railway
The filming location for the Embsay and Bolton Abbey Steam Railway is easily found. Apart from getting a name-check as the ticket inspector walks down the carriage, a sign above the station's bridge is clearly visible as we follow the trail of the letter E murder.
Fortunately for period drama crews and viewers, the Embsay railway has been preserved in 20th Century mode. It was closed in 1965, but the line was given a new lease of life in the 1980s when it began running a heritage service.
Even better, it runs steam train journeys and special services on dates throughout the year. All aboard!
Paddington Station
Aldwych Tube Station. Pencefn [CC BY-SA 3.0 (https://creativecommons.org/licenses/by-sa/3.0)], from Wikimedia Commons
The ABC Murders' Paddington Underground Station location is an old favourite, the long-abandoned Aldwych tube station in London.
Look out for the platform's distinctive black tile design and tunnel entrance when Hercule Poirot steps off the tube train.
He then climbs the stairs to a deserted ticket hall before the series' pivotal moment – the discovery of the note directed at Poirot himself.
"Who are you, Hercule?

Who are you, really?"
Poirot's Apartment at Whitehaven Mansions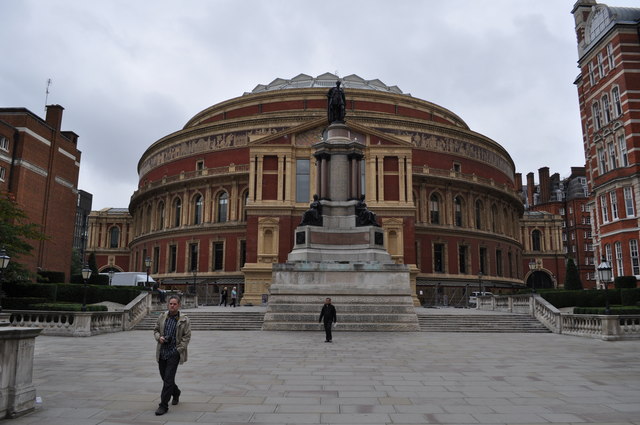 London : Knightsbridge - The Royal Albert Hall
cc-by-sa/2.0 - © Lewis Clarke - geograph.org.uk/p/2114479
The ABC Murders filming location for Poirot's apartment is next to the Royal Albert Hall. The red brick block is called Albert Court.
Incidentally, the world premiere of Murder on the Orient Express was held at the London concert hall - another recent Agatha Christie reboot, but with Kenneth Branagh as the Belgian detective.
In the 2018 BBC drama, John Malkovich's version of Hercule Poirot is seen walking up the steps that lead to it, joined by the inspector, and it pops up in establishing shots throughout the three-part series.
Fans of ITV's long-running series will be comparing it to the Art Deco building that was the detective's home for several decades.
David Suchet's Poirot filmed his Whitehaven Mansions scenes at Florin Court in Clerkenwell's Charterhouse Square. The 2018 BBC Poirot mystery has found a somewhat grander mansion block.
The Hotel
The BBC Agatha Christie adaptation turned to a 1930s hotel in Leeds for The ABC Murders' hotel filming location.
It's not the only hotel location the production found in the city though. Further scenes were filmed at the 4-star Quebecs Hotel in Leeds, which has a very different stained glass and dark wood aesthetic.
Street Scenes
The neatly presented Georgian townhouses belong to St John's Square in Wakefield. Look out for their red brick frontages and white stucco lower ground floor levels.
Poirot and Crome are also seen walking through Bradford's neoclassical neighbourhood, Little Germany. The district's Victorian streets were founded by German Jewish merchants, giving the area its unusual name.
The Courts of Law
Leeds Town Hall. David Dixon / Leeds Town Hall, Victoria Square
Leeds Town Hall is the Grade I-listed building used as The ABC Murders' court filming location.
The sprawling town hall is one of the largest in the UK, and its design is just as impressive.
Its stone façade and towering columns hold some richly decorated rooms inside, along with more functional spaces.