Following on from the weekend's VE Day celebrations, we thought we'd take a look back at British wartime sitcom moments, so we've picked out some moments from David Croft classics Dad's Army and 'Allo 'Allo.
Dad's Army Traces the War Effort
Dad's Army didn't cover VE Day in the series or movie, but it did span a large part of the war. Over the years, we saw the impact of rationing on everything from oranges to telephone calls, mostly courtesy of Jones and Walker.
The platoon's missions and special training exercises followed the war's progress too. Jones' van was turned to military use, At one stage, the platoon were sent across the county dressed in Nazi uniforms as part of a training programme, only for things to go wrong, stranding the lads in very unfortunate attire with all eyes of the locals following them.
They have a bit of trouble trying to get refreshments at The Six Bells, but location spotters won't have any difficulty following in their footsteps. You'll find it under the same name, The Six Bells, where you can enjoy a drink, good meal or comfortable night's rest.
For the film version, filming was conduced away the usual surroundings of Norfolk (due to the different production team), and instead Chalfont St Giles was used to depict Walmington on Sea high street.
'Allo 'Allo Wraps Up
'Allo 'Allo went out with the allied invasion and the eventual conclusion of the war, much to the relief of Rene, the grudging French Resistance hero. Setting aside the Christmas special, which rolled back the clocks to bring us an episode from the normal routine we knew and love, the series ended over two episodes.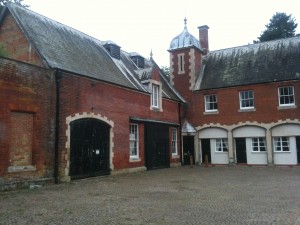 Lynford Hall Courtyard
Lynford Hall stood in for Nouvion town square and the exterior of Café Rene for most of the show's run (early episodes used a set). You may have spotted it recently on Great British Railway Journeys and wondered why it looked familiar, but if you want to visit in person, you'll be pleased to hear that it's a sumptuous hotel and a perfect afternoon tea destination.
The square sees the war go by with the introduction of German tanks, and later on the arrival of Italian troops (what a mistake-a to make-a...). Not only the square, but Lynford Hall frontage itself is depicted as a Nazi HQ and view from the garden is used as Heir Flick's mansion, and we get a few glimpses inside on the odd occasion.
As for courtyard used as the Nouvion town square, it was dressed up for 1992. As Gruber, Helga and the Colonel return decades later, they pull up near a trickling fountain and benches, Alas, the old public conveniences still grace the square.