Find Yesterday movie filming locations including: Suffolk Coast and Heaths AONB, Shingle Street, Lowestoft and Gorleston-on-Sea; Liverpool's Port of Liverpool Building, John Lennon Airport and Lime Street Station; London's Wembley Stadium and Abbey Road; and a Malibu beach house.
There's no denying Suffolk is the star of this show. If they're not in the county, most Yesterday filming locations are just along the coast from it. And the entire movie is framed by Suffolk's own Latitude festival.
Richard Curtis and Danny Boyle's Beatles film takes a quick detour across the country, though – because Liverpool locations like Strawberry Field just can't be replicated.
Himesh Patel was spotted out filming as aspiring musician Jack Malik, who wakes up in an alternate reality where the Beatles have disappeared from everyone's memories.
At first, he just wants to share their songs from memory. In the style of Goodnight Sweetheart's Gary Sparrow, he starts to claim their hits as his own, and soon everything's spiralling out of control.
Lily James plays his best friend, with Joel Fry as his manager and SNL's Kate McKinnon as the Hollywood agent who wants to make Jack the next big thing.
Where Was the Yesterday Movie Filmed?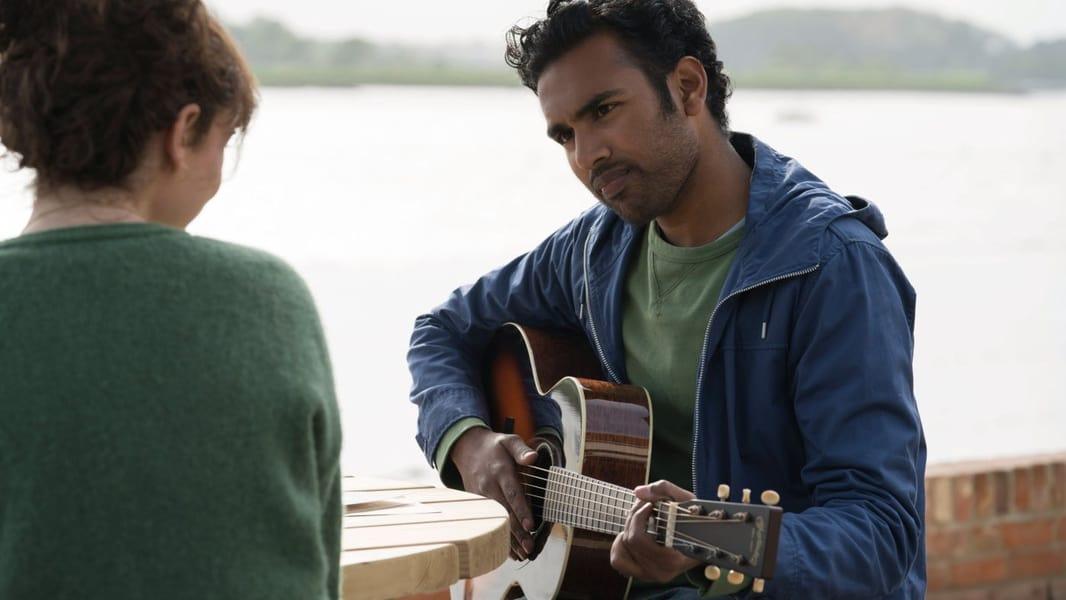 The Yesterday movie was filmed almost entirely in down-to-earth seaside towns in Suffolk, Norfolk and Essex. Even the cast was made up of local folk.
"There was very little in the way of set-dressing, it's present day. There were loads of local people, the extras were local people."
Rachel Aldridge, Screen Suffolk
School children were drafted in, locals were recruited for crowd scenes and a café worker from one Norfolk location was unexpectedly asked to audition for a part. The team cast the stunned local as the double for Downton Abbey's Lily James.
Even one of the movie's biggest names was partly chosen because he's from the area. Ed Sheeran plays himself in the movie, not just for a brief cameo but in the role of mentor to Himesh Patel's character in the alternate reality.
Jack and Ellie's Pub Beer Garden Scene
The pub beer garden location in Yesterday is The Ramsholt Arms near Woodbridge, as confirmed by The Suffolk Coast. It's a short distance from Shingle Street, so it's easy to picture The Ramsholt Arms as Jack and Ellie's local.
Pub manager Max Durrant told East Anglia Daily Times that the scene took around ten hours to film. And of course, visitors have spend many hours since, recreating the scene at the Yesterday location.
The Ramsholt Arms is surrounded by the Suffolk Coast and Heaths Area of Natural Beauty's beaches and marshes. And if you're wondering, you really can sit outside on the Yesterday pub's picnic benches, with a view of the River Deben from the south-facing been garden.
Jack's Pub Gig
In the Yesterday movie Jack's pub gig was filmed at the Reedcutter Inn in Norfolk. The Reedcutter is just over the border from Suffolk and a short drive from many of the film.
On one side it faces onto the River Yare, which flows east to Gorleston-on-Sea - Yesterday's Help! Scene location. But it's actually in a fairly unique location.
Just behind the pub where Jack plays his gig, you can see industrial buildings and silos. They're part of Britain's first sugar beet processing factory, which later became part of British Sugar.
The pub itself has earned a reputation for its ciders, but for obvious reasons it's attracted fresh interest as a Yesterday filming location.
Ellie's School
The fact that Ellie has settled into everyday life as a teacher causes a big problem as Jack's career takes off. Lily James filmed her Yesterday character's school scenes at Ormiston Denes Academy in Lowestoft, Suffolk.
In a community-spirited move, director Danny Boyle held a masterclass for pupils at the school. He even auditioned students to populate the school scenes, so it's not just the school building that got to appear onscreen.
Jack's Album Launch
Bob Crook / Gorleston High Street
Jack's album launch was filmed at Gorleston Beach in Norfolk. 5000 extras were drafted in from nearby counties to bop away on the sand in summer 2018.
The band are playing on the Pier Hotel, Gorleston in Yesterday's big beach concert scene. Danny Boyle's team used the rooms to stash beach inflatables and other props while they set up.
This coastal spot is lovely but it's not usually a musical hot-spot. When Danny Boyle and Richard Curtis aren't around, the Pier Hotel is a three-star hotel with sea views from the bar and restaurant. And Gorleston-on-Sea Beach below is a traditional English seaside experience.
Surf, sandcastles and pitch-and-putt are on the agenda, with Great Yarmouth's Winter Gardens and arcades just along the coast.
Busking Scenes
Clacton-on-sea town centre. Rwendland [CC BY-SA 4.0 (https://creativecommons.org/licenses/by-sa/4.0)]
Jack's busking scenes were filmed in Clacton-on-Sea town centre.
Look out for shots of the aspiring musician playing on Pier Avenue with the local shops and amusements in the background.
Magic City is hard to miss in the background, if you recognise the local landmark.
More busking shots were filmed at the end of Clacton Pier. You might recognise the pier from Starter for 10, another movie with a James Corden cameo. It was one of his earliest film appearances as the childhood friend of James McAvoy's character.
Beach Scenes
Frinton-on-sea. Rhys Wynne from Caerdydd, Cymru [CC BY-SA 2.0 (https://creativecommons.org/licenses/by-sa/2.0)]
Lily James and Himesh Patel filmed some Yesterday movie beach scenes at Clacton-on-Sea and Frinton Beach as drafted in for more beach scenes in the Beatles-inspired film.
Look out for the row of brightly painted beach huts – it was filmed at The Walings. They were once a set of low-key hideaways though now they're very much in demand, changing hands with a serious price tag.
Other scenes were shot at Shingle Street, a tiny hamlet on the Suffolk coast. It's not hard to find the exact where filming took place, just in front of the only row of cottages.
They run parallel to the sea, with a path leading through the long grass that acts as a buffer between the lone street and the beach. Surprisingly, it's not the first time this fascinating but bijou hamlet has been in the spotlight.
Benedict Cumberbatch filmed at Shingle Street for the 2017 adaptation of Ian McEwan's A Child in Time.
Ellie's Cottage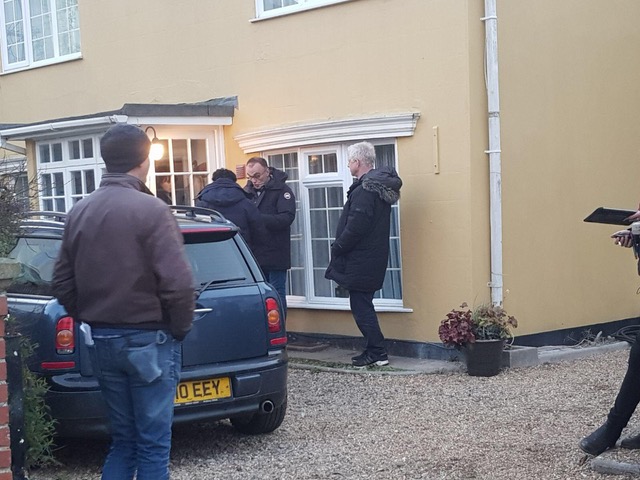 Danny Boyle and Richard Curtis discussing the porch scene with Himesh and Lily James visible. Photo kindly provided by Julian, cottage owner, taken during filming.
In the Yesterday film, Ellie's cottage scenes were filmed at Gorleston and Dunwich. You'll recognise the picture-perfect Gorleston house from exterior shots including some of the movie's key moments.
The porch scene between Ellie and Jack was filmed at the house (and the real-life resident was lucky enough to watch it unfold). And while the garden wasn't originally meant to be used for the shoot, the apple blossoms were too perfect to resist.
But the team made a few changes too.
Danny Boyle and Yesterday's location manager discovered the cottage on Cliff Hill, just behind the Pier Hotel where the gig was filmed, and knew it was right for Ellie's cottage – but at the time it was pink. They repainted it to the cream colour you see in the movie.
"It was a case of "right place, right time" for choosing the house. Danny was walking round the area with the location manager and had nowhere for Ellie's cottage. He saw the cottage and just said "that's it" and knocked on the door."
Julian, real life resident of Ellie's Cottage
Lily James shot the Dunwich scenes at the end of the village's high street closest to the beach – a totally idyllic location for the likeable Ellie to live in.
Dunwich Heath and Beach are maintained by the National Trust, so you can visit the area for a real day out. It's got a top reputation for scones, and you can even book a stay in a local cottage if you want to go the extra mile at this Yesterday movie location!
But there's actually something unusual lying just beyond those sand dunes.
This quiet Suffolk town is pretty remarkable, with its unusual story starting long before its role in this new Beatles movie.
A thousand years ago, Dunwich was one of the largest towns in England but a succession of devastating storms left most of it underwater. Shipwrecks lie side by side with churches just off the coast.
Town Scenes
Ed Sheeran, Lily James and Himesh Patel shot town scenes around another Sussex location.
Look out for Halesworth High Street, with Yesterday's café scenes filmed at The Hideout Café, featuring locals and cafe regulars drafted in as extras.
The Yesterday film's rainy high street scene is Halesworth again.
The Yesterday movie pub location is The White Hart, Halesworth. It's just a couple of minutes' walk away from The Hideout Café and the Thoroughfare car park, which also pops up onscreen.
It's a family-run pub serving plenty of food as well as drinks, in the heart of the Suffolk town.
The Train Station
Liverpool Lime Street Station. Rodhullandemu [CC BY-SA 4.0 (https://creativecommons.org/licenses/by-sa/4.0)]
In the nail-biting scene where the characters race to the train station, Jack, Ellie and Rocky are shown at Liverpool Lime Street.
Liverpool's huge glass-covered station was built in the 1830s for the Liverpool and Manchester Railway. It's the terminus for the West Coast Main Line (the opposite end of the line is London Euston) and trains from other parts of the country stop here too.
So if the movie has inspired you to visit Liverpool, you could arrive at a Yesterday filming location.
And here's where you could get your post-journey snacks. The café Jack, Ellie and Rocky are seen in is Upper Crust, which was specially upgraded for filming.
Danny Boyle revealed it was originally meant to be a Nando's but there isn't one at Liverpool Lime Street, so they had to find an alternative.
Airport Scenes
Liverpool John Lennon Airport. Rept0n1x [CC BY-SA 2.0 (https://creativecommons.org/licenses/by-sa/2.0)]
The Yesterday movie airport scenes were filmed at Liverpool John Lennon Airport. Shots of the Beatlemania-style crowd chasing after Jack show fans running past the main building.
Look out for the distinctive curved white shelters that stand in front of it.
John Lennon's name is out of place in Yesterday's alternate reality, so the name is carefully hidden in every shot. And of course, it's another nod to the subtle Beatles references we accept as part of everyday life.
Latitude Festival
Both of Yesterday's festival scenes were shot at the Latitude festival in Suffolk, a detail that was important to Richard Curtis.
"Yesterday was written in Suffolk, set in Suffolk, and begins and ends at Latitude. I've rarely missed a Latitude since it first began, and so I'm overjoyed to be bringing it home."
Richard Curtis, Producer
He even scheduled a special screening of Yesterday for Latitude 2019, bringing his ode to Latitude full circle.
Princess Dock Hotel Scenes
Yesterday's hotel filming location is another Liverpool one. The Port of Liverpool building appears as the Princess Dock Hotel (the name references Liverpool's nearby Princes Dock).
Lily James and Himesh Patel filmed inside the Grade II-listed building, with its marble interiors appearing as a smart hotel foyer.
Liverpool locals will recognise the Yesterday movie's hotel entrance sequence too. As Jack and Rocky dash through the doors, they're stepping out of the Port of Liverpool building at the corner of Georges Dockway and Mann Island.
Tunnel Scene
El Pollock / Queensway Road Tunnel Entrance, Liverpool
Shots of the characters in a tunnel were filmed at Liverpool' Queensway Tunnel. Listen out for the last 40 seconds of Hello, Goodbye on the soundtrack – the track was handpicked by Danny Boyle for the scene.
Also known as the Birkenhead Tunnel, this subterranean location runs beneath the Mersey between Liverpool and Birkenhead. It's in full use but they've got a good sideline going as great place for an onscreen chase.
Part of Harry and Hagrid's motorbike flight in Harry Potter and the Deathly Hallows: Part 1 was filmed there, and so were car chases in Jack Ryan: Shadow Recruit and Fast and Furious 6.
Good news if you're fascinated by this underground Yesterday location. For a modest fee, the Mersey Tunnel Tour fills you in on the history, the mechanics and more.
In a city with more than its fair share of must-see locations, it's a totally unique experience. The entrance is beside the Port of Liverpool building, so you can even snap the Yesterday hotel filming location en route!
Ed Sheeran Concert
Ed Sheeran's concert scenes were filmed in Cardiff's Principality Stadium. This one wasn't much of a creative reach for the award-winner – he played several nights at the Welsh national stadium in 2018.
Originally known as the Millennium Stadium when it opened in 1999, you probably know the Principality stadium from major rugby and football matches. Throughout the summer it's mainly used for gigs like this one.
If you want to explore the areas the public doesn't usually see, book a tour. You can get down to the Players' Tunnel up to the exclusive President's Box for a whole new perspective on the stadium.
Liverpool Tour
Jack tries to job his memory without the help of Google, which doesn't recognise the Beatles or their back catalogue in his alternate reality. One of his Liverpool tour stops is Strawberry Field, which is just around the corner from John Lennon and Paul McCartney's childhood homes.
It was once a Salvation Army children's home with extensive grounds where the local boys could get go exploring.
Fans haven't been able to enter the heavily graffitied gates, but that's about to change. In 2019 the Salvation Army are opening Strawberry Field with a community focus, channelling the public interest brought about the Beatles song into opportunities for young people.
He also calls by Eleanor Rigby's grave to remind himself of the lyrics to the eponymous song. Though in fact, the connection between the name on the grave and Lennon and McCartney is fuzzy.
"I just liked the name… I was looking for a name that sounded natural. Eleanor Rigby sounded natural."
Paul McCartney
But Rigby is buried at St Peter's Church in Woolton, Liverpool, which plays a much bigger part in the Beatles story. John Lennon and the other Quarrymen were playing at a church dance when they were introduced to Paul McCartney, and we know how the rest of the story goes.
In 2018 Himesh Patel and Danny Boyle filmed Yesterday on Penny Lane, another stop on Jack's personal tour of Liverpool.
They shot the scenes in front of the terraces that run past Penny Lane Millennium Green, near The Dovetail Towers. If you visit the area, don't miss the pub. The Quarrymen played there before the band became The Beatles.
It's on the south side of the city and as you probably know from seeing it onscreen, it's still a busy local street. There's even a Beatles-themed Penny Lane Hotel if you want to immerse yourself in the band.
Abbey Road
Abbey Road Studio 2. Tomswain Tom Swain www.tomswain.co.uk [CC BY-SA 3.0 (https://creativecommons.org/licenses/by-sa/3.0)]
Where else could you find these Yesterday filming locations than Abbey Road? Shots of Himesh Patel recording Beatles covers were filmed inside the legendary studios in St John's Wood.
And it's not just there to look pretty – the Yesterday soundtrack really was recorded in Studios 1, 2 and 3 at Abbey Road.
"What a privilege it has been to find a new way to honour some of the greatest art ever made from inside the walls of the very place it first emerged into all our lives."
Daniel Pemberton, Composer
Himesh Patel was also snapped crossing the road outside, imitating the album cover we all know. The iconic crossing is Grade II-listed because of the original Abbey Road cover, even though it's actually been relocated several feet along the road since the 1960s.
Wembley Stadium
The Yesterday movie Wembley Stadium filming location was the real thing. Jack Malik's big concert was filmed on the outskirts of London, with Back in the USSR and All You Need is Love performed live at Wembley.
2019 has been a big year for rock movies at the stadium – in spring, the Freddie Mercury biopic premiered at the SSE Arena, Wembley.
Though Rami Malek actually filmed the 20-minute long Bohemian Rhapsody Wembley scene on a huge scale replica at Hertfordshire's Bovingdon Airfield.
Debra's LA Beach House
The filming location for Jack's manager's house in LA is the Cooper Wave House in Malibu. Debra's California house is all glamorous Californian architecture and views of the Pacific - a far cry from Jack's bedroom back in Suffolk.
Designed by California architect Harry Gesner, the Wave House is rumoured to have inspired the Sydney Opera House's curving design. So it's probably fair enough that Jack's impressed by his manager Debra's home.