Explore the Netflix Behind Her Eyes filming locations including Ardkinglas House near Loch Fyne, Hampstead Heath, several Highbury cafes, and around Bloomsbury and Brighton.
Louise (Simona Brown) flirts with David (Tom Bateman) before realising he's married, later finding out he's her new boss. Separately, she gets to know his wife Adele (Eve Hewson) and we start to see how dark things are beneath the surface.
Behind Her Eyes is based on the novel by Sarah Pinborough, which has already had its share of surprised readers thanks to its genre-defying twists.
But there's no room for confusion over the filming locations – the Netflix thriller was filmed close to the settings in realistic, everyday London neighbourhoods.
Where Is Behind Her Eyes Filmed?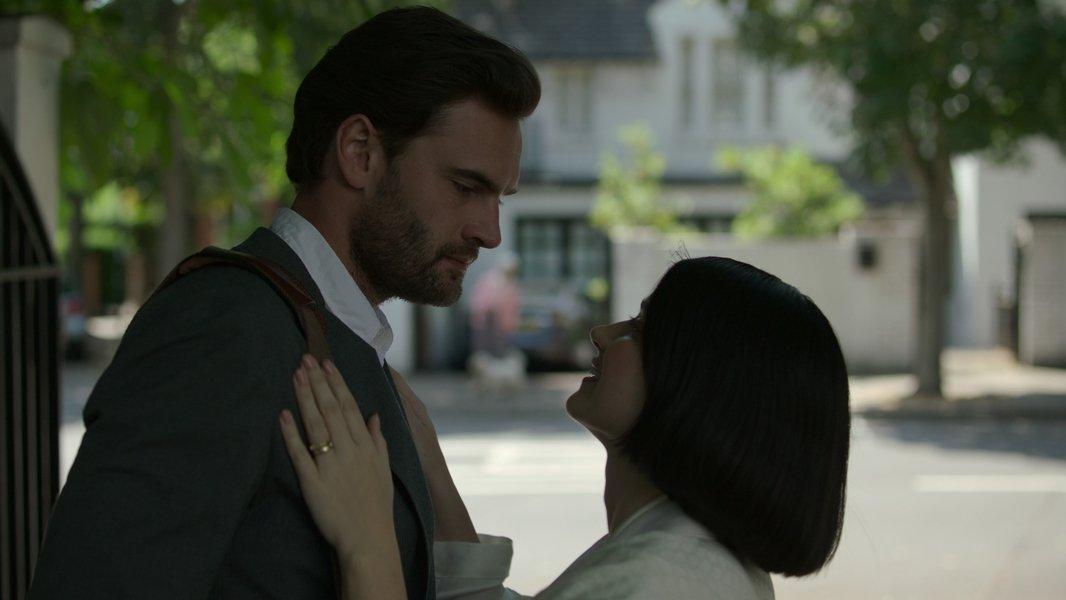 Behind Her Eyes was filmed in Scotland for Adele and Rob's flashback sequences, Louise and Adele's café locations are around Hampstead and Highgate and Louise and David are seen around King's Cross and Bloomsbury. The Brighton scenes don't get much screen time but they make use of several real locations near the seafront.
The only slightly inaccurate location is Rob and Adele's home which is in a totally different Scottish local authority. Since they're either side of the same National Park, we'd say it's not too far off the mark.
Louise's Flat
Louise's building location is Aubert Court in Highbury. Film crews were spotted in the area in summer 2019, but locals might have recognised the block.
Aubert Court's distinctive circular balconies are first shown in Episode 1 when Louise shares the story of her disastrous first meeting with David. The architecture dates back to the 1940s-50s, when the complex was built on the former grounds of a theological college.
Adele's Tayside Home
Ardkinglas House. Elliott Simpson / Ardkinglas House, near Cairndow on Loch Fyne
Scenes of Adele's home in Behind Her Eyes were filmed at Ardkinglas House in Argyll. The setting is mentioned as Tayside in the Netflix thriller.
You might recognise the house from the family movie, The Water Horse, among other appearances. Ardkinglas sits alongside the scenic Loch Fyne, and is just a short drive away from Inverary, Loch Lomond and the Trossachs.
Outlander fans might recognise the Trossachs as a regular filming location from the Starz series.
Adele and Rob's scenes there are fairly gritty, but in reality the Edwardian manor and its grounds are an idyllic setting. In normal times, you can visit this Behind Her Eyes filming location by booking a guided tour. And of course, the hills and lochs offer plenty of opportunities to explore.
The Florist Shop
Louise walks into Adele outside Rewild florist shop on the corner of Dresden Road and Hazellville Road in Highgate. Adele is approaching from the south end of Hazellville Road when she's knocked over.
The displays seen outside are true to form for the florists, in case you're tempted by the arrangements in the scene.
Fink's Cafe
The corner café where Louise and Adele exchange phone numbers is Fink's Salt and Sweet. You can find it in real life at the corner of Mountgrove Road and Wilberforce Road in Highbury.
Fink's is a cafe by day with a restaurant complete with dinner and wine menu by night – and its Highbury address makes it fairly local to the characters' neighbourhood.
Hampstead Heath
Parliament Hill. Chesdovi, CC BY-SA 3.0 , via Wikimedia Commons
In Episode 4, Adele and Louise talk at Hampstead Heath, another of the North London Behind Her Eyes filming locations – and Londoners will recognise the view right away.
They're on Parliament Hill, just above the Parliament Hill Fields Athletics Track.
Outdoor Cafe
The outdoor café filming location is Clissold Park Cafe, between Stoke Newington and Highbury. And in fact, it's just a short walk from Aubert Court, the filming location for Louise's flat. It's another plausible destination for Louise and Adele, and again, it's a real café you can visit.
Grade II-listed Clissold House in the mansion where they café is based, and while it could easily be a stately home in miles of grounds it's really in a London park. The park opens out onto Stoke Newington Church Road on the side closest to the venue.
Marianne's Café
The Brighton café scenes in Episode 6 were filmed at Cosiez Café on Upper St James's Street. In the scene, Louise visits the café to ask Marianne about David and Adele, after Adele hints that something went on.
Cozies is a real café, going by the same name you see in Behind Her Eyes, with outdoor tables like the one Louise and Marianne sit down at.
Look out for other Brighton filming locations in Behind Her Eyes including the seafront and train station, shown when Louise arrives.
King's Cross Station
King's Cross Station. George Rex from London, England, CC BY-SA 2.0 , via Wikimedia Commons
Louise and David exchange words outside King's Cross Station in the final episode, as she shares her guilt over Adele and asks about Rob.
Holborn Police Station
The real London Behind Her Eyes filming locations continue with Holborn Police Station steps where David is seen leaving.
He talks briefly before running down to join Louise. Louise is waiting further along Lamb's Conduit Street, in the heart of Bloomsbury.