You'll find Outlander Season 5 filming locations in Dunkeld, Paisley and East Lothian alongside returning Season 4 Fraser's Ridge locations.
The action in Diana Gabaldon's fifth Outlander novel, The Fiery Cross, is focused in North Carolina. And with a few notable exceptions that merge plotlines, Season 5 follows it fairly closely so that's where we find the Frasers and their new community.
Jamie (Sam Heughan) and Claire (Caitriona Balfe) are drawn into tensions between the Red Coats and the Scottish settlers, and as the newest landowners they're walking a fine line.
Where Was Outlander Season 5 Filmed?
Outlander Season 5 was filmed at a Dunbar beach, a Victorian church near Glasgow and in the Trossachs National Park.
The Trossachs make a fantastic stand-in North Carolina location that's even fooled US fans.
"I play a little game on Instagram where I'll say, where am I? And many of our North Carolina fans will say you're absolutely in North Carolina, and I'll be somewhere in the Trossachs."
Matthew B. Roberts, Executive Producer
Spanish moss and ferns added to the foliage to give them a more authentically North American feel. And Scottish brambles were swapped for hundreds of strawberries – a little detail that's important to Diana Gabaldon fans.
Claire finds strawberries growing on the land that will become Fraser's Ridge in Drums of Autumn. They're another sign that the land is the perfect place for the Frasers to settle, with Jamie talking about the connection between the Fraser name and 'fraise' (French for strawberries).
And the scent of "pine and grass and strawberries" becomes a recurring feature of Fraser's Ridge when it's described in the North Carolina-set novels.
Fraser's Ridge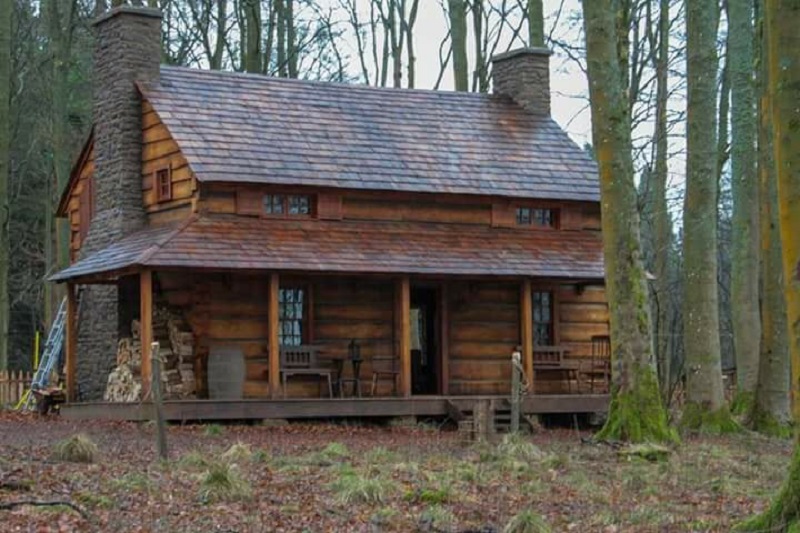 Taken by https://twitter.com/OutlanderLocs
The original Outlander Fraser's Ridge filming location between Doune Castle and the Wallace Monument returns for Season 5. It's thought that scenes of Claire and Jamie's new home scenes are filmed somewhere.
The woodland surrounding the 4-star Dunkeld House Hotel was previously used as an Outlander filming location for North Carolina woodland.
In Season 5, Roger and Brianna's wedding was filmed at the same Fraser's Ridge location in Scotland. Of course, the Scottish woodland is turned into the bountiful New World with garlands and banquet in a riot of autumnal foods and orange and golden yellow leaves.
The Camp
Season 5's camp scenes with Murtagh (Duncan Lacroix) and the rebels were filmed at Mine Woods in the Bridge of Allan. The shoot took place over summer 2019 around Wolfcrag Quarry, with the existing woodland providing tree cover for the hidden campsite.
It's a popular walking route and the rockface you can see behind the tents in the scene is popular with climbers.
Other scenes were filmed at Night scenes were filmed around the village of Cambusbarron and on the privately owned Cambusmore Estate near Callander.
North Carolina Forests
Another of the picturesque Outlander Season 5 filming locations is the Falls of Braan near Dunkeld.
The River Braan flows through Perthshire's Hermitage forest, an Outlander Season 5 filming location for Episodes 11 and 12.
As the action shifted to North America, the pressure was on to represent native populations authentically. Well, this forest in the heart of Scotland comes with its own totem pole. It was carved from local Douglas fir by three members of the Squamish Nation of Vancouver.
It's managed by the National Trust and you can take a virtual tour of this Outlander location right now.
The Fight Scene
Stephen Bonnet's (Ed Speleers) fight scene was filmed at The Mart in East Linton. The show's Season 4 villain attends the fight under a new, genteel persona but soon makes a gory return to form.
He's accompanied by associate Gerald Forbes (Billy Boyd), Charles Turnbull (James Doherty) and Mr Marsden (Andy Apollo).
The stars filmed at the unique venue in East Lothian, a historic building that's been carefully renovated into an events venue and farm shop.
"We put the new floor on top of the old cobbles and put in a glass centrepiece so you could still see the cobbles… we tried to keep as many of the older features as possible. [The Outlander team] put a temporary floor on top so they could have dirt and things like that – they needed it to look more like a tavern."Melissa Wearmouth, Site Manager at The Mart
Brianna's Rescue Beach Scene
Dunbar Beach. Jasco at en.wikipedia / Public domain
Brianna's rescue in Episode 10 was filmed on the beach between Dunbar and North Berwick.
Sophie Skelton, Ed Speleers and Richard Rankin shot the scene at the East Lothian beach in late 2019. They even had time to chill with a flat white between takes.
Unlike the beach just by Dunbar, you can't see a glimpse of the town beyond and the pale sands slope up to long grasses. You'd never guess the sea beyond is actually the chilly Firth of Forth.
If you plan to visit Outlander Season 5 filming locations, this one could be a natural starting point. It's at the easternmost end of the John Muir Way walking route, which crosses Scotland from coast to coast.
And incidentally, the route passes other Outlander locations on its way including Newhailes, Blackness, Linlithgow Palace and passing just north of Wardpark Studios.
Stephen Bonnet's Ocracoke Island is a real place off the coast of North Carolina with a history that would suit Outlander's bad guy. The real Ocracoke was Blackbeard's favourite hideout, and an infamous pirate haven throughout the 18th Century.
1960s Scenes
Queens Park. Thomas Nugent / Queens Park
Glasgow Outlander filming locations have popped up in every season's 1960s scenes. Exterior shots of Claire and Frank's (Tobias Menzies) Boston apartment building were filmed on Glasgow's Dowanhill Street.
This season we don't spend as much time in the 20th Century, so the city's architecture has made way for more of the North Carolina settlement. But it's still a feature. In Season 5, Glasgow's Queen's Park appears in the flashback/flashforward.
Outlander did film one 18th Century scene in Glasgow the year before. The area around London Road was shut off for a location shoot in 2018 (the scenes appeared in Season 4).
In a rare exception, the set wasn't dressed for the 1960s. Sam Heughan and Caitriona Balfe appeared in historic costumes for Season 4's Wilmington theatre scene.
1960s Church Scene
Outlander's Season 5 Episode 5 church scenes were filmed in Paisley, near Glasgow.
Claire prays at the Catholic church for one of her patients, and is inspired to weigh up her priorities in the 1960s and the past.
In everyday life it's a Thomas Coats Memorial Church, a Baptist church that's known for its fine Gothic Revival architecture. And of course, with its red sandstone exterior it fits in perfectly in Outlander's Boston scenes.
Craigh na Dun
Kinloch Rannoch. Photograph created by Jānis "JohnLM" Šmēdiņš (JohnLM on en.wikipedia) using a Kodak Z650 digital camera. / CC BY (https://creativecommons.org/licenses/by/3.0)
Outlander's Craigh na Dun is Kinloch Rannoch in Perth and Kinross. It's been one of the show's signature locations since Season 1, and the magical stone circle has returned as an Outlander Season 5 filming location.
There aren't any standing stones at the site in real life. You can visit the hillside you see onscreen though, and the Highland village of Kinloch Rannoch.
You can certainly track down Diana Gabaldon's inspiration though.
Try the 12 Apostles in Dumfries or Machrie Moor on the Isle of Arran if you want to see the real thing. They're among the closest if you're travelling from another Outlander location. And there are many more further north.