Did you spot Christmas in Scotland filming locations like Edinburgh's Princes Street Gardens, Dundas Castle, Culross Tolbooth, Limekilns and Crieff. The 2023 TV Christmas movie is set in the fictional Scottish community of Glenrothie, which is about to get its festive spirit back.
American designer Emma MacKenzie (Jill Winternitz) travels to Glenrothie Village in Scotland, just in time to help the villagers with a magical Christmas lights display. The Earl of Glenrothie doesn't agree with the holiday frivolities, despite living in Glenrothie Castle – the perfect destination for a fairytale Christmas. But his son, Alex (Dominic Watters) soon grows closer to Emma… unfortunately, her boyfriend, Brad (Adam Bond), has other ideas.
Where Was Christmas in Scotland Filmed?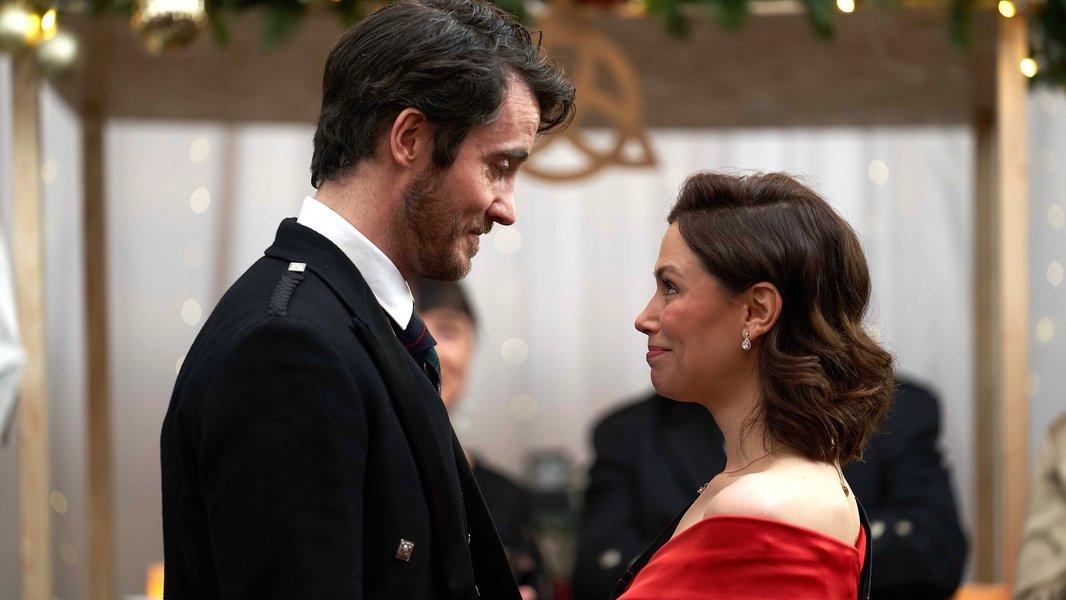 Christmas in Scotland was filmed at Dundas Castle in South Queensferry, Limekilns and Culross in Fife, Edinburgh's Christmas market, and in Crieff, Perthshire. Most of the TV Christmas movie locations sit alongside the Firth of Forth. The Glenrothie Castle location and Edinburgh are on the south side, Glenrothie village and promenade to the north. Locals spotted filming taking place, and the cast members offered up their own admiration for the Scottish Christmas movie's locations.
"My mom was the ultimate festive film buff, with a particular penchant for a holiday romance, so when this project came along I was all in. I was lucky enough to film on location in Fife and Edinburgh (stunning castles, villages, historic libraries, etc) with the loveliest cast and crew."
Jill Winternitz, Emma MacKenzie
Christmas in Scotland Locations
The Christmas Market
Edinburgh Christmas Market. Suicasmo, CC BY-SA 4.0 , via Wikimedia Commons
Edinburgh's real market in Princes Street Gardens is the Christmas market filming location in Christmas in Scotland. The establishing shots catch several views of the Scottish capital's Christmas market, which is held in the shadow of Edinburgh Castle.
The ferris wheel is a regular fixture beside the Scott Monument each year, with Princes Street in the background. You can also catch a glimpse of the historic buildings along the Mound in this Scottish Christmas movie.
Glenrothie Castle
Dundas Castle. ArchaicW, CC BY-SA 4.0 , via Wikimedia Commons
The real Glenrothie Castle is Dundas Castle in South Queensferry, just 8 miles from Edinburgh and a short drive across the Queensferry Crossing to Culross. Christmas in Scotland was filmed at the castle in early 2023. Dundas Castle confirmed that the Drawing Room, Library and Billiards Room appear in the castle scenes. The Pavilion and estate also appear, along with the recognisable front porch, which is seen prominently in certain scenes.
Dundas Castle is a 500-year-old castle just 8 miles from Edinburgh, but its Tudor Gothic aesthetic has more in common with Victorian mansions.
These days, the Christmas in Scotland castle filming location is home to Sir Jack Stewart-Clark and Lady Lydia. But it's also an award-winning 5-star wedding venue. So if you want to get married in the Christmas in Scotland filming location, your dream can come true!
Glenrothie Castle Courtyard
Christmas in Scotland's courtyard scenes were filmed in the Courtyard. Look out for this part of the castle when Glenrothie Castle's courtyard is decorated with a red carpet and rows of wooden stalls.
Glenrothie Village
Culross, Fife. Kim Traynor, CC BY-SA 3.0 , via Wikimedia Commons
Christmas in Scotland was filmed in Culross, Fife in February 2023. And this Scottish town might look familiar. Culross is famous as Outlander's Cranesmuir location – the village where Claire sees the ghostly figure of Jamie in Season 1. And it also appears in Netflix's A Castle for Christmas.
The Royal Burgh of Culross is cared for by the National Trust for Scotland. People live and work in the Culross, but it's carefully preserved to guard its authentic 17th and 18th Century streets. Visitors can explore the town, as well as Culross Palace, to get a feel for local history.
And if you enjoy stepping back into the past at this Fife location, you can find more Outlander filming locations within easy reach!
Market Square
The Sandhaven area of Culross is the Christmas in Scotland location used for Glenrothie village square. The street in front of Culross Town House, or the Culross Tollbooth, becomes the scene of the Christmas lights display. Built in 1623, with a clock tower added in the 1783, this historic building at the top of the steps is now a visitors' centre.
The Harbour
Limekilns . Bruce Haven - Limekilns by frank smith, CC BY-SA 2.0 , via Wikimedia Commons
Christmas in Scotland's harbour location is in the coastal village of Limekilns in Fife. It's not far from Culross, just a short distance west along the coastline of the Firth of Forth. Limekilns is known for its harbours and picturesque cottages, as seen in the Scottish Christmas film.