Plan the perfect House of Mouse day out at these Disney filming locations you can visit.
You can roam Maleficent and Maleficent: Mistress of Evil filming locations in England's woodlands, or follow Captain Jack Sparrow to a Pirates of the Caribbean location in Greenwich.
Or if you dream about glass slippers and pumpkins, you can spend the day in the shadow of the Cinderella movie's clock tower.
Maleficent at Ashridge Estate and Petworth
Petworth House. Martinvl [CC BY-SA 4.0 (https://creativecommons.org/licenses/by-sa/4.0)]
Maleficent's forest filming location is the Ashridge Estate's woodland. This Disney filming location is so easy to visit, and it's magical in a totally natural way – we think Maleficent would approve.
"…while we can't confirm we've seen any magical pixies and faeries in the woods, the estate is home to ancient trees, rare plants, butterflies, birds, insects and mammals including fallow and muntjac deer, all of which can be spotted and enjoyed on a day out at Ashridge."
Kirsten Proctor, General Manager at Ashridge
When the Find That Location team dropped by, we were lucky enough to see a herd of deer. Keeping the noise down really pays off if you want to see some real wildlife at this magical Maleficent location.
Ashridge's golden forest is a screen regular, appearing as a Les Miserables filming location in 2012. Look out for young Cosette's wintry scene, which was shot at Frithsden Beeches with the help of fake snow by the bucketload.
On a spookier theme, Tim Burton's Sleepy Hollow was filmed in the same woods. We hope they've scared away the Headless Horseman for good!
Harry Potter was filmed nearby too.
Petworth Park was used for moorland scenes, and it's another Maleficent filming location with its own natural magic. Lancelot 'Capability' Brown gave the grounds a little bit of help though…
"The landscape is an Arcadian vision – a utopia of rolling hills, of open grassland studded with copses of ancient trees, and a heard of Fallow deer roaming free… It's beautiful..."
Bill Darby, Location Manager
National Trust members can visit for free, though non-members will need to pay an admission charge to wander the house and grounds.
And over the Buckinghamshire border at Gerrards Cross, Angelina Jolie was spotted filming in full costume. This location forms part of the forest's boundary in Maleficent.
Mary Poppins Returns in London and Weybridge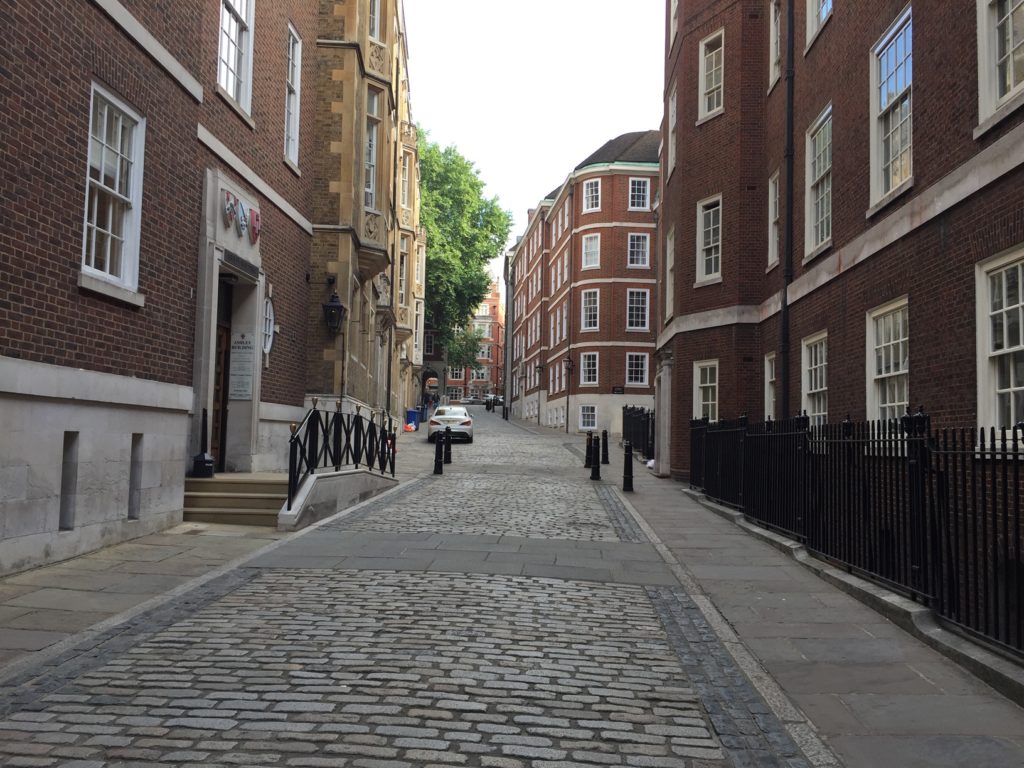 Middle Temple Lane. Copyright FindThatLocation.com
Mary Poppins Returns was filmed all over London – unlike the original Mary Poppins movie, which was shot entirely in a Burbank studio.
Buckingham Palace and the streets around Covent Garden are easy Disney filming locations to visit. But don't miss these lesser-known Mary Poppins Returns spots.
The Disney movie's Fidelity Fiduciary Bank filming locations are near the Bank of England. This corner of the City of London is used in the movie, but once you've seen for yourself, head round to Threadneedle Street.
You'll find the Bank of England Museum, where you can get inside Mr Banks, Michael and Mr Dawes' line of work. Guard your tuppence carefully!
If you want to immerse yourself in the era in a different way, head over to the London Bus Museum. The Weybridge-based museum lent out vehicles to the Disney production, so you might spot a famous bus or two!
Disney's Cinderella Locations at Cliveden and Greenwich
Cliveden. WyrdLight.com [CC BY 3.0 (https://creativecommons.org/licenses/by/3.0)]
There's a lot of CGI assistance transforming Cinderella's glittering world into live action, but Cliveden supplied the all-important clock tower.
When the clock chimes midnight and the Fairy Godmother's magic starts to fade, it's the Cliveden clock we see.
William Waldorf Astor designed the Fountain of Love at the end of the drive, during his time as Cliveden's owner.
It inspired the water feature that sits at the palace entrance in the live action Cinderella movie. Look out for the Disney team's version when Lily James is seen rushing to the ball.
The grand connections never end at Cliveden. It was built by the 2nd Duke of Buckingham for his mistress. Astor furnished it from the dining room of Madame de Pompadour.
It's not all scandal though. Queen Victoria used to visit regularly when she was at Windsor Castle.
And the night before her own wedding at the castle, Meghan Markle stayed at the Taplow mansion with her mother.
It's free for National Trust members to visit the grounds, with a small fee for non-members – though if you want to go inside the house you'll have to book a tour. They only run on certain dates, so you'll need to be organised for this one!
For a more relaxing Cinderella experience, you can just take some time to wander around the extensive grounds. Between the parterre, water garden and Palladian architecture it's easy to imagine you're at the prince's palace.
And there's another route inside the palace too – you'll just have to travel eastwards along the Thames.
Cinderella's fencing scene was filmed at the Painted Hall in the Old Royal Naval College in Greenwich.
It's been called 'the UK's Sistine Chapel' for the elaborate murals covering the walls and ceiling. But we think the unmistakeable black and white tiled floor is noteworthy too. It's definitely a big giveaway when this popular location pops up onscreen.
You can visit this Cinderella location easily – there's a reasonable entry fee and the opening hours are generous. Just check before you travel in case it's closed for filming!
Pirates of the Caribbean: On Stranger Tides at Greenwich
Old Royal Naval College, Greenwich. Albertistvan [CC BY-SA 4.0 (https://creativecommons.org/licenses/by-sa/4.0)]
You should really take a look around on your way to the Painted Hall – the avenues between the Georgian buildings are a Pirates of the Caribbean filming location.
On Stranger Tides shot scenes at the ever-popular Old Royal Naval College, and they made creative use of it.
Captain Jack Sparrow's carriage chase was filmed here, so watch it before you go.
And watch the scene again after visiting Greenwich, because you'll look at the Johnny Depp scene totally differently.
The carriage is supposedly rattling around Central London, but it actually goes round in circles.
The Nutcracker and the Four Realms and Alice Through the Looking Glass at Syon Park
Syon House. Russ Hamer [CC BY-SA 3.0 (https://creativecommons.org/licenses/by-sa/3.0)]
You can visit Uncle Drosselmeyer's house from The Nutcracker and the Four Realms – Syon Park is one of its key locations.
This Disney filming location is easy to visit, just check the open days before you go, as it's seasonal.
The West London mansion has also popped up in Emma, Vanity Fair and Killing Eve Season 2.
But let's get back to Clara Stahlbaum's story.
The Great Conservatory is instantly recognisable as Uncle Drosselmeyer's workshop. Instead of mechanical wonders, it's usually decked out as an event space surrounded by avenues of exotic plants.
Interior shots of the rest of the mansion were filmed at Halton House. It's not so easy to drop by, but it's not impossible. The one-time Rothschild manor is part of an RAF base, but the doors open every for Heritage Open Days – so it's worth checking.
If you're feeling festive, you'll find more of the magical Christmas movie's locations here.
Syon Park's statement architecture has cropped up in another live action Disney movie too. It's the Alice Through the Looking Glass filming location for the Ascot mansion.
Filming took ten days, but it took 300 people on location to make it happen. Look out for Syon Park's gorgeous interior – including the Great Conservatory again.
In case you're wondering, the exterior is Ditchley Park in Oxfordshire.
Maleficent: Mistress of Evil at Syon Park, Windsor Great Park and Burnham Beeches
Burnham Beeches. Mark Percy / Middle Pond
Things get darker at Syon Park – those landscaped grounds are a Maleficent 2 filming location as well. "Capability" Brown's 18th Century ornamental lake proved to be the perfect expansion to the Moors.
Maleficent: Mistress of Evil features some spectacular backdrops that could only ever be created with VFX and fantastical sets. But the team grounded it in those real woodland areas that gave the first Maleficent movie its down-to-earth heart.
"There are always going to be a lot of effects shots…. but we always prefer shooting elements and set pieces… Things that are huge parts of the story, we wanted that on camera as much as possible."
Joachim Rønning, Director
If you're wondering where you can find Castle Ulstead and the Town Square, they were built on a Pinewood Studios backlot. Sorry – and the Dark Fey nest was "a little igloo" of set with XFV spiralling out to create the supernatural scene.
Maleficent 2 filming locations at Burnham Beeches and Windsor Great Park are even easier to visit.
These all-natural Disney filming locations are open year-round with generous open hours. And of course, they're perfect if you want to immerse yourself in movie magic and heaps of fresh air at the same time.
Burnam Beeches has its own Eco Café open every day except Christmas (check before you travel, as always). And once you've topped up your reusable coffee cup, head out onto the trail and you'll find yourself surrounded by towering trees in no time.
It's so easy to imagine you're in an enchanted forest here. There are real secrets to uncover too. Look out for hidden secrets like the 700 year old Druids Oak and the remains of a moat and fort.
For extra fairy points at this Maleficent: Mistress of Evil location, track down the spot where Mendelssohn is composed parts of the Puck and Oberon's incidental music for A Midsummer Night's Dream.
Meanwhile in Windsor, the elegant Great Park rolls out in the shadow of Windsor Castle. It's a sprawling real life fairy tale location with its own deer park, forest, lakes and gardens.
Into the Woods at Windsor Great Park and Dover Castle
Windsor Great Park. Peter Suranyi [CC BY-SA 3.0 (https://creativecommons.org/licenses/by-sa/3.0)]
Into the Woods made extensive use of real UK filming locations, with director Rob Marshall touting the villages, castles and woodland spots at the perfect places to shoot a fairy tale. Or several…
This Disney musical was filmed across the South East but two locations really capture the atmosphere.
The prominent Into the Woods castle scenes were filmed at Dover Castle. It's an ancient stronghold that's run by English Heritage these days – and if you're looking for a film-worthy experience, you've come to the right place.
It boasts some very real connections to Eleanor of Aquitaine, King John (of Robin Hood infamy) and Richard the Lionheart. And on certain days, it serves up that history with an immersive character experience that's grounded in the era of King Henry II.
Windsor Great Park was used for Into the Woods' forest scenes. If you take a trip for yourself you'll find trees with those same twisting branches across Windsor's rolling hills.
The woodland scenes from Kenneth Brannagh's Cinderella were filmed in the Great Park too. So jot it down alongside Cliveden and the Old Royal Naval College! It's clearly the place for Disney princesses and fairy tale characters to cross paths.
And it was used as a Disney's Christopher Robin Hundred Acre Wood filming location too.
Disney's Christopher Robin at Ashdown Forest
Ashdown Forest. User:UKgeofan [CC BY-SA 3.0 (https://creativecommons.org/licenses/by-sa/3.0)]
You might have stumbled on a Christopher Robin location by chance – it was filmed across Central London. But a couple of its locations are perfect for a Disney day out, with all the atmosphere of the original AA Milne stories.
One of them is Windsor Great Park, where scenes set in the depths of Hundred Acre Wood were filmed. But you've probably already noted down this Disney location to visit.
There's another Christopher Robin filming location you really won't want to miss.
Ashdown Forest is better-known as the 'real' Hundred Acre Wood.
AA Milne lived nearby, and EH Shepard took inspiration from the woodland for the much-loved illustrations.
It's a wonderful opportunity to a step into the world of Disney's Christopher Robin in all its reinvented glory, and get to the heart of the classic stories too.
To take you where you want to go, Ashdown Forest have pooled their Pooh knowledge and mapped out Winnie the Pooh walks in the woods. They don't just take you into Pooh territory, they lead you to some of the places you'll recognise from the little bear's adventures.
Another local spot gave us some of the film's sweetest moments – the railway line between London and the family's country cottage.
Christopher Robin's railway scenes were filmed in real Winnie the Pooh country, on the Bluebell Railway. East Sussex's heritage line runs frequent steam train rides, which could make a great Disney day out idea for all the family.
If you want to go one better than Madeline's pretend tea party with Pooh, Piglet, Eeyore and Tigger, how about a real afternoon tea? We think this Disney experience is hard to beat!