Shadow and Bone Season 2 filming locations like ELTA Central Library, Stock Exchange Palace, Origo Studios, Brunszvik Castle in Martonvásár, Monostori Fort in Komarom and Eger Castle Replica Ruins take us back to Ravka and across the True Sea to Novyi Zem. Explore Netflix's Grishaverse series as we track down the locations behind Shadow and Bone.
The Netflix show revisits the Grand Palace and Ketterdam's alleys, and takes us to new locations across Kerch, Novyi Zem and Ravka. With the Netflix adaptation blending Leigh Bardugo's Shadow and Bone Trilogy and Six of Crows duology, there could be surprises in store.
Nina Zenik (Danielle Galligan) has escaped capture but consigned Fjerdan drüskelle Matthias (Calahan Skogman) to jail. Kaz (Freddie Carter), Inej (Amita Suman) and Jesper (Kit Young) are joined by Wylan (Jack Wolfe), the newest member of the Crows.
Alina Starkov (Jessie Mei Li) is struggling with her fate as the Sun Summoner - and her love for Mal (Archie Renaux). Bhagra's (Zoe Wanamaker) identity has been revealed, while General Kirigan (Ben Barnes) is ready to unleash shadow creatures on Ravka.
Grishas Zoya (Sujaya Dasgupta) and Genya (Daisy Head) consider where their loyalties lie. And Nikolai Lantsov (Patrick Gibson), Tolya (Lewis Tan) and Tamar (Anna Leong Brophy) Yul-Battar join the Netflix series for the first time. With those new characters, we see new filming locations too.
Where Was Shadow and Bone Season 2 Filmed?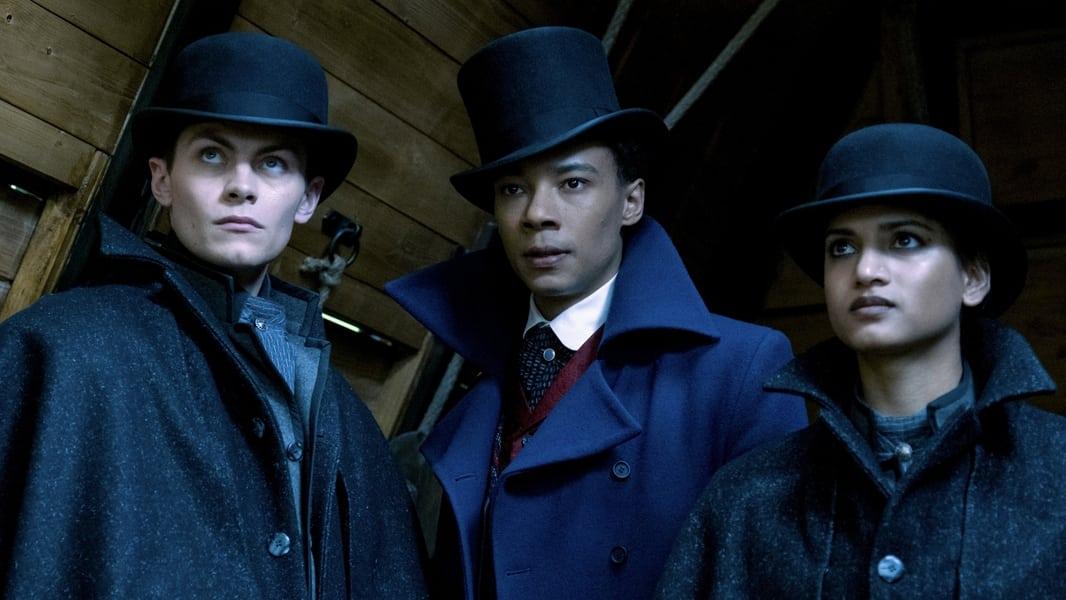 Shadow and Bone Season 2 was filmed in Budapest at Origo Studios, Brunszvik Castle, Monostori Fort, Eger Castle Replica ruins, and ELTA Central Library and the former Stock Exchange Palace.
They join the Netflix show's existing locations like Festetics Palace, the Budapest Museum of Ethnography, Grassalkovich Palace, Royal Palace of Buda Castle and Amadé Bajzáth-Pappenheim Castle.
Filming for the second season took place in Budapest in the first half of 2022. Kit Young shared a group shot when Shadow and Bone Season 2 filming began in January. Production on Season 2 wrapped in June 2022. The Darkling himself, Ben Barnes, marked the occasion by sharing candid shots of the cast around the city.
Hungary is an ever-popular popular filming location. Budapest's streets and museums appeared in the Disney Plus MCU series Moon Knight as London locations. And the 2022 vampire horror The Invitation found Budapest-based doubles for an English castle and New York restaurant.
Here are some of the Shadow and Bone filming locations to look out for in Season 2, from castles and fortresses to fairytale libraries.
Shadow and Bone Season 2 Locations List
Novyi Zem Library
ELTE University Library. Globetrotter19, CC BY-SA 3.0 , via Wikimedia Commons
Shadow and Bone's Novyi Zem library location is Eötvös Loránd University (ELTA) Central Library in Budapest.
In Season 2 Episode 1, "No Shelter But Me", Alina searches the library for a nautical map of the True Sea. She meets a Durast by chance, before returning to find Mal.
Alina is seen in the two-storey Main Reading Room of the 19th Century ELTA library building. Though some manuscripts in the collection date back to the 16th Century.
There are plenty of stunning libraries in and around Budapest. But you can identify the Shadow and Bone library filming location by the design of the spiral staircase (simpler than the Metropolitan Ervin Szabó Library at Wenckheim Palace, with its ornate metalwork).
It looks like a dark place for reading in the Netflix series, but there's a bit of clever lighting going on here. The ELTA Central University Library's Main Reading Room has a generous skylight to keep it bright.
Pekka Rollins' Country Estate
Pekka Rollins' Appelbroek estate location is the Brunszvik Castle in Martonvásár. Jesper's correct, this is certainly not a glass factory. In fact, the real Pekka Rollins house has become a Beethoven museum.
Brunszvik Castle was built in 1784 in the Baroque style. But over the years, the Brunszvik family made a series of changes until it became the neo-Gothic mansion we see today. So where does the Beethoven connection come in? The celebrated composer was a family friend of the Brunszviks.
Visitors can find a piano that was played by Beethoven himself, alongside stranger keepsakes like a lock of his hair.
The Barrel
Shadow and Bone's Barrel scenes are filmed at Origo Studios in Budapest. We first see Ketterdam's underworld in Season 2 Episode 1, "No Shelter But Me", when Kaz, Inej and Jesper are caught by the Stadwatch.
Before the Crows set off on their next adventure, there's plenty more action around Ketterdam this season. In addition to the studio-based scenes, some Kerch scenes were filmed on location around Hungary.
The Grand Palace at Os Alta
Budapest Stock Exchange Palace. Vasyatka1, CC BY-SA 4.0 , via Wikimedia Commons
Shadow and Bone's Grand Palace filming locations are Budapest's Stock Exchange Palace, Buda Castle's Great Rondella and Royal Palace, and the Royal Castle of Godollo, Grassalkovich Palace, with the main hall of Budapest's Museum of Ethnography as the Throne Room.
So the royal palace in Shadow and Bone is real in some ways. But you won't find all the rooms in one location, and only some of the Season 1 palace locations return for Season 2.
The Grand Palace Hall
In Shadow and Bone Season 2 the Grand Palace scenes were filmed at the former Stock Exchange Palace in Freedom Square, Budapest.
During Series 2 Episode 3, "Like Calls to Like" Alina is reunited with Nadia (Gabrielle Brooks) and Zoya (Sujaya Dasgupta) at the Ravkan Second Army's base. They're in the Budapest Stock Exchange Palace, the Ravkan palace location where the archives heist took place in Season 1.
The one-time TV studio building is used as the main Grand Palace filming location for key scenes between the Grisha and Ravkan royal family across Episode 3 and Episode 4, "Every Monstrous Thing". The scene where the Darkling's shadow creatures enter through the dome was also filmed at the Stock Exchange Palace.
As seen in the Season 2 trailer, there's clearly a bit of CGI involved in the nichevo'ya dome scene, in addition to shots filmed at the location.
Castle Ruins
Eger Castle Replica Ruins. Kaszás Tibor, CC BY-SA 3.0 , via Wikimedia Commons
Shadow and Bone Season 2's castle ruins scenes were filmed at the Eger Castle Replica Ruins in Hungary. In Episode 3, "Like Calls to Like", the Darkling catches up with Genya (Daisy Head) at the entrance to the ruins. David (Luke Pasqualino) is out of sight, behind the castle walls.
Located just outside Budapest in Pilisborojeno, these ruins are not as old as they look. And they're not actually ruins at all. In fact, this is an imitation 16th Century fortress that was built for a 1960 film about the Ottoman invasion. But nowadays this imitation castle is part of the scenery, attracting tourists and film crews alike.
Underground Tunnels
We think the castle tunnel location could be the Buda Castle Labyrinth... Several chambers are seen in Shadow and Bone Season 2 Episode 5, "Yuyeh Sech (Despise Your Heart)". We think they resemble the labyrinth under the Castle Hill very closely.
Parts of the labyrinth network dating back to the Middle Ages, and since its reopening visitors can also find references to the labyrinth's past uses and legends. You can even take an Oil Lamp Tour to add even more atmosphere to this ancient attraction.
Bhez Ju
We think the Bhez Ju market and tea house scenes were filmed at Origo Studios. In the Shu Han scenes, Kaz and Nina take on a mission while Inej does what she does best as the Wraith. The sequence also reveals more of Kaz's backstory - and his close connection with Inej.
First Army Fortress
Monostori Fort. Bárdos Dezső (Sóhivatal at Hungarian Wikipedia), CC BY-SA 3.0 , via Wikimedia Commons
The First Army base filming location is Monostori Fort in Komarom, Hungary. Nikolai reunites with his old First Army comrades at the fort location in Season 2 Episode 6, "Ni Weh Sesh (I Have No Heart)". In the scene, he leads Bhagra, David, Alina and the others here after their time in the underground caves.
The turf-topped complex was used as a real military building for decades, first as fortification for the banks of the Danube and later as a Soviet ammunition store. Nowadays Monostori Fort is a museum where visitors can learn about the local area and military history.
You can see sleeping quarters set up as they would have been in days gone by, and look behind the square windows that line the walls. So subject to opening times, you can walk the same paths as Alina and Nikolai.