A Very Yorkshire Christmas filming locations like Pickering Station, Knaresborough Station, Knaresborough Castle, and local cafes, galleries and a real holiday park, stay true to North Yorkshire. Here's where to find Andrew's log cabins, Amber and Adam's Crumb Café and more locations from the movie also known as A Very British Christmas!
Rachel Shenton stars as Jessica, the opera singer whose life takes an unexpected turn when her delayed flight leads to an unexpected Yorkshire Christmas.
She stays with Andrew (Mark Killeen), his mother Sandra (Michele Dotrice) and his daughter Katie (Isla Cook). Her fellow American friend Amber (Jennifer Bryer) introduced her to British bakery treats courtesy of her Uncle Adam (Adam Fogerty), who owns a local café.
Along the way we see everything from picture-postcard lanes and shops to gorgeous Yorkshire scenery and Victorian steam trains…
Where Is A Very British Christmas Filmed?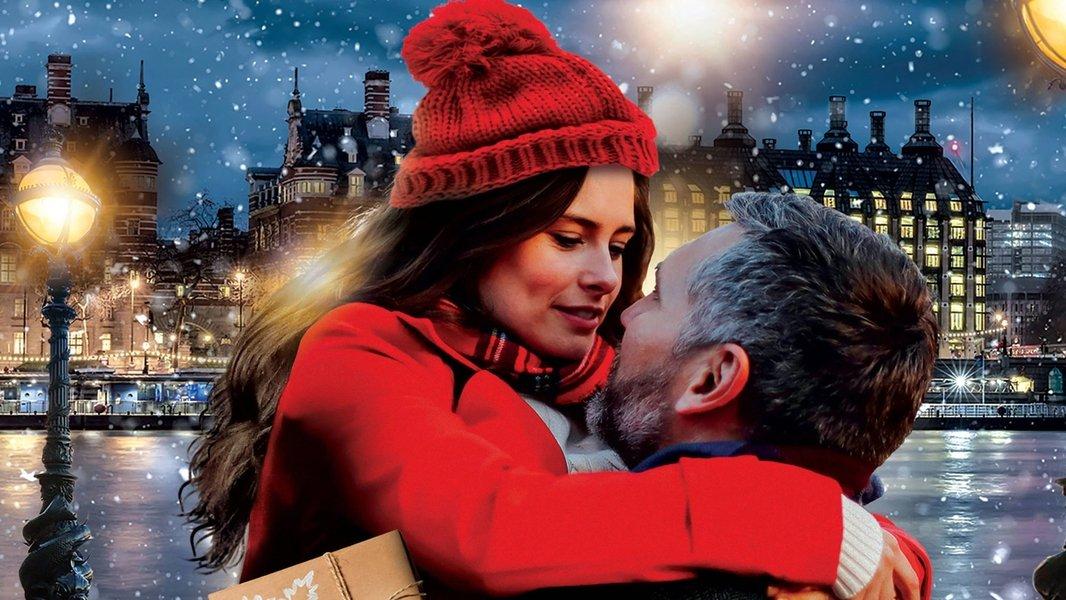 Known as A Very British Christmas in the US and A Very Yorkshire Christmas in the UK, the movie was filmed on location at Pickering and Knaresborough stations, Knaresborough Castle and a North Yorkshire holiday park, and the The Crumb Café really is in Knaresborough too.
With real Yorkshire filming locations throughout A Very Yorkshire Christmas, you can't help but wonder how many locations you can really visit. Or if they're really that local destination you think they are.
In this case, you can visit just about everything! If you're from North Yorkshire, take a look and see if you spotted these local businesses and attractions onscreen.
And if you're from further afield, here's how to stay at the log cabins from A Very British Christmas!
Filming Locations from A Very Yorkshire Christmas
The Railway Station
Pickering Railway Station. mattbuck (category), CC BY-SA 2.0 , via Wikimedia Commons
Jessica waits at an old station in the opening scene – this Very Yorkshire Christmas train station filming location is Pickering Station on the North Yorkshire Moors Railway.
Pickering Station was used as Doncaster Station in BBC One's The ABC Murders and appeared the Downton Abbey Movie. It was also used as The Dad's Army Movie's train station filming location in the 2016.
And it's set to appear in Mission: Impossible - Dead Reckoning - Part One, due for release in July 2023, after Tom Cruise filmed scenes at Pickering in April 2021.
The reason for its popularity with period dramas is that Pickering is decorated in a 1930s, setting the tone perfectly for the steam trains that stop there. Visitors can enjoy a tea room in the former waiting room, and watch the steam trains go by.
The Railway Line
The heritage railway line in A Very Yorkshire Christmas is North Yorkshire Moors Railway. The heritage railway that Jessica travels on passes through North York Moors National Park.
You can ride the same railway line, passing through Pickering and Goathland (known from Heartbeat and Harry Potter). If you keep an eye on the North Yorkshire Moors Railway website schedule, you might just be able to book a dining experience along the route.
You might also catch a glimpse of the line in Indians Jones 5, with filming taking place between Grosmont Tunnel and Pickering in June 2021.
Knaresborough Station
Knaresborough Station. N Chadwick / Harrogate line, Knaresborough Station
The real Knaresborough Station is used in A Very Yorkshire Christmas, in the scene where Jessica arrives and walks into town.
It's operated by Northern Trains on the Harrogate Line which is an everyday railway, unlike the steam-powered North Yorkshire Moors Railway.
Knaresborough Station is situated at the northern side of the viaduct, close to the High Street. That makes Jessica's onward journey to the Crumble Café location a realistic one – it's only five minutes' walk away from the station.
Crumble Café
The real Crumble Café location is Thirteen in Castlegate, Knaresborough. It's a retro coffee house and cakery that serves North Yorkshire-blended coffee and loose leaf teas from Sheffield.
To get there, Jessica could easily walk along Kirkgate and then Castlegate before arriving at Amber's family's café.
Filming for A Very British Christmas took place in March 2019, so although the café's décor is just as enchanting in real life, the Christmas decorations were a special addition.
The Castle
Knaresborough Castle. Redvers, CC BY 2.0 , via Wikimedia Commons
Jessica's sightseeing scene was filmed at the Knaresborough Castle ruins. The first mention of the castle was in the 1100s when the grand sum of £11 was spent on reinforcing defences.
But it's probably best known as the castle where the murderers of Thomas Becket, Archbishop of Canterbury sought refuge after committing the crime. They were all connected to the castle, led by the Constable of Knaresborough Castle, Hugh de Morville.
After several stints as a royal residence, it was largely destroyed during the English Civil War with the King's Tower and Courthouse surviving.
In A Very Yorkshire Christmas, Jessica is seen walking around the outskirts where a local offers to take her photo. She looks out towards the Knaresborough Viaduct which crosses the River Nidd.
The Hunters' Log Cabins
The Very Yorkshire Christmas filming location for Sandra and Andrew's log cabins is Allerton Park Holiday Park. The holiday park really is in Yorkshire, just beside Allerton Castle.
Allerton Holiday Park's log cabins are a main feature of the movie as Jessica helps the Hunters with their own log cabin business. You can also spot Allerton Caravan Park in the background as the Andrew, Sandra and Jessica discuss the cabins throughout the movie.
Some are offered to buy, others are available to book as holiday homes for a short break. So yes, you can stay at the log cabins at this A Very British Christmas location!
Art in the Mill
The shop location where Jessica takes the phone call about Carnegie Hall on Christmas Eve is Art in the Mill.
It's a Knaresborough shop and gallery housed in an early-1800s flax mill that's just along the road from the A Very Yorkshire Christmas Crumble Café location, Thirteen.
So it's totally feasible that Adam's tray of American-style cinnamon buns could still be hot from the oven when he offers them to Jessica!
The Town Crier Scene
Jessica drinks coffee in front of Blind Jack's pub, leaning against the windows of the historic pub as the Town Crier wishes her luck in Chicago.
It's a longstanding local destination on the Market Square that was renovated in recent years by a local couple. As you can see in A Very Yorkshire Christmas, they've made the most of the popular Knaresborough pub's original features.
The Town Crier really does make an appearance at Knaresborough's own market, and at the town's real Christmas Market every December.