The Downton Abbey movie filming locations include Highclere Castle, Ampleforth College, Ripon, Pickering, Harewood House and Wentworth Woodhouse.
Downton Abbey 2 will also be filmed at Highclere, with the same exterior and rooms appearing in the 2021 Downton movie.
It's been officially confirmed by the Earl and Countess of Carnarvon - with further location news coming soon. But while we wait, let's take a look back at the 2019 film.
Filming is centred in Yorkshire for the first time in the Crawleys' history in the first Downton Abbey movie. With a few notable exceptions - it wouldn't be Downton Abbey without Highclere Castle, would it?
It's now 1927 and King George V and Queen are visiting Downton Abbey, so prepare for more impossible elegance in new settings. And we get out and about to explore more of Downton Village and Ripon, with new locations opening up for everyone from lords to footmen.
Where Was The Downton Abbey Movie Filmed?
Looking for Downton Abbey: A New Era filming locations?
The Downton Abbey movie was filmed at Highclere Castle and an impressive line-up of new locations.
Castle Howard and Hovingham Hall and Julian Fellowes' former school Ampleforth College are just a few of the new additions. Ripon might just make its first appearance, along with well-preserved villages and stately homes from Northumberland to Wiltshire.
Hugh Bonneville, Elizabeth McGovern, Penelope Wilton and Laura Carmichael were spotted on location at Yorkshire's Harewood House. And we're set to catch a glimpse of Ripon and Bradford onscreen too.
But Highclere Castle and Bamford are the heart of the show as always.
Browse our 170+ filming scenes from the original TV series:
There's a behind the scenes connection as Jim Carter's wife, Imelda Staunton, appears as Lady Bagshaw. She arrived with Tuppence Middleton as Lucy, her maid, and appears in scenes at Highclere with Hugh Bonneville, Maggie Smith and the rest of the cast.
We all know she's not the only visitor Lord and Lady Grantham are entertaining this time round though.
Is the Downton Abbey Movie Based on a True Story?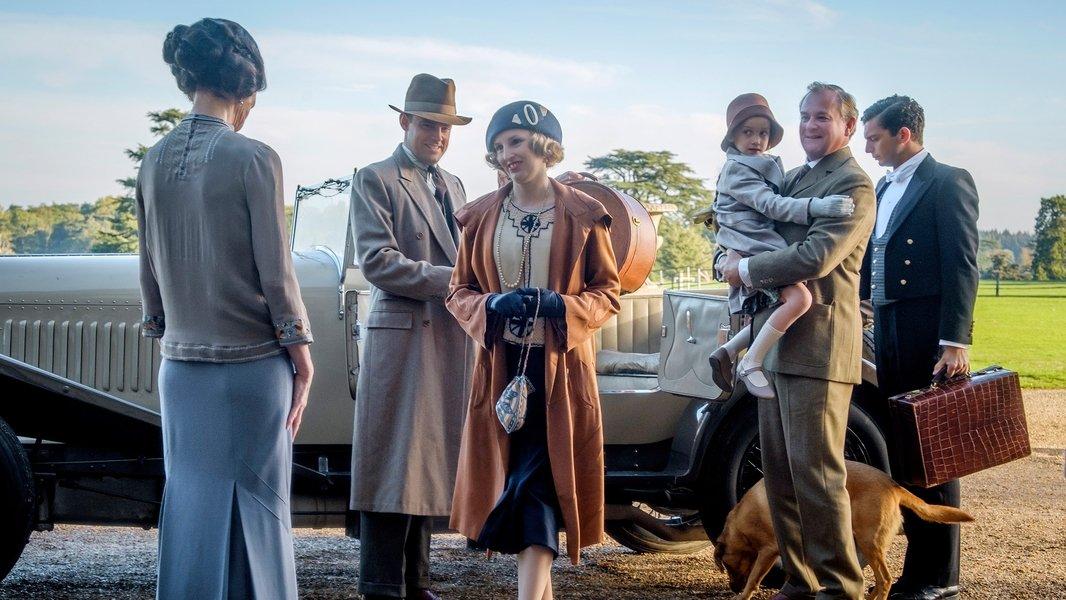 The Downton Abbey movie is based on a true story – up to a point. The King and Queen's visit to the stately home Wentworth Woodhouse is said to have inspired the royal visit.
From 8-12 July 1912 they were the guests of the Fitzwilliams, bringing an entourage with them just as you see in the costume drama.
In the movie, the King and Queen arrive with their own footmen, butler and chef – which is predictably popular. And the big question is, how will the Crawleys put on a show good enough for a monarch?
Some of the rooms where they were entertained are even used as filming locations in the movie.
King George V and Queen Mary also visited Highclere Castle in 1917, along with Louis Mountbatten (uncle to the present Duke of Edinburgh).
As always, Julian Fellowes has blended the big events with the household ones. And it's the attention to detail that brings the audience inside those famous wooden doors.
The Crawleys' staff ought to have an extra touch of finesse onscreen in the movie, thanks to some great connections behind the scenes.
Butlers from Buckingham Palace were dispatched to add a touch of finesse.
"Alastair Bruce, who is the historical adviser… has the bible really in terms of etiquette and how people behaved. But there were a couple of days which he was not available, so he sent a couple of his friends, who happened to be part of the Royal household. It was amazing."
Kevin Doyle, Molesley
Wentworth Woodhouse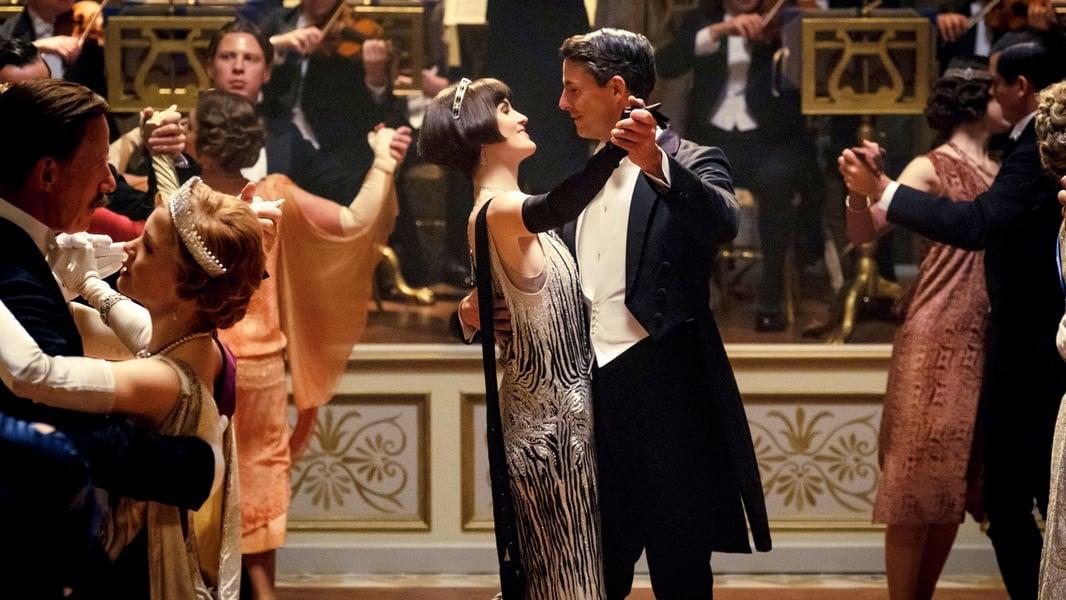 Look out for the Marble Saloon at Wentworth Woodhouse in the Downton Abbey Movie.
If it looks like the ideal ballroom for entertaining royalty, that's because it really was pressed into use when the King and Queen visited the house in 1912.
But even though the Downton Abbey movie's guest list looks impressive, it's not a patch on Wentworth Woodhouse's real parties. In 1807, the 5th Earl Fitzwilliam entertained 10,000 guests.
The Fitzwiliam family fortune crumbled after paying two sets of death duties in the early 20th Century. Even though Wentworth Woodhouse was listed around the same time, it fell into disrepair.
By the 21st Century the interiors were in ruins, until a team of volunteers painstakingly brought it back the old Palladian splendour.
It's not the first time the house has appeared onscreen since it was brought back from the brink.
The Fitzwilliams' residence has been used in the likes of Gentleman Jack, Jonathan Strange & Mr Norrell, Victoria and The Darkest Hour. But Wentworth Woodhouse's Downton Abbey movie location appearance might be the most fitting.
A volunteer from the revived stately home said watching the Marble Saloon scenes was "like stepping back in time".
This Grade I-listed mansion is one of the grandest Downton Abbey movie locations you can visit, though you might need to book in advance.
And it gets even better. You can stay at the same 4-star hotel as the cast and crew when you visit. During the shoot they were housed at Tankersley Manor Hotel, a Grade-II manor near Barnsley.
Street Scenes
Beamish Museum. Mjobling [CC BY 3.0 (https://creativecommons.org/licenses/by/3.0)]
The Beamish Museum has already appeared on Downton Abbey.
Part of the museum was used as Tom Branson and Henry Talbot's garage, though last time we saw it the street was covered in snow.
When it was time to find a historically accurate street for the movie, the Beamish Museum was a stand-out choice:
"It's an amazing place to visit, all the shops are dressed like they would have been back then. There's a bakery and a candy shop and a tea room. It's the perfect place to film because you would never be able to create all that stuff on the street."
Michael Engler, Director
Michael Engler is right, there is indeed a sweet shop. It's located beside the garage – look closely next time you watch the Season 6 finale. Though it wasn't just the buildings that played a part.
If you visit for yourself, you might be lucky enough to see some vintage vehicles on its cobbled streets. Several of them made it onto the big screen, along with the staff.
"We were thrilled to welcome Downton Abbey's cast and crew to Beamish Museum… Our wonderful open air museum brings history to life so it was great to be included as a location for the new Downton Abbey film and it was exciting to have some of our staff and period vehicles involved."
Rhiannon Hiles, Deputy Director, Beamish Museum
So visitors can really feel like they're visiting the Downton set here!
Other street scenes were shot Thirsk and Ripon, making it the first time the Crawleys' 'local' town has actually been used for filming.
The Military Parade
Lacock High Street. Ettlz at the English language Wikipedia [CC BY-SA 3.0 (http://creativecommons.org/licenses/by-sa/3.0/)]
To give the Downton Abbey movie's military parade an extra touch of historical accuracy, they used a royal regiment.
The King's Troop Royal Horse Artillery spent the day on location in the Wiltshire village of Lacock.
Soldiers and horses were given their own camp for the duration of the shoot, and dressed up in 1920s regalia.
Unlike the Beamish Museum, Lacock village has its own residents with everyday lives – with one compromise. The National Trust oversee the village and Lacock Abbey, both of which have appeared in the Harry Potter movies.
But the village has appeared time after time in period dramas, because residents have to keep their stone cottages in picture-perfect condition. The streets have hardly changed in 200 years, and that's not set to change – making it perfect for the likes of Cranford, Pride and Prejudice and Wolf Hall.
It's only the second time it's been a Downton village location though. You might recognise the Wiltshire community from the Moulton Livestock Show in Season 6. It's during this sequence that Marigold goes missing, following Mary's impromptu visit to the farm.
Harewood House
Harewood House. User:Gunnar Larsson [CC BY-SA 3.0 (http://creativecommons.org/licenses/by-sa/3.0/)]
Lord Lascelles and Princess Mary were the real owners of the Downton Abbey movie location Harewood House. Even the interiors look almost the same as they did in 1927:
"They had really great taste and it's still in very good condition. We kept everything the way it was except for the furniture that can't be sat on because it's so precious."
Michael Engler, Director
Mary, Princess Royal and Countess of Harewood links the Count and Countess of Grantham with Buckingham Palace in the world of Julian Fellowes' drama. And they would have moved in the same circles, being neighbours in Yorkshire.
Back in the real world, there's a link between the Queen, Highclere and Harewood. Elizabeth II is godmother to both George Herbert, 8th Earl of Carnarvon and David Lascelles, 8th Earl of Harewood.
It's better known to fans of ITV's Victoria as Buckingham Palace. Harewood House also doubled up as Queen Victoria's childhood home.
Nightclub Scene
The exterior shots of Downton Abbey's nightclub scene were filmed on the streets of Little Germany in Bradford.
Shots of the police station were filmed in the same area.
In the 19th Century, German merchants were drawn to the area by the booming textiles industry. They brought their own design influences with them, and the architecture took on the elegant Continental look we see today.
Thanks to that appearance that's distinctive once you're familiar with it, but not easy to place otherwise, Little Germany has made its way into several other productions.
John Malkovich and Rupert Grint shot scenes as Poirot and Crome in Little Bradford, for The ABC Murders.
Brancaster Castle
Alnwick Castle. Phil Thomas [CC BY 2.0 (https://creativecommons.org/licenses/by/2.0)]
We last saw Alnwick Castle as the rental where Barrow overdid it and Lady Rose averted a scandal for her new father-in-law, Lord Sinderby.
It all adds up, if you remember that Lady Edith met Bertie Pelham in Season 6 of Downton Abbey.
Lady Rose's in-laws have long since vacated the Northumberland castle – and Edith and Bertie Pelham have moved in.
He's now the Marquis of Hexham, and the owner of Brancaster Castle, which means the action is back at Alnwick.
And if that means it's time for another location sightseeing trip to the castle used in everything from Blackadder to Harry Potter, that's fine by us.
Train Station
Pickering Railway Station. mattbuck (category) [CC BY-SA 2.0 (https://creativecommons.org/licenses/by-sa/2.0)]
Pickering Station is the Downton Abbey movie's train station filming location.
It was used in BBC1's The ABC Murders as well as the Dad's Army Movie, which famously made a departure from the show's traditional Norfolk base for a Yorkshire-based shoot.
The original Hogsmeade Station filming location from Harry Potter and the Philosopher's Stone is on the same line. Look out for Goathland station for a wizard-worthy location opportunity.
We've previously seen a glimpse of St Pancras Station in the scenes of Lady Edith travelling to London. The TV show's Downton Station filming location was about as far from Yorkshire as you can get – it was on the Bluebell Line heritage railway in West Sussex.