Neoclassical Belgravia filming locations in Edinburgh's New Town, Hopetoun House and the Bath Assembly Hall step into starring roles.
Downton Abbey locations like Hampton Court Gardens join the line-up of in the new Julian Fellowes drama too – have you spotted any so far?
Where Was Belgravia Filmed?
Julian Fellowes' Belgravia was filmed in Edinburgh and at some of Lothian, Bath and Wycombe's grandest Georgian buildings.
Belgrave Square in London was ruled out as a filming location early on in the process:
"It's quite impossible to shoot in Belgravia… so what we did was go to the New Town of Edinburgh. We shot all of the exteriors for Eaton Square and Belgrave Square, we shot around there and then in post-production, we added all of the stucco and the porticos."
Executive Producer - Gareth Neame
And while you won't find many genuine Cubitt buildings in Julian Fellowes' Belgravia, other architects of the era are represented. You'll find several Adam buildings housing Georgian society in the ITV drama.
These substitutes are the real thing, even if they don't sit quite within the Trenchards' 'real' neighbourhood.
The Trenchards' Brussels Mansion
Hopetoun House. Andrew Shiva / Wikipedia
Hopetoun House is the Trenchards' Brussels mansion filming location in the ITV period drama, with the imposing frontage appearing in the first moments of the series. The stately home looks out across the Firth of Forth, just a short drive from Edinburgh city centre.
Designed by William Bruce and later extended by William Adam, it's an elegant country home that sets the tone for the family's status. Even if we soon discover they're hovering on the fringes of society.
James Trenchard's Brussels Office
Ham House. Stevekeiretsu / CC BY-SA (https://creativecommons.org/licenses/by-sa/4.0)
James Trenchard's Brussels office filming location is Ham House, a National Trust property in Richmond.
The Stuart era mansion has stood since 1610, when it was built by one of Charles I's courtiers. It was passed on to his daughter Elizabeth Murray, Duchess of Lauderdale, and remained in the family until the 20th Century. And it's barely changed since her time.
Altogether it's an ideal location to call on. Ham House's timeless style has lent itself o late-19th Century England in biopic Victoria and Abdul and Russian for Anna Karenina just as easily as Belgravia's 1815 Belgium.
The Duchess of Richmond's Mansion
Bath Assembly Rooms. User:Glitzy queen00 / CC BY-SA (https://creativecommons.org/licenses/by-sa/3.0)
The Duchess of Richmond's ball sequence was filmed at Bath Assembly Rooms. It kicks off the story of Julian Fellowes' Belgravia and, like the Titanic disaster that sets Downton Abbey's inheritance plot in motion, it was a very real event.
And this particular event has been dramatised on a number of occasions. ITV's Vanity Fair adaptation used the baroque-influenced One Great George Street for its own version of the ball.
Bath was a popular place for Georgian society to stay, and its architecture reflects that. So the Assembly Rooms are the perfect place to film the Belgravia adaptation.
The main dancing hall is Bath Assembly Rooms' Tea Room – a humble name for this grand 18th Century room a duchess would be proud of. It boasts three crystal chandeliers and a two-tiered balcony you can see in some shots of the Duchess of Richmond's ball.
The Chapel
The Brussels chapel scenes were filmed at Wrest Park, Bedfordshire.
It's an English Heritage location with ornate gardens, including a Chinese bridge, and importantly the architecture would look at home in Brussels.
You can look inside the Countess's Sitting Room from the comfort of your own lounge via Streetview or watch a video postcard from the estate. Look out for other familiar locations – several spots are used in the Brussels flashback scenes.
Belgravia Streets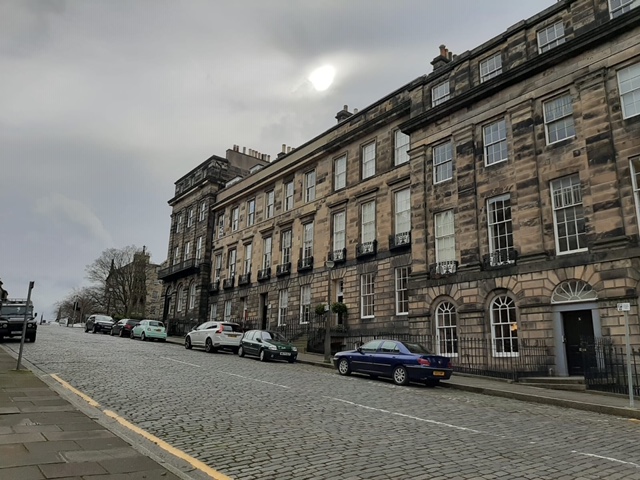 Forres Street, Edinburgh. Copyright FindThatLocation
The filming location used for Belgravia's squares and streets is the New Town in Edinburgh.
The New Town was mapped out in the Georgian era by neoclassical architect Robert Adam. It's a World Heritage Site set out in a grid of squares and grand terraces that's still architecturally the same today. New Town homes would have housed society and grander merchant families, making it a true equivalent of Belgravia.
And of course, Moray Square can easily pass for London because Robert Adam did indeed design in the city.
His practice circled the Cubitt Brothers' Belgravia, working across St James's, Mayfair, Marylebone and Mayfair – including Fitzroy Square, designed to a similar concept to Belgrave Square.
The Trenchards' Townhouse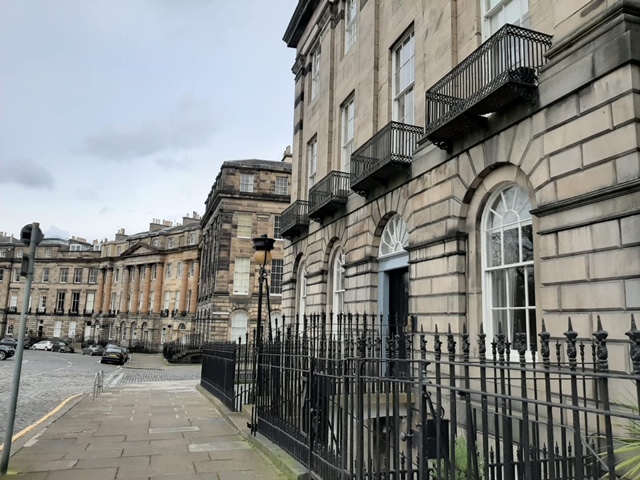 50 Moray Place, Edinburgh. Copyright FindThatLocation
The Trenchards' townhouse is really 50 Moray Place in Edinburgh's New Town.
It's at the northern edge between Charlotte Square and artsy Stockbridge, and it's part of the network of streets and squares that make up the show's version of Belgravia.
It's just used for exterior shots though – three stately homes supplied the rest of the Trenchards' home. The production headed to Syon Park near London, Basildon Park near Reading, and Manderston House in the Scottish Borders.
Most of the interiors come from Basildon Park. The Trenchards' dining room scenes were filmed in Basildon Park's own dining room.
It's a National Trust property that was salvaged from ruin and restored to its elegant self… but you might know it better as Grantham House, the Crawleys' London townhouse in Downton Abbey.
Syon House is a seamless match – like Moray Place, it was also designed by Robert Adam. It opened its conservatory and gardens to the Belgravia team for the shoot. Though you might recognise this stately home from Downton Abbey - Lady Mary and Tony Gillingham take afternoon tea there.
Another Julian Fellowes production made use of the Georgian stately home too – it's Gosford Park's key filming location. Syon Park also popped up in the 1994 Emma adaptation and, more recently, ITV's 2018 Vanity Fair miniseries.
Manderston House is a chic Edwardian country manor that Downton Abbey's Crawleys would love. The original Georgian house was restyled for a merchant family who married into high society, taking inspiration for the new lady of the house's childhood home. Robert Adam's neoclassical Kedleston Hall in Derbyshire was the house in question.
London Parks
Belgravia's park scenes were filmed at Hampton Court Gardens – a grand substitute in the shadow of Hampton Court Palace.
They reach across 650 acres of parkland and 60 acres of formal gardens (a similar size to the real Hyde and Kensington Parks combined).
You might have spotted some of the formal gardens' topiary in the background as Belgravia's grandest residents promenade in the park. If you look at the Great Fountain Garden, you'll notice similar trees along the Broad Walk.
And you might see another Downton Abbey location, the path that runs around the lake. Hampton Court Gardens appeared as a London park in the scene where Lady Edith and Bertie Pelham talk about Brancaster Castle.
The Duchess of Bedford's Belgravia Townhouse
West Wycombe Park. gjryoung / CC BY-SA (https://creativecommons.org/licenses/by-sa/4.0)
West Wycombe House, at the heart of leafy West Wycombe Park and overlooked by the Hellfire Caves, is still lived in. But it's also a National Trust property that opens on selected summer days.
You might recognise its distinctive rich décor, with red walls, gilding and a generous amount of marble. The Music Room is one of he most distinctive spaces, and it's shown off during he Duchess's tea party - but you might be familiar with it.
The Duchess of Bedford's townhouse was previously Lady Rosamund's London townhouse, and you can see it throughout Downton Abbey.
West Wycombe has also appeared as The Crown's Bois-de-Boulogne location, home to the former Edward VII and Wallis Simpson in later years.
The Aethenaeum
Athenaeum Club. Diliff / CC BY-SA (https://creativecommons.org/licenses/by-sa/3.0)
Cubitt and Trenchard's club, the Aethenaeum, is a real London club used as the filming location for the gentlemen's club scenes.
Founded in 1824, it would indeed have been a newcomer on the scene and would have appealed to the Belgravia property developers. Members were admitted on merit and achievement rather than political affiliation, making it accessible to the nouveau riche and non-U.
Look out for it in a very different context in the Miss World controversy film Misbehaviour, released just before Belgravia premiered.
Girton's Mill
It's not all high society in Belgravia. The trades that keep everything going are always just on the edges of the picture, not least for the Trenchards', whose fortune was built on supplies.
Girton's Mill filming location is Quarry Bank in Cheshire, and it's one of the industrial settings that pops up in the series.
Look out for the Apprentice House, yard and cotton mill floor in the series. It's still fitted with working cotton spinning machines and weaving looms from the industrial era.
Chatham Historic Dockyard in Kent can be seen in other shots around Girton's Mill. The ever-popular filming location also pops up in London street scenes set near Isleworth.
Lymington
Scenes set at the Earl of Brockenhurst's country estate, Lymington, were filmed at Wrotham Park on the edge of London.
The Potter's Bar residence is a popular filming location so you might recognise it from the 2004 adaption of Vanity Fair or Gosford Park (it supplied the staircase, several rooms and parts of the exterior).
More recently, it's popped up in the 2019 movie The Aeronauts, and fans of The Crown know the Music Room very well… it's the Queen's audience room in the Netflix series.
It's not open to the public, which is ideal for film crews but not visitors.
Fortunately there's another option – keep an eye on Open House London for upcoming open days as Wrotham House has participated in the past.
Glanville
Anne Trenchard's Glanville estate in Somerset is actually Loseley Park, a Tudor manor house in Surrey.
Loseley has been in the More-Molyneux family for five centuries, and dates back even further to the days of Henry VII.
In the past century, it's earned a reputation as a charming filming location. You'll find it in The Favourite and The Crown. The manor has also been used in episodes of Midsomer Murders and Miss Marple, and Sense and Sensibility.