Mamma Mia 2 takes us back to Kalokairi and back in time. As a younger Donna, Lily James takes us to the run-down cottage that would become Villa Donna, and Amanda Seyfried's Sophie shows us what it's become since the events of the first film.
That's not the only change though. Kalokairi looks as picturesque as always but don't expect to see the same idyllic beaches a second time round. The original Greek filming locations are out and Croatia is in, thanks to the country's generous tax incentives and wealth of lush lookalike scenery.
Where Was Mamma Mia! Here We Go Again Filmed?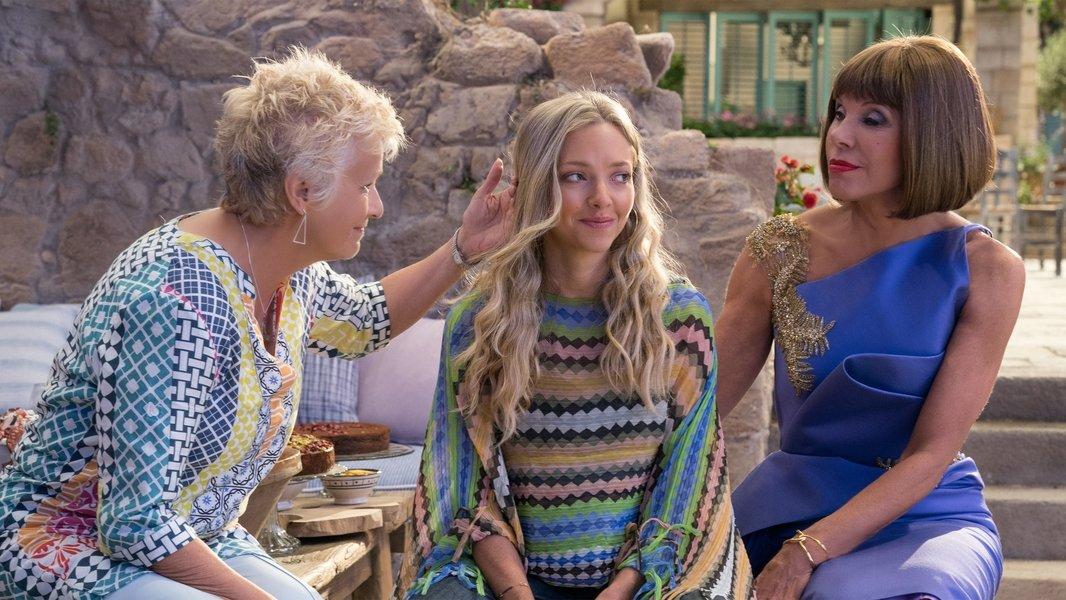 Once again, the bohemian villa itself was one of the sets constructed on Shepperton's C, D, G and H Stages.
The original Mamma Mia! island filming locations were all Greek, with most of Villa Donna's surroundings shot on Skopelos and Skiathos in the middle of the Aegean Sea.
The new Croatian locations are found just off the Dalmatian Coast, an up and coming vacation hotspot which opens out onto the Adriatic Sea. A knock-on effect is that Kalokairi gets an upgrade, with the Croatian locations giving us new corners of the island to explore.
Young Donna doesn't head directly to Kalokairi though. First, she brings us along on her tour of Europe from the UK to France to her dream destination. As you'll know from the movie, they stayed away from the usual international landmarks – look out for some French and British locations off the beaten track in Mamma Mia! Here We Go Again.
Where was the original Mamma Mia movie filmed?
Donna, Rosie and Tanya's Graduation Scene
Dining Hall. By Simon Q from United Kingdom (New College, OxfordUploaded by tm) [CC BY 2.0 (https://creativecommons.org/licenses/by/2.0)], via Wikimedia Commons
Young Donna, Rosie and Tanya's impromptu graduation gig was filmed in the UK. Their graduation scene was shot in Oxford University's New College - look out for the stone walls interspersed with dark wood panelling. New College has previously appeared in the likes of Harry Potter (its courtyard is featured as part of Hogwarts' ever-changing layout).
Sam doesn't appear in the scene, but Pierce Brosnan might recognise this British Mamma Mia! Here We Go Again filming location. It was used in Bond movie Tomorrow Never Dies, with Brosnan's 007 leaving his car parked outside the college in the scene where he visits a tutor.
Donna and the Dynamos' When I Kissed Teacher sequence was also filmed in Oxfordshire. They're seen cycling through the village of Wytham and over Godstow Road Bridge in Oxford, followed by a crowd of students.
Godstow is usually better known for the river that runs under it – The Thames. Lewis Carroll is said to have been inspired by this section of the river and the Trout Inn which sits just above its banks, and to this day there's no shortage of riverboats.
The town's other landmark is up next. Donna and the Dynamos sing in front of the Godstow Abbey Ruins which date back almost a millennium to the reign of King Henry I.
Young Donna's Sightseeing Locations
After telling her friends of her dream to travel, Sophie is seen in the south west of France pulling her suitcase past Bordeaux's iconic Place de la Bourse.
This imposing town square was designed by Louis XV's favoured architect, Jaques Gabriel, in the early 18th Century with the Hôtel de la Bourse following shortly after. Its chic classical design has made it part of the city's signature.
Mamma Mia: Here we go again locations map
Kalokairi Island
Island of Vis. By Minestrone [GFDL (http://www.gnu.org/copyleft/fdl.html) or CC BY-SA 4.0 (https://creativecommons.org/licenses/by-sa/4.0)], from Wikimedia Commons
Croatia's hospitable filmmaking climate has attracted a lot of business in different years. Mamma Mia 2! The island of Vis became the new Kalokairi for Mamma Mia! Here We Go Again, providing everything from the rambling town to remote hills.
Like the Greek Kalokairi Island filming locations, Vis isn't easily reached – it's two hours by ferry from Split, Dalmatia's largest city.
The island has a complex history. It was once an Ancient Greek colony (giving this Kalokairi filming location a thread of authenticity), it was occupied by Napoleon and it played an important strategic role in World War II.
Until 1990, tourists weren't permitted to visit. It was used as a Yugoslav army base for decades, meaning that entry was strictly controlled, so while Croatia is an increasingly popular holiday destination this tiny island was a well-kept secret until news of filming broke.
Signs of its past life still remain. Navy submarine entrances dot the rock faces below the surface of the surface of its blue waters. But of course you'd never know it from the movie, where Vis/Kalokeiri is all sunny skies and sailboats.
Kalokairi's Town
Komiza. https://commons.wikimedia.org/wiki/File:Komiza,_Island_of_Vis,_Croatia.JPG
The harbour town of Komiza is used as Kalokairi's main town, adding local restaurants, tavernas and market stalls to the fictional island's amenities.
Komiza's restaurants are seen in the background of several sequences. With a population of just 1,500, the town is home to almost half of the island's residents so it's a hub for entertainment and essentials.
Look out for the Greek taverna, in reality the well-known lobster restaurant Jastozera. The paved terrace of pizza restaurant Pansion Dionis was used as the market (look for it in scenes of young Donna and Sam, and later young Tanya and Rosie).
Coastal Scenes and Beaches
Not far from Komiza, Barjoska Beach and Barjaci Point appear onscreen for several coastal and beach scenes.
It's on this side of the island that the Dancing Queen jetty from the first Mamma Mia! film makes a reappearance – almost. It's actually a replica built at Barjaci, where a wartime gun battery still stands from Vis' military days.
Another Mamma Mia! Here We Go Again beach has already drawn attention. In 2016, Stiniva Beach was named the best beach in Europe thanks to its unspoilt setting and views of the picturesque town of Komiza – the same features which make it an ideal location for Kalokairi. Onscreen it's identified onscreen by its white pebble beach and the cliffs which curve down to the sea.