Come fly with us as we explore Chitty Chitty Bang Bang filming locations to celebrate the movie's 50th anniversary.
Dick Van Dyke's eccentric inventor Caractacus Potts and Sally Ann Howes' delightful Truly Scrumptious, Lionel Jeffries' Grandpa Potts and the children take us on a grand adventure. And if you're curious about where those much-loved scenes were filmed then hop in as we take a tour of our own.
CHITTY CHITTY BANG BANG FILMING LOCATIONS:
Where Was Chitty Chitty Bang Bang Filmed?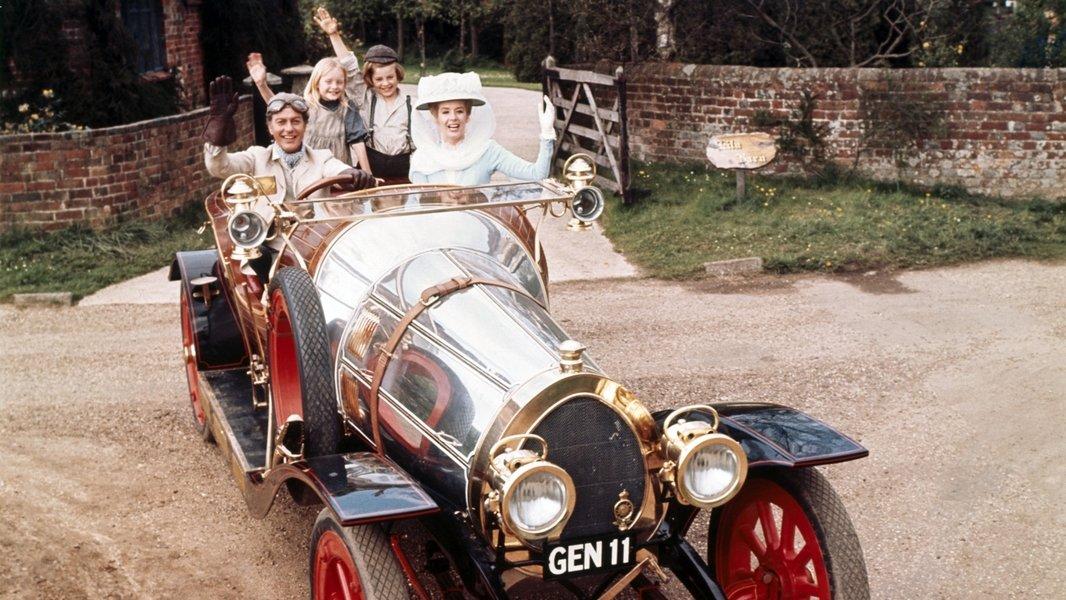 Chitty Chitty Bang Bang was filmed across Buckinghamshire, in France and at two fairy-tale locations in Bavaria. And of course, the magical motor car drives, floats and flies its way across Europe with the help of some studio filming at Pinewood.
The Grand Prix
Chitty Chitty Bang Bang's opening Grand Prix scenes were shot on Zig Zag Road at Box Hill in Surrey. As you may have guessed from the name, this road has all the hairpin bends shown in Chitty's race montage, so drive carefully if you visit!
After you've navigated the roads where Chitty found glory before coming off the road, you'll find a picturesque hillside. It's run by the National Trust so you can explore the ancient woodland or cosy up in the shop and café.
If you're all about motor racing, why not catch the star car and some Truly Scrumptious props? The National Motor Museum in Beaulieu, near Southampton, is hosting a Chitty Chitty Bang Bang 50 Years exhibition until late 2019. Catch it while you can!
Caractacus Potts' Windmill
Cobstone Windmill. DeFacto [CC BY-SA 4.0 (https://creativecommons.org/licenses/by-sa/4.0)], from Wikimedia Commons
Chitty Chitty Bang Bang's windmill filming location is Cobstone Mill in Buckinghamshire.
It's a private residence so you can't explore the home of Caractacus Potts, but you can certainly see it clearly.
Bring your hiking boots and attempt the path which winds its way up the hillside, eventually running along the boundary of the windmill. Or alternatively, enjoy the view from the village below.
Turville is better-known to sitcom fans as the major Vicar of Dibley filming location. The church and village square are seen throughout the series, with one of the cottages providing the exterior filming location for Geraldine's vicarage.
The Village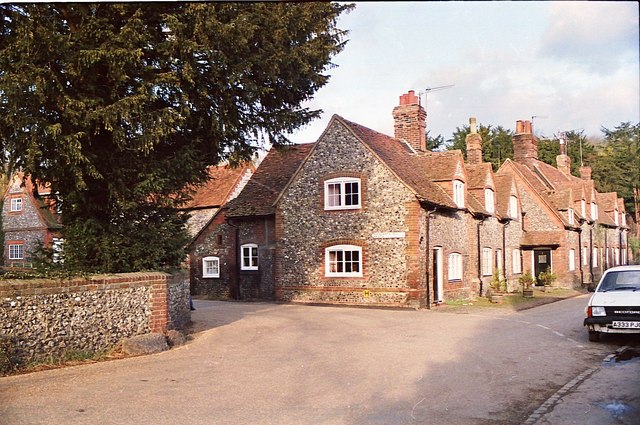 Hambleden, Buckinghamshire
cc-by-sa/2.0 - © Antony Ewart Smith - geograph.org.uk/p/1150036
The surrounding roads make an appearance in Chitty's village scenes too. The family drive through more peaceful Chiltern scenery when they go for a spin in their new car – they pass through the nearby village of Hambleden.
Look out for shots of the Vulgarian spies attempting to trap Chitty Chitty Bang Bang, Caractacus Potts and the children. The high hedges are just a few miles away from Turville and the famous windmill.
The spies accidentally capture Lord Scrumptious instead of the Potts family at Ilmer, and other locations were filmed at Buckinghamshire's own Pinewood Studios in Iver. Truly sings at Iver Heath, and the bridge where the Vulgarians place dynamite under the bridge is at Iver Lane.
In fact, the Scrumptious family come off universally badly. Truly Scrumptious ends up in a pond at Russell's Water in Oxfordshire, when her car veers off the road.
It's near Downton Abbey's London House location at Basildon Park, and the main Midsomer Murders Causton filming location at Wallingford (look out for the town's high street and occasionally buildings including its theatre onscreen).
Chitty fans might be interested to know that the movie's screenwriter, Roald Dahl, lived in Great Missenden, just a few miles away. Dahl fans might want to drop by the Roald Dahl Museum while they're in the county.
Scrumptious Sweet Co. Factory
Kempton Park Waterworks was used as the Scrumptious sweet factory filming location.
It's found in Hanworth in Middlesex, and while the interior shots captured back at the studios, the Waterworks is seen in exterior shots when Caractacus brings his latest invention to Truly's father.
The former factory is now home to some impressive steam-related kit – though sadly none of it is used for Toot Sweet production. You can find a narrow-gauge railway and the world's largest working triple-expansion steam pumping engine.
The Beach
Cap Taillat. Johan N [CC BY-SA 3.0 (https://creativecommons.org/licenses/by-sa/3.0) or GFDL (http://www.gnu.org/copyleft/fdl.html)], from Wikimedia Commons
Caractacus, Truly, Jeremy and Jemima are in for a long drive – they might set off from Buckinghamshire but they don't stop until they reach France.
The Chitty Chitty Bang Bang beach location is actually Cap Taillat in Saint-Tropez, which explains why the English coastline suddenly looks so gloriously sun-drenched.
In the film, it plays a key role, setting off the pirate story and the beginning of the grand adventure. Then it's off to the land of toy-makers, child-catchers and shouty barons.
Vulgaria
Rothenburg. Berthold Werner [Public domain], from Wikimedia Commons
This Bavarian village looks so enchanting it's hard to believe it wasn't built on a backlot. In fact, those impossibly quaint squares and lanes belong to Rothenburg ob der Tauber, Chitty Chitty Bang Bang's Vulgaria filming location.
Onscreen it's home to some weird and wonderful citizens. Benny Hill was famously cast as the Toymaker, and Robert Helpmann's Child Catcher has haunted many children (and adults) with his creepy call.
In fact, the villain added by Roald Dahl while he was adapting Ian Fleming's story into the screenplay – so this Bavarian town nearly missed out on hosting Vulgaria's most sinister resident.
The shot of Caractacus and the Toymaker climbing a tower was filmed at Strafturm für leichte Vergehen (Criminal Tower). It's just one of many historic towers – you can walk past the Strafturmon its own or follow the Rothenburg Tower Trail to explore the gates and towers that add to the town's magical architecture.
Chitty Chitty Bang Bang has been a festive favourite for years, so visitors to this filming location might be glad to know there's a German Christmas Museum in the town. Happy holidays!
Vulgarian Castle
Neuschwanstein Castle. Ximonic, Simo Räsänen (post-processing) & Tauno Räsänen (photograph) [GFDL (http://www.gnu.org/copyleft/fdl.html) or CC BY-SA 3.0 (https://creativecommons.org/licenses/by-sa/3.0)], from Wikimedia Commons
The Vulgarian castle filming location, Schloss Neuschwanstein, is one of the movie's most iconic backdrops – and it's another Vulgaria location that looks too fantastical to be real.
The home of Gert Fröbe's Baron Bomburst and Anna Quayle's Baroness (both former Bond stars, fitting the Ian Fleming connection) is well worth seeing.
Neuschwanstein Castle is one of three elaborate residences built by King Ludwig II of Bavaria. Ludwig II reigned during the 19th Century, and while Gothic construction projects were all the rage at the time, the king took the idea to new limits.
You can't miss its fairy tale turrets in establishing shots of Vulgaria – and the rest of the building is often undergoing renovation work but is still opulent and eccentric underneath. No photography is not permitted inside the castle but come prepared to see some marvellous décor inside.